Hey everybody and welcome back to the ACP Culinary Center. I'm chef Will Monk and today I would like to talk to you about the convection express combination oven from ACP. This oven features 1,400 watts of microwave energy and that is fed straight from the top of the oven down to the food. It also has a temperature range from 200 degrees to 475 degrees. Which makes it more versatile when you're trying to different kinds of foods. So it takes the heat of the oven and adds the microwave, which combines it for speed cooking, so you can usually do foods about four times faster then you could in a traditional oven. This oven is also completely programmable, so when you have something programmed into it, it's just touch and go from there. And it can hold 100 items in the oven so it has lots of room to expand on whatever items you're trying to do. I'll go ahead and cook a few items for you to give you some idea of the versatility of the oven. First item I am going to do for you is nachos and this is just a heaping pile of nachos. It's on an oven safe plate so that can go straight into the unit. So it goes into the oven. It's already preprogrammed, number 1 to cook. So all you have to do is press number 1 and it's away and cooking, and this item is going to use 100% of the microwave for 1:25 total cook time. You can vary all the different elements of the oven, you can lower and higher the temperature as needed. And you can also control the amount of microwave, you're putting in. So if this item was more delicate and we didn't want as much microwave, we can lesson the amount we want, in 10% increments all the way down to 0 or up to 100. So well go ahead an let this cook. Alright now that the food is done just remove it from the oven. Make sure you do use a hot pad because the oven is hot. And there you go, you have browning on top, steam coming off of it, it's hot all the way through. An then go straight out to your table, ready to eat. So next item I want to do for you is a quesadilla. This is already pre made, but it's got chicken, cheese, cilantro, and salsa in it. So this is actually going right on our grille plate in the oven. So you''ll get a grilled look to this item. So that goes into the oven, again it is already preprogrammed. I know it's program number two so all I have to do is walk up and press the number 2. And that is going to go for 2 minutes at 80% microwave. It's a little bit longer cook time but it needs that time to get the grille marks on the item and 80% because it is a longer time we don't need 100% microwave for the full time. This oven has an actual has nice application for anywhere that you want to expand on your menu, but you don't have very much room in your kitchen. So it's like having a small oven that you can place almost anywhere in a kitchen. Well go ahead an let that item cook. Okay now that the oven is done well go ahead and take it out of the oven. So we get some browning on top, the real feature is the grille marks you get from having it on the accessory. So as you can see it's steaming all the way through. It's hot and ready to go just cut that up and take it out to the table, you're ready to go. The next item well go ahead and do is shrimp. These are citrus marinaded shrimp, so all we did is put a nice easy marinade on it and it's probably got one portion around 8 ounces of shrimp. So were on a metal sheet tray, now even though there is a microwave within this oven, you can still use metal because of the way the microwave is being fed into the cavity. So again it's already preprogrammed, put it into the oven. Press number 3 and we're off and cooking. Alright the buzzer goes off so we know the item is done. Go ahead and take it out. Now for this particular item it was 1:30 at 100% microwave. An you can see the steam rolling off of it. They're pinking color, cooked all the way through, only took a 1:30 cook time. The last item I want to do for you is just some potato wedges which will show the browning of the oven. And ill go ahead and do a manual cook on this so you can also see how its programmable when we do it. So what you want to do is have your settings in mind when you go to the oven. But all you do, put the product in the oven, shut the door, hit the book which is programming. Touch whichever item you want to program, number 4 is empty, so we can go ahead and enter a time. So then you touch the clock, which is entering time. Well say three minutes on this item. When you touch the power level you can tell it how much power you want it. We want 90% microwave for those 3 minutes, touch the book again then that program is saved. So now the item is in there, we press number 4 and now our 3 minutes at 90% is off and cooking. Now this oven is nice because you can program the 100 items into it and then you can transfer information from this oven to another oven, using a card that you just download the information onto and then you take it to another oven upload it so both ovens can be exactly the same. So well go ahead and let this cook and well see what it looks like after three minutes. So the ovens done go ahead and take the items out. As you can see they are brown, golden, hot all the way through, steam coming off and you're ready to go. Go ahead and plate these up for you. So there you go a wide variety of items done in the oven, we have raw foods, we have foods that have browning, quesadilla, it's a full meal in a very short amount of time. All done in the convection express. If you have any further questions on the convection express feel free to contact us at the Culinary Center we're always open for questions. I'm chef Will Monk thanks for stopping by the culinary center.
The ACE14 Jetwave oven uses 1400W microwave energy to cook foods 4 times faster than a traditional oven. With a temperature range from 200-475 degrees, this oven is extremely versatile, too. Plus, it allows you to preprogram up to 100 dishes!
Related Videos Crown Beverages Emperor's Finest Coffee
Treat your guests to a robust, dark-roast Colombian and Brazilian blended coffee with Crown Beverage's finest coffee! Each packet makes approximately 12 cups, making it perfect for break rooms, lobbies, and back-of-house brewing at your diner.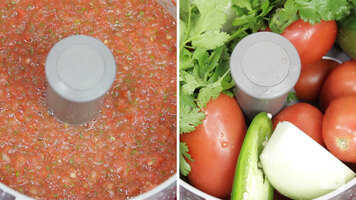 Robot Coupe R2B Food Processor
Watch our short video to learn about the many features that will make the Robot Coupe R2B food processor a great addition to your commercial kitchen. From the simple controls to the dishwasher safe bowl, you can't beat Robot Coupe's R2B!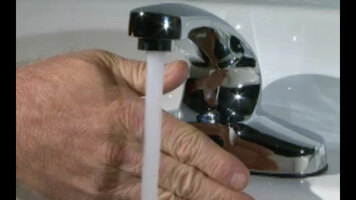 How to Install a TS Brass Hands Free Electronic Faucet
Watch this video to learn how easy it is to properly install and configure a hands free electronic faucet from T&S Brass!