(Transcript Unavailable)
If you want to keep your Turbochef C3 oven in top-quality condition, then daily maintenance and cleaning is a must! This video gives brief, step-by-step instructions on how to clean every part of your oven.
Related Videos KitchenAid Stand Mixer Water Jacket Overview
A look at this K5AWJ water jacket attachment for the stand mixer from KitchenAid!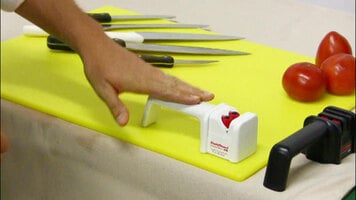 Handheld Knife Sharpener
Not only are dull knives a pain to work with, but they can be dangerous too! Learn how to use our Chef's Choice handheld knife sharpeners for both straight edge and serrated blades so all of your knives remain factory sharp. Gold Medal Popcorn Popper
This video will show you step-by-step instructions on how to operate and clean your Gold Medal popcorn popper! It also lists some valuable safety tips so you and your employees can stay safe while popping hot, delicious popcorn for your customers.