The best way to ensure that your oven will continue to function at a high level is to clean and maintain it daily. Only use TurboChef Oven Cleaner to avoid damaging oven components and voiding the warranty. Protective eyeware, rubber gloves, oven cleaner, water, a nylon scrub pad, and a cleaning towel are all you'll need to clean your oven. To begin you'll need to turn your oven off by pressing the back key. The oven will then begin to cool down. This will take approximately 90 minutes. Do not attempt to clean the oven while it's cooling down. The oven operates at 500 degrees Fahrenheit, and may cause injury if not allowed to cool properly. Carefully remove the ceramic cooking platter from the oven. Next, in a well-ventilated area spray the ceramic cooking platter with TurboChef Oven Cleaner. Rinse with warm water and dry. Never soak the cooking platter in water or place in dishwashing machine. Remove the grease filter located on the rear left bottom corner inside the cook chamber, and clean it. To clean the filter, use oven cleaner and rinse with water, making sure not to use high-pressure water as it may damage the filter. If it needs to be replaced you can call 800-90TURBO or 1-214-379-6000, or your authorized distributor. Spray TurboChef Oven Cleaner on the three internal walls and the bottom of the oven cavity, as well as the inside door panel of the oven. Do not spray onto the top of the oven cavity; instead, spray a damp cloth with the oven cleaner and apply manually. Allow it to sit five minutes before wiping with a damp cloth. Remove stubborn stains with a non-metallic scrub brush or pad, and rinse surfaces with clean, warm water and cloth until cleaner is removed. Then wipe dry. Make sure to empty and clean the grease tray found behind the vent and in front of the oven. Be careful not to leave standing water in the bottom of the chamber as recirculating water may block the air passage. Remove the black ceramic waveguide cap, and clean it with TurboChef Oven Cleaner. After it's been cleaned, rinse it with water. However, don't soak the black ceramic waveguide cap in water or place it in dishwashing machine. Replace the grease filter in the rear left bottom corner, inside of the cook chamber. Simply spray oven guard on a towel, and wipe down the oven. It's important to not have any puddles or excess guard on the bottom of the oven cavity. Then, simply install your clean ceramic waveguide cap and ceramic cooking platter back into the oven, raised edge towards the front of the chamber. Turn the oven on, and allow it to heat up and that's it. You are finished cleaning the oven, and it's ready to be put back to work.
If you want to keep your Turbochef C3 oven in top-quality condition, then daily maintenance and cleaning is a must! This video gives brief, step-by-step instructions on how to clean every part of your oven.
Related Videos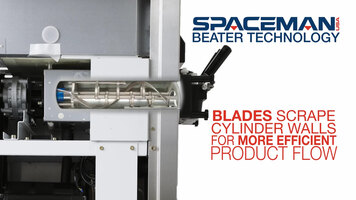 Spaceman Beater Technology
Learn how Spaceman's beater technology can increase efficiency in your restaurant or ice cream parlor! How To Clean A Charbroiler
See how easy it is to clean your charbroiler by watching this informative video!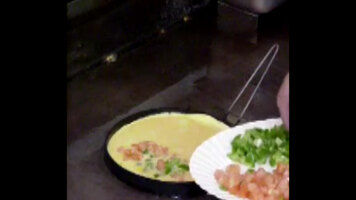 How to Use a Prince Castle Egg Ring
Watch this video to learn how to use the Prince Castle egg ring! Two different size egg rings are shown during this clip. It also offers ideas of what to make in these egg rings.