Greeting and good day. Chef Kim here and I would like to share with you, one of our latest innovations, chef-tex. Chef Revival's new high performance fabric that out performs our competition where it counts most. Che-tex is a breathable poly-cotton blend that wicks moisture away from your body to keep you cool in the kitchen. Easy release stains when washing that keeps your jacket looking the way you need it to; and not to mention comfortable. Let's take a closer look at how Chef-tex works. (break for video bullet points) Chef-tex, the proof is woven in, breathable, wicks moisture, releases stains, keeps wrinkles and discoloring at bay and let's not forget comfortable. See for yourself in our many Chef Revival jackets and styles.
Breathability and a resistance to moisture are only two of the five benefits of Chef Revival's high performance Chef-Tex poly cotton material that are highlighted in this video. Check it out to learn how purchasing these chef coats could benefit you!
Related Videos
Perfect Fry PFA7200 Demonstration
Learn about all the time, profit, and equipment benefits of the Perfect Fry PFA2700 automated fryer!
Garlic Paste
Garlic is such a versatile ingredient that nearly every cuisine on the planet uses it (Italian salad dressings, Chinese stir fry, Spanish marinades, etc.). Here, Mercer demonstrates the simple process of making your own garlic paste at home.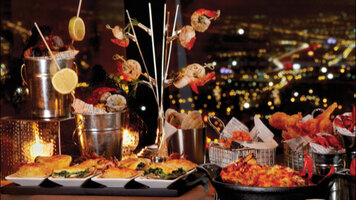 American Metalcraft Product Line
American Metalcraft's products are a great way to bring quality and style to your buffet tables. American Metalcraft has everything you need--from sauce cups to stainless steel tasting trees--to make your food display visually dynamic.