Hi, I'm Steve Ziegler, for the WEBstaurantStore. Getting the customers attention is always a challenge, but the Pro-Lite TruColor II Scrolling Color LED Sign will make that much easier. In fact, I bet your attention has already been drawn to this sign, and you probably know some of the messages I already have programmed into it. This twenty-eight inch long programmable LED sign has so many feature that we won't be able to get to them all in this video. The TruColor II has sixteen actual colors, twenty-eight color arrangements, twenty-six preprogrammed graphics, and twenty-five programmed text effects built in. It has a countdown clock, it has an infrared wireless keyboard, it even has computer software that comes with it that allows you to make your own custom graphics and even email messages directly to the sign. The Pro-Lite TrueColor II Scrolling Color LED sign has this very easy to understand users guide, but some people like me, we're visual learners, so I wanted to take a few minutes to show you how to do some basic message programming, and this will give you an idea of how easy it is to program this sign. The first thing we are going to do is program a quick message. The first thing that you'll do is you'll see this run/stop key here, so just press that, and you'll hear the beep to let you know you did it and it'll say Stop Mode. Next thing is you're going to hit the Program key because that is what we are doing. It'll ask you what page that you'll want to use. Now, what the pages are is its way of organizing your messages. You have up to twenty-six different pages to use from A to Z, and we're going to put this message in page A, so I clicked on A and it says Page A Start. From here, all you need to do is go ahead and enter your message. I'm going to type in H, E, L, L, O, and then I'm going to put a couple of spaces there, and that's all you'll have to do to get a basic message in. Just hit Run/Stop and you can see, it'll say Hello. Now that we have a message programmed, I want to show you how to edit that message and show you a few other things as well. Again we're going to hit Run/Stop and it's going to say Stop Mode. Program, and the sign will ask you what page again. Since we're editing, I'm going to go back into the same page, A. Again it's going to say Page A Start. Now, this is what we are going to do differently. There is a little back arrow right here. We're going to start pressing that until our message shows up. You'll see there is our Hello. Now if you wanted to delete a message that is in there of course you can hit the delete key way down in the lower left hand corner of your keyboard, and you can see my O disappeared. We're going to put that back in, I want that. What I really want to do here is add an explanation point. I'm going to show you how to do that, but I'm going to show you a few other things here as well with this shift key. If you hit shift once, you're going to see a little colored box show up in your sign. That's going to tell you that you are on your first shift, and that'll be to make a lowercase letter. You can see, I just made a lowercase a. I'm going to go ahead and delete that since that isn't what I want. If I hit shift again, you'll see that that little colored box changes color and what that is going to mean is that we now moved on to the second character listed on each one of these letter keys, so if I wanted to put a four, there you'll see the four. I'm going to go ahead and delete that. That's not what I want either. I'm going to hit shift again, you'll see the shift color has turned to green, the little shift box has turned green, and I'm going to find my explanation point, which is right there. I'm going to add a few spaces. I'm going to hit Run/Stop again. You can see, now we have the word Hello with an explanation point. Well thank you for watching, and if you have any further questions on this sign, please feel free to use our live chat button.
With 16 colors, 28 color arrangements, 26 pre-programed graphics, and 25 programed text effects to choose from, getting a customer's attention has never been easier than with the Pro-Lite TruColor II Scrolling Color LED sign!
Products In This Video

Related Products



Related Videos
LED Beer Sign Modes
Use this LED Beer Sign with its 3 different modes - steady on, flashing, and crawling - to attract customers to your bar or pub!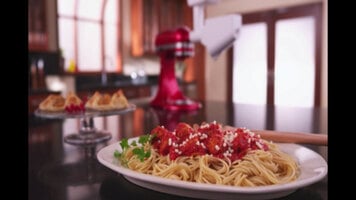 KitchenAid Stand Mixer Strainer and Grinder Attachment
This video gives you a look at the strainer and grinder attachment for KitchenAid stand mixers. These attachments add extra variety to your kitchen!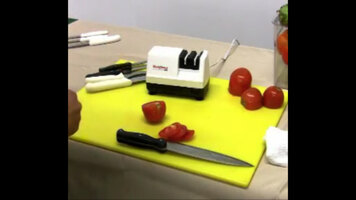 Electric Knife Sharpeners
Not only are dull knives a pain to work with, but they can be dangerous! This Chef's Choice electric knife sharpener give you professional quality and amateur simplicity all in one. Check out the video to see just how easy it is to use this product.