Mix and serve creamy, perfect milkshakes in half the time. Introducing powerful technology in single and triple drink mixers from Hamilton Beach Commercial—always there, always durable—our drink mixers have a 100 year history of keeping milkshake-lovers happy. Now, twice as fast, they'll keep you happy too.

The Hamilton Beach Commercial drink mixer is built for performance, with a powerful third horsepower precision motor that cuts mixing time in half and cuts the amount of labor in half. Our heavy-duty, die-cast construction means it's also built to last. Each motor is individually-balanced to minimize vibration with sealed, permanently lubricated ball bearings housed in a rugged, water-resistant body. And, the three motors in our triple drink mixer work independently so you customize each shake the way you want—maximum service, minimum delay.

Not only fast and durable, our commercial drink mixers are easy to use since each spindle has its own three-speed switch. Using the cup guide, the motor starts mixing automatically, leaving you free to return when the drink is done. Or, remove the cup guide, and mix drinks manually. Either way, you get great results every time.

Hamilton Beach Commercial drink mixers are for more than just perfect shakes. The versatile spindle agitator is also perfect for beating eggs and pancake batter, and for flashing bar drinks. It doesn't get any better than this.

So which drink mixer is right for you? The triple spindle drink mixer is the best choice for multiple employees or high-volume milkshake production. For lower-volume shakes or fewer employees, choose the single spindle drink mixer. And, if you're frequently adding mix-ins to your shakes, consider the optional number 929 high-performance agitator.

Hamilton Beach Commercial is not only the perfect choice for performance, durability, and ease of use; it's also a great choice for fast, friendly service. For questions, service calls, or replacement parts, you can always count on your Hamilton Beach Commercial service team.

Exceptional performance, built to last, excellent service, Hamilton Beach Commercial. Always there, always durable.
The Hamilton Beach single and triple spindle drink mixers make perfect additions to any bar, cafe, or ice cream shop with milkshakes and specialty drinks on the menu. Allow for maximum service with minimum delay!
Related Videos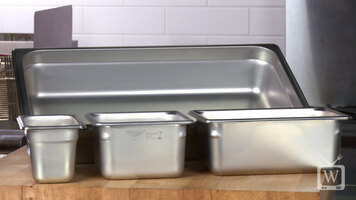 Steam Table Pans
Learn how to use the different sizes of steam table pans that you can find here at the WEBstaurant Store!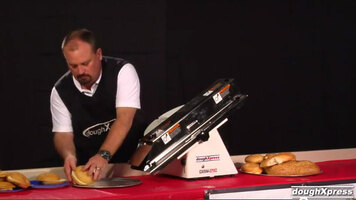 DoughXpress: DXSM-270 French Bread/Bun and Bagel Slicer
The DXSM-270 bun and bagel slicer will slice french bread, bagels, hamburger buns, hoagies, biscuits, bread sticks, and so much more! This product can slice and/or hinge products up to 6" wide by 3" thick as fast as the operator can feed it!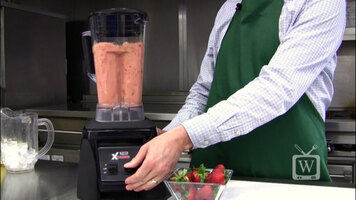 Waring MX Series Blenders
With its 3 1/2 horsepower, the Waring MX blender is great for blending everything from food to bar drinks! Learn how to make a great strawberry-banana smoothie with the Waring MX blender.