This convertible platform truck is another great innovative product from Rubbermaid Commercial Products. It's actually a very versatile product; Three products in one. As you can see in this configuration, it's a two shelf, heavy duty utility cart. 24" x 44" in length, 750 lb. overall capacity. It can move most any product that you need on your work site. To convert it to a platform truck, simply remove the tool and supply caddy, reposition it on the metal handle end, press one button converts into a two-sided U-boat platform truck. 1,000 lb. overall capacity. You have extra-long goods that you need to move, simply disengage the slide-locking latches of the handle, reposition the handle to the opposite end, and now you have a convertible platform truck with a full length of 52" long. Let's talk about its durability. This product is constructed of what we call a Duramold resin metal composite structure. It doesn't rot, split, warp or crack like wooden platform trucks. Other cool features of the product, you will see perimeter deck channel around the outside edges to keep small parts in place; Six tie-down points for bungees or ratcheting straps to secure your load during transport; A textured deck surface to also prevent load slippage during transport. Talk about the casters. Six casters on this model that you can easily move the product on its own axis. The surface of the casters, a TPR tread, provides quiet operation and non-floor marking characteristics. Another great feature with the convertible platform truck is your choice of TPR casters or pneumatic casters for a quiet, cushioned ride indoors and out. Convertible platform truck - another great product from Rubbermaid Commercial Products.
Rubbermaid's convertible platform trucks offer the ultimate in versatility. Changing between the two shelf, U-boat, and platform model is simple to help with any task. Watch this video to find out how it's done!
Related Videos
San Jamar Stainless Steel Family
Enhance your facility's image with the durable, easy to operate stainless steel family of smart dispensers from San Jamar! For more information about these high quality tissue and towel dispensers, check out this short video.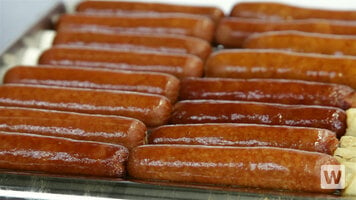 Avantco RG1824 Hot Dog Roller Grill
Built with a stainless steel exterior and 750W of heating power, this roller grill is the perfect choice for your snack bar or convenience store! Watch our short video to learn more about these and other features of the Avantco RG1824 roller grill.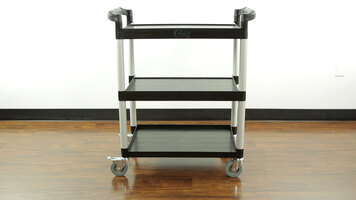 Choice Utility/Bus Cart
Our Choice utility / bussing cart provides the best in transporting goods and supplies at your restaurant, school, or office. Learn how these carts can make your business more efficient today!