All black marker boards come with a set of four neon markers. The black surface is magnetic and has an aluminum frame. Wall mounted blackboards come in three sizes. The mobile blackboards come in two sizes. The mobile blackboards are two-sided and are easily reversed. The marker is easily erased using a soft cloth and glass cleaner.
Learn about the different sizes and styles of Luxor black marker boards so you can choose the best one for your business!
Related Videos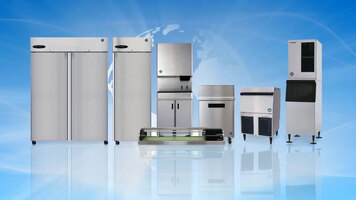 Hoshizaki Ice Types
Hoshizaki is an industry leader in manufacturing commercial ice machines. They offer a variety of ice shapes to suit any site application. From cube ice to chewable ice and even flaked ice, Hoshizaki has options for every sector of food service. TurboChef Encore High Speed Oven
Watch this video to learn all different types of food this TurboChef Encore High Speed Oven can cook! Pizzas and fries are done within minutes, and it's great for baked goods, too. Check this out to see if this oven is right for your venue! Noble Gloves - Introduction
In this video, we give you an introduction to the Noble Gloves collection. With guaranteed quality and incredibly low prices, Noble Gloves is sure to have a selection of styles and sizes to fit the needs of your company.