Gold Medal Products has been manufacturing quality snack equipment since 1931, such as popcorn machines, cotton candy machines, sno-kone machines, hot dog machines, and all the supplies. Our 425,000 square foot building in Cincinnati, Ohio has the largest inventory in world of these items. Our network of dealers worldwide, are here to help you make the most profit you can make with any and all of Gold Medal's products. This video will show you how to setup and make sno-kones in your Gold Medal machine. Before we get started, here are some safety precautions you will need to follow. Do not place your hand on the hopper or try to touch the blades while the sno-kone machine is running. If the machine clogs with ice, do not stick your hand up on the machine to try and unclog. No minors are allowed to operate this machine. Do not put anything other than ice in the hopper of the sno-kone machine. And please be extremely careful when cleaning or drying off the machine. The blades are very very sharp. Important. Be sure to read and understand the operating manual for this piece of equipment. If you need an operating manual, or have any questions, please call us at 1-800-543-0862. The model 1888 Sno-King, which we are using today, is one of the most popular models of sno-kone machines. Gold Medal also offers a complete line of ready to use syrups, concentrated syrups, and genuine sno-kone cups. So, you can get everything you need from one source. After removing the packing materials, attach the drain hose to the drain fitting on the lower side of the machine and direct it into a bucket. Any ice that melts inside of the cabinet will directed into the bucket so your work area stays clean and dry. Next, attach the pusher handle to the top of the ice chute and tighten the bolt and lock nut. Turn the power switch on and locate the motor switch which is a round red button. The motor will not operate unless you press and hold this red button. Load the ice chute with ice cubes and fill up the chute to the top. Any cubed ice will work. To shave the ice, press and hold the motor switch and gently push down on the pusher handle. The ice will shave and fall into the cabinet. Take the blue plastic sno dipper and scoop up the shaved ice from inside the cabinet and fill the sno-kone cup. It may take 2 scoops to completely fill the cup and make a rounded shape of the ice. To finish off the sno-kone, add 1 ounce of ready to use sno-kone syrup and serve. Should you have any comments or questions, please feel free to call us, fax us, or email us.
This video will show you step-by-step instructions on how to operate your high volume sno-kone ice machine from Gold Medal! It also lists some invaluable safety tips so you and your employees can stay safe when cleaning and operating this machine.
Related Videos Omega Vertical Juicer Demonstration
Check out this video and see all the possibilities of juicing this Omega vertical juicer offers! From juicy pineapple to vegetables as hard as carrots to products as fine as wheat grass, this juicer will allow you to create many juicy concoctions.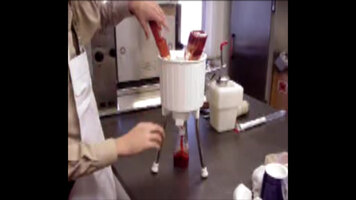 How to Use a Prince Castle Ketchup Saver
Check out this video to learn how to use the Prince Castle ketchup saver! This ketchup saver is great for consolidating contents of multiple containers into one to provide more space! Turbochef C3: Daily Maintenance
If you want to keep your Turbochef C3 oven in top-quality condition, then daily maintenance and cleaning is a must! This video gives brief, step-by-step instructions on how to clean every part of your oven.