(Transcript Unavailable)
Serve delicious french fries with this 6 wedge blade french fry cutter! These step by step visual instructions will show you how to use, clean and maintain your restaurant french fry cutter, and keep it running like new.
Products In This Video

Related Videos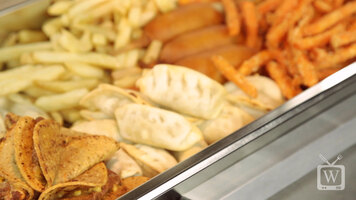 Avantco 2 Bulb Food Warmer
Looking for a way to keep your menu items warm? The Avantco free standing two bulb heat lamp & food warmer is an ideal solution. Equipped with convenient features like an adjustable stand, this heavy-duty aluminum warmer will meet your daily demands! American MetalCraft 2014 New Products
Get an exciting preview of American MetalCraft's brand new products for 2014!
Pizza Delivery Bags
Since delivering cold pizza to a hungry home owner is the easiest way to lose customers, durable, well insulated pizza bags are a vital tool for all establishments offering pizza delivery. We offer both nylon and vinyl bags in two convenient sizes!