In this segment, we're going to deal with caster and wheel repairs. Whether you're upgrading or replacing something. You've prepped the grill, the roll dome's off, the fuel's disconnected, watch the other video on how to bring it this far. Now in order for me to get into repairs on the casters and wheels or anything on the bottom of the grill, I'm going to have to invert it. I've recruited some help, so we're going to flip this upside down, okay. Rotate it. Now, let's deal with replacing the large wheels. Crown Verity uses large 14 inch wheels, from time to time they do need to be replaced. Some of the tools require for this job, I've got a standard set of locking pliers, otherwise known as vice grip, flat nose pliers, slot screwdriver, and a hammer. Before we get started at pulling the pin out, what I want to do is lock the axle with a set of locking pliers, standard vice grip style. On the axle, lock it down so that it doesn't turn now hold this with one hand so I have control over the rotation of the axle. I'll bring my flat nose pliers into play here, start straightening out the tails, the ears, on the cotter pin so that we can pull it out. It will be deformed, that's normal. If you can get it straight, just pull it out. If it sticks on you, like this one is doing, I'll bring a slot screwdriver, put it right in the eye of the cotter pin and tap it out. Take the washer off and the wheel comes straight off the axle. Okay, a brand new wheel ready to go. What we want to do is make sure that we've got the same number of washers on the inside as they were when we took it off. If there were two replace it with two, if it was one replace it with one. Bring the new wheel in, slide it over the axle, introduce the washer, there should always be one washer on the outside, never less than one. Drop a new cotter pin into the hole, slide it straight out. Again, flat nose pliers and I've got control of the axle for rotation, just bend the ears out. Installation is complete. Okay, let's deal with caster replacement. I'm going to be a little bit thorough here in explaining this whole area. There's a lot of things going on here, not just the caster. If you've ever experienced lose hardware, especially in this area, and can't figure out how to get at the backside of it, I'm going to explain that. The key to unlocking this whole corner, is the caster itself. Getting the caster off, for someone, is a bit of a mystery so we're going to clarify that for you. There's a large bolt right here in the center and in the center of this swivel raceway, which if you have a wrench like so, this is an offset wrench, if you don't remove the wheel. Simply undo this nut, remove the bolt, and pull out the wheel and that'll allow you to get a standard socket down onto the head of this bolt. You don't need this fancy tool, but it is a little extra work but it can be done. So let's go ahead and remove that. Okay, so here's your caster assemble with the bolt removed. We do use a thread-locking compound on there to stop them from coming out, if you've found that it's very stiff a little bit of heat at times can help with removal. After the caster is removed, simply slide this stiffening plate out. Now, we can access the back of these bolts so that we can deal with the caster mount. From time to time they do need to replaced or you need to bring the job at least this far to gain access to the fasteners that are behind there. So let's take out this caster mount completely, in order to do that, the only two bolts we have to take out are the outside two. Okay, let's take these bolts out. I've got a slotted screwdriver here that I've going to use to hold the bolt steady from outside, I'm using a standard 3/8ths ratchets with a 1.2 inch extension socket I can now gain access to inside, I'll reach in from behind and break that nut loose and remove that one. Come around to the other side, again loosen the bolt and break my nut loose. All stainless steel hardware shouldn't have any corrosion problems, breakage, anything like that. With those removed, the caster mount slides right out. Now you'll notice in the caster mount, these two large square holes, those are clearance holes for these two bolts. So again, they don't have to be removed in order to take this part out. Now would be the time to tighten or replace this hardware before we put a new caster mount in. So, for good measure, let's just go ahead and make sure everything is good and secure. We'll replace them as necessary because getting back in there later will be somewhat of a chore. From time to time the caster mounts do need to be replaced, so we'll install a new part here. We'll slide it into place, new hardware, and from the outside stick your lock-washer on and the nut. Flat screwdriver and my ratchet. Now, reinstall the stiffening plate, same way we took it out. It slides right in there and those two holes will line right up. Here's our brand new caster, put the bolt dead center and reinstall this the same way we took it off. I'll use my fancy wrench, but again you can remove the wheel and nut axle to gain access vertically. Tighten this up, nice and tight. Installation's complete.
Watch this video to learn how to replace the wheels and casters on your Crown Verity grill!
Related Videos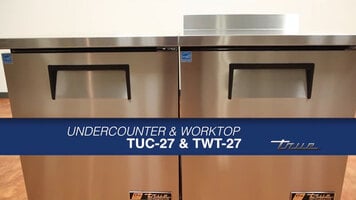 True TUC27/TWT27
Looking for a reliable undercounter and work top refrigerator? Try True's TUC27 and TWT27! Both units have an oversized, balanced refrigeration system that ensures faster temperature recovery and shorter run times. Cambro High Heat Pans
If you are a caterer or run a buffet, then Cambro high heat food pans will make your life easier! Able to withstand temperatures from -40 to 300 degrees, these pans will be a versatile addition to your business. Check out this video to learn more!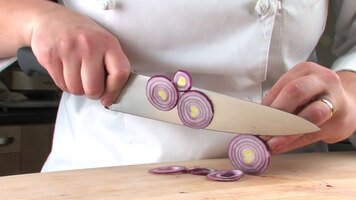 Pickling Mercer-Style
Pickling is an easy, time-tested method for intensifying the sweet and sour ends of the flavor spectrum, and in doing so, escalating overall flavor. In this video, Mercer shows you how to pickle onions and add a fresh touch to your dishes.