In this sequence we'll deal with thermometer replacement, it's quite simple. Again, raise the roll dome, grab yourself a 9/16th wrench. One nut holds the thermometer on, loosen it with your wrench, remove the hardware from the backside, and pull the thermometer out. It's quite simple. A new one will come to you as such with the thermometer and hardware included. Drop it in the hole, washer first and the nut behind it, bring it up hand-tight, make sure your thermometer is oriented properly so the logo is upright. From behind, tighten up.
Watch this video to learn how to replace your thermometer on your Crown Verity grill!
Related Videos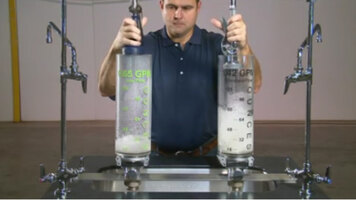 T&S Brass Low Flow Pre Rinse Spray Valve vs. Aerator Spray Valve
Learn how T&S Brass Low Flow pre rinse spray valves and aerators can help save your business thousands throughout the year. Star Waffle Baker
Learn the important features of the Star waffle baker!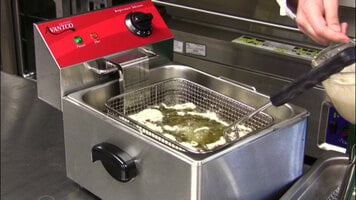 Fried Coke
Learn how to make this taste sensation! Fried cola has been a carnival favorite for years, and if you're one of those people who has wondered how it's done, check out this video for step-by-step instructions.