In this sequence we'll deal with thermometer replacement, it's quite simple. Again, raise the roll dome, grab yourself a 9/16th wrench. One nut holds the thermometer on, loosen it with your wrench, remove the hardware from the backside, and pull the thermometer out. It's quite simple. A new one will come to you as such with the thermometer and hardware included. Drop it in the hole, washer first and the nut behind it, bring it up hand-tight, make sure your thermometer is oriented properly so the logo is upright. From behind, tighten up.
Watch this video to learn how to replace your thermometer on your Crown Verity grill!
Related Videos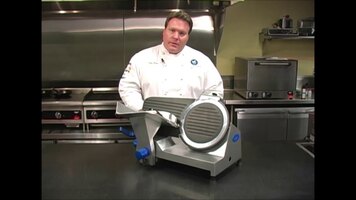 How to Clean a Slicer
This video shows you how to clean your Vollrath slicer. This presentation will help you to efficiently, quickly, and safely clean the slicer blade, food tray, and other components.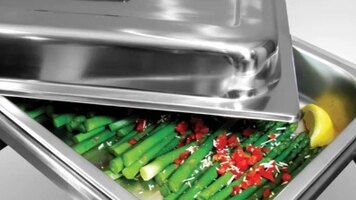 Choice Economy Chafers
Don't think for a second that we sacrifice on quality to bring you such incredible prices! With our Choice economy stainless steel chafers and included accessories, you can get everything you need at a great price.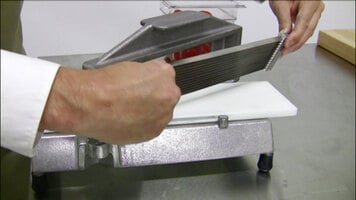 Tomato Slicer Blade Replacement
Need to replace the blade on your tomato slicer? Check out this step-by-step visual demonstration to learn how!