We're going to deal with lighter tube removal and replacement. We brought in a older unit just to give you a real life look at things here. Pilot tubes over time do become plugged out the very small ports along their length can become blocked just from ordinary everyday use. From time to time, critters will crawl inside and make a home. All of that blocks the free flow of gas along its entire length. Some of the common complaints are, you know my lighter tube runs, it's only running part time, or you know I can't light it at all from this end because the fuel isn't getting down to this end. Or I have a large flame up at the top in my red knob; we hear that from time to time, usually indicative of blockage in the tube. I almost always recommend replacement; it's much quicker and 100 percent success rate. You don't have to remove the burners to install this part; it's not uncommon to see people replacing their lighter tubes at the same time that they're servicing and replacing burners, and vice versa. So if you need to remove the burners, refer to the other video. So that we can give you guys a better look at what we're doing here on the grill, we're going to take the burners out of this older grill and come right back. Okay, burners are out. Now we can really see what's going on down here. The pilot tubes, looking at the ports, are blocked. The owner was complaining of an orange flame in this area. This is another tube out of another grill that we took out, again the same scenario. All the ports are really half blocked and a lot of soot up on this area from that orange flame, that candle lit flame. Here's a brand new pilot tube, all nice and clean, the ports are wide open, no carbon. It'll come with brand new eye bolts, okay; this is what holds the pilot tubes in place. They install by sliding them over the inlet end of the tube two per two, with a single nut threaded all the way down. It'll always be two for each pilot tube, regardless of size, left right, it doesn't matter. At manufacturing we install the tube from the bottom up under the lighter tube shield, what you see here. Attach the two eye bolts and slide the tube over the orifice jet. In this particular mode, you'll notice the eye bolt here and here. With a 3/8th wrench you can remove those nuts. You can just whack that off, yours are probably going to be corroded, not nice and neat like we have it here on TV. However, they do need to come out of there so do what you have to do to get them out. Okay the eye bolts are now removed and now it's a simple matter of pulling it off the orifice jet. And the pilot tube will drop out the bottom. We've got the old pilot tube out, all the old hardware is out of the way; I'm ready to install my new tube. It comes with two new eye bolts, what I've done is I've threaded one nut onto each eye bolt all the way down right to the bottom of the threads. Okay, just a single nut, two of them, and slide them over on the lead end of the tube. Position them about like so, one near the front and one near the back. Reach down with the tube here, and honestly if you have a buddy with you it might make this part a little easier. The tail end of the tube needs to engage with this square piece of tubing that's welded to the end panel of the grill here, you can't quite see it it's located under the lighter tube shield, but it coincides with the hole on the end that's used to introduce the lighter. Take the next closest eye bolt and get it into position from underneath. Get a nut started on that so it doesn't fall out on you. Go back to the lead end, bring it up through the last hole here, the first hole that's in line with your pilot valve. I've got my other eye bolt here, I'm going to line it up with the hole, the same time as I'm lining it up with the orifice nozzle. Make sure this is as seated as it can be. Twist the second nut all the way down, come back and correct this one. Tighten the nuts and there you go, all done!
Watch this video to learn how to replace the pilot lighter tube on your Crown Verity grill!
Related Videos
Advance Tabco SHD Drawers: Overview
This informative video provides you with an overview of the design features and benefits of Advance Tabco SHD drawers!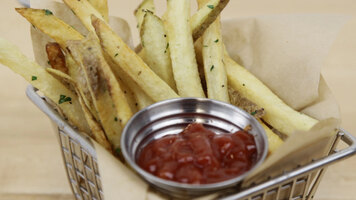 How to Use a French Fry Cutter With a 1/2 inch Blade
Watch this video to learn how to use, clean and maintain your French fry cutter! These step by step visual instructions will be sure to help you keep your French fry cutter with a 1/2 inch blade running like new.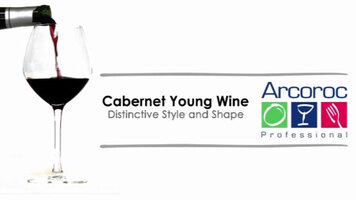 Arcoroc Cabernet Young Wine Glasses
Bring the distinctive style and shape of Arcoroc Cabernet Young Wine glasses to your upscale dining establishment. Available in 19.5 oz., 16 oz., and 12 oz. sizes, this crystal-clear, shock-resistant stemware is perfect for red and white wine.