1. Check soil level. 2. Cover surrounding equipment. 3. Prepare your cleaning equipment and solutions. 4. Clean the corners first. This may require repeated spraying at highly soiled areas. 5. Clean the hood surface. A microfiber pad with an extender pole works well. This may require repeated spraying at highly soiled areas. 6. Flush surfaces. 7. Wipe dry with a microfiber cloth.
This helpful video provides step by step instructions on how to thoroughly clean your hood to maintain a sanitary environment and eliminate the potential for flammable conditions.
Products In This Video

Related Videos
Noble Gloves - Overview
This video gives you an overview of what Noble Gloves offers. These versatile, food service-grade gloves can be used to protect hands in almost any situation and come in multiple sizes and styles so you can provide your employees with the perfect fit Cooking in the OnCue
The unique design of the OnCue oven makes it possible to cook food up to 42% faster than you could in a conventional oven. This video highlights this and other great features like how easy the OnCue is to clean.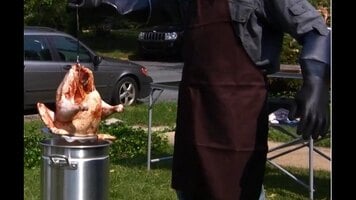 How to Deep Fry a Turkey
In this video, you'll learn what kinds of equipment you need to be safe while deep frying, as well as how to make a delicious fried turkey that's perfect for any occasion whether it's Thanksgiving or tailgating!