1. Check soil level. 2. Cover surrounding equipment. 3. Prepare your cleaning equipment and solutions. 4. Clean the corners first. This may require repeated spraying at highly soiled areas. 5. Clean the hood surface. A microfiber pad with an extender pole works well. This may require repeated spraying at highly soiled areas. 6. Flush surfaces. 7. Wipe dry with a microfiber cloth.
This helpful video provides step by step instructions on how to thoroughly clean your hood to maintain a sanitary environment and eliminate the potential for flammable conditions.
Products In This Video

Related Videos
Waring MX1050XTX Commercial Blender
Learn the ins and outs of the Waring MX1050XTX commercial blender!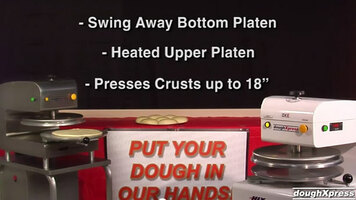 DoughXpress: DXE-SS Electromechanical Automatic Pizza Dough Press
The DXE-SS commercial semi-automatic pizza dough press is perfect for high production volumes! See how this product offers a fast, safe, simple, mess-free solution to hand tossing or sheeting your pizza dough. The ACE14 Jetwave Demonstration
The ACE14 Jetwave oven uses 1400W microwave energy to cook foods 4 times faster than a traditional oven. With a temperature range from 200-475 degrees, this oven is extremely versatile, too. Plus, it allows you to preprogram up to 100 dishes!