With using the Combi oven, we have found that we can duplicate in a better way, in a more accurate way, some of the techniques that are traditional. You can cook at exact temperatures for extended periods of time to control how quickly something is cooking. With eggs, I know that the white part of the egg coagulates at about 141 degrees. So if I put a raw egg just in the shell in the Combi oven, at 141 degrees at 100% humidity, it's going to cook the whites perfectly, and the yolks won't be cooked at all. So, if I want an over easy egg, if I am at a restaurant and we are serving breakfast, I can load up that Combi oven with eggs turned on to 141 degrees and then every time someone orders and over easy egg all I have to do is just crack it and put it on the plate, and I'm going to end up with the perfect over easy egg time after time.
Chef Thom England from Ivy Tech shows you how to make the perfect egg time after time using the Combi Oven from Hobart.
Related Videos
Hobart Combi Oven at Ivy Tech
Chef Thom England from Ivy Tech explains why he uses the Hobart Combi Oven, and the benefits of its steam integration.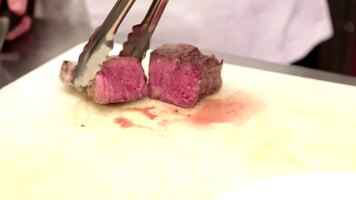 How to Make the Perfect Steak
Chef Thom England from Ivy Tech teaches you how to make the perfect steak with Hobart's Combi Oven.
Cardinal Detecto C Series Scales Operation
Count and weigh small parts with this Cardinal counting scale! Boasting innovative features that enable you to count items quickly and accurately, this scale will ensure fast, efficient service at your inventory or packaging facility.