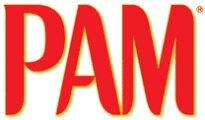 PAM Overall Customer Rating:
Keep Your Foods from Sticking with PAM Cooking Spray
PAM has been ensuring that your baked goods, grilled foods, and other dishes have come out looking great since 1961. The cooking spray is owned by ConAgra Foods, which is an American packaged food company based in Chicago, Illinois. The name PAM came from the acronym for "Product of Arthur Meyerhoff," which is the name of one of the founders. Read more
PAM cooking spray is made primarily with canola oil and comes in an iconic aerosol bottle with a red cap, allowing you to apply it evenly to your cookware with ease. It's also available in several flavors, so you can choose the taste that best fits your dish or cuisine. Because of its many uses, PAM cooking spray is a staple in a wide variety of commercial and residential kitchens.