Edwards-Councilor S150E48 Steramine Sanitizer Tablets (Sanitabs) - (6) 150 Count Bottles / Case
<!-[PRICE_INCREASE_ADVERTISEMENT_263TABS]->
Perfect for sanitizing food contact surfaces
Prevents contamination of raw foods
Helps prevent the spread of infectious diseases
Use in 3 compartment sinks and spray bottles
Effective on hard, non-porous surfaces
Kills HIV-1 and E. Coli
Item:

263TABS

Units:

Box

Shipping:

Usually Ships in 1 Business Day
When will I receive my Item?

Reviews:

MFR Item:

S150E48

Condition:

New
Companion Items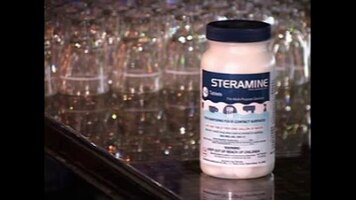 The third sink. In many ways it's the key to your kitchens operation. Without it, you're out of business. Steramine multipurpose sanitizing tablets can help insure that your third sink meets all requirements quickly, reliably, repeatedly. When used as directed, steramine tablets dissolved in water kill infected micro-organisms including E.coli bacteria, Staph, and HIV-1; the virus that causes aids. It's an anti-microble product. A sanitized solution prepared with steramine tablets leaves glassware and dishes sparkling clear, and free of film, odor and residue. It's also good for sanitizing food display equipment. Steramine tablets have every advantage offered by other sanitizers, plus additional benefits that combine to make it an outstanding choice for your sanitizing needs. Compared to chlorine compounds, iodine compounds, and liquid quarts, steramine tablets are safer, easier to use, and more cost effective. Look at some of the advantages steramine tablets provide. As a business owner, you are responsible for ensuring a safe and healthy work environment for your employees. That means providing them with the safest means for doing their jobs. Most sanitizers are listed by the environmental protection agency, or EPA, as category 1 hazards. These sanitizers require personal protection equipment, such as goggles and gloves, to prepare them, and they carry a risk of serious illness, permanent injury, or death if used or prepared improperly. Steramine is listed by the EPA as a category 2 chemical hazard, meaning it is less dangerous than category 1 sanitizers. In fact, with steramine tablets goggles and gloves are not required when preparing the solution. Simply drop the tablets in water. Steramine tablets are pre-measured. One tablet dissolved in one gallon of water produces a sanitizing solution of two hundred parts per million of concentration to meet health department regulations. Other sanitizing solutions require measuring liquids or powders from bulky supplies, with a chance of creating a solution that is too strong or too weak. This method also creates the danger of spills, splashing, or improper mixing. In addition, steramine tablets produce a clear, pale blue color in the sanitizing solution. Many sanitizers produce no visible indication that they are in use. With other solutions, workers may deliberately under-mix the amounts to reduce skin irritation, noxious smell, unpleasant fumes, or discomfort caused by volatile is_active ingredients. Even when the full amount of other materials is used, their corrosive ingredients can cause painful breaks in employees' skin. Sanitizing solution produced by steramine tablets is gentle, it won't irritate hands. Steramine is also non-corrosive to metals, non-staining, and odorless. There is no objectionable residue left over on surfaces treated with steramine. Steramine leaves no lingering smell or taste to interfere with the enjoyment of food and drinks. Steramine tablets reduce waste. Each tablet is pre-measured. Since there is no liquid to measure out, the risk of spilling your waste is practically eliminated, and the risk of loss due to broken containers is a thing of the past. One six bottle case is enough for nine hundred gallons of solution. You save on shipping and delivery costs because you're not paying to transport liquids or inert ingredients. To use steramine tablets, measure and mark the water level in your third sink according to the formula shown. For each gallon of water used in the sink, use one steramine tablet. It's that simple! Your staff won't have to worry about measuring out liquids with specialized equipment, and you won't have to worry about storing bulky containers in a crowded, busy kitchen since each bottle holds 150 tablets, and a compact case holds 6 bottles. Steramine tablets aren't just for the third sink. You can also spray or wipe steramine sanitizer on food processing equipment, sinks, countertops, refrigerated storage, and display equipment, cutting boards, and other non-porous food and non-food contact surfaces and articles. Since it is odorless, tasteless, and residue free, no smell or taste is transferred to the food. Effective, easy to use, economical, versatile, and compact, steramine multipurpose sanitizing tablets provide all of the benefits of the solution you are using now while adding advantages that make it a clear winner in your kitchen.
Steramine tablets are safer, easier to use and more cost effective than other sanitizing options! Strong enough to kill micro-organisms such as E. Coli, Staph, and HIV-1, but gentle on employees' hands, they can even be used on food contact surfaces.
Specs
Chemical Form
Solid
Ready-to-Use
Yes
Type
Sanitizers
Customer questions about this product
What is the correct temperature for sanitizing?

The FDA specifies that sanitizer solution temperature must be at least 75 degrees Fahrenheit. The maximum safe temperature for prolonged bare hand contact is 120 degrees Fahrenheit. If protective gloves are used, the maximum safe temperature is 140 degrees Fahrenheit.
Ask your own question!
Details
Edwards-Councilor S150E48 Steramine sani-tabs are perfect for sanitizing food contact surfaces, which is essential in the food service industry. They can be used in either a soaking method for dishes, glasses, utensils and other small items, or in spray applications for sanitizing large surfaces like countertops, sinks, processing equipment, refrigerators, and other non-porous surfaces that frequently come in contact with food. When used as directed these tablets are highly effective at preventing the transmission of infectious diseases like HIV-1 (AIDS virus) and E. Coli. Prevent cross contamination to keep your food safe and your food establishment in business with these sani-tabs.

Sold (6) 150 count bottles per case.

Directions: Use 1 tablet per 1 gallon of water.

For soaking: Wash articles with a good detergent in first sink compartment. Rinse with clean water in second sink compartment. In third sink compartment use 1 tablet per 1 gallon of warm water. Allow several minutes for tablets to dissolve. Immerse articles for at least one minute or for contact time specified by governing sanitary code. Allow articles to air dry on a rack or drainboard.

For spray application: Wash and rinse all articles and surfaces thoroughly. Apply the solution (1 tab per 1 gallon) using a hand trigger sprayer or wipe on. Allow surface to remain wet for at least one minute followed by adequate draining and air-drying.
Downloads
SDS
A PDF viewer is required to view this product's information. Download Adobe Acrobat software
Related Items
Frequently Purchased Together
Customer Reviews
Overall User Rating:
Edwards-Councilor S150E48 Steramine Sanitizer Tablets (Sanitabs) - (6) 150 Count Bottles / Case

(

4.8

stars from

139

reviews )
These tablets are great. We just drop them into the sanitizing tub, let them dissolve and never worry about the right concentration. They are so easy even I can get the basin setup correctly!!

Chris P. from Taste of Texas BBQ Posted on 08/10/2015

Very easy to use. A lot simpler than using and measuring out bleach. Just drop in a tablet and the water will be sanitized. Water turns a light blue color.

Luciana T. Posted on 07/14/2015

Good working product that we use for all our dishwashing. The technology is getting a little old as there are more advanced chemicals these days, but this is great for a backup and doesn't take up a lot of space.

Tiffany C. Posted on 06/25/2015

The brand we love, and better price than buying from our food supplier truck which is where we used to buy our sani tabs from in the past

Debra M. Posted on 06/23/2015

These are great for use in my kitchen. There is no measuring out liquid sanitizer and hoping your employee got it right. It does leave a residue on the dishes though.

Zshavina D. from Little Critters Early Learning Center Posted on 06/20/2015

These streamline sanitizing tablets really surprised me, they are really easy to use. These tablets work great with the qt-10 testing strips. So easy don't think I will bother to look for a replacement. These tablets reduce waste and work great!!

William P. from Funky fresh food truck Posted on 06/14/2015

Excellent for sanitizing and way easier than trying to use the correct amount of chlorine bleach. Very happy with this product and will be reordering.

Linda L. from Just like Home Posted on 06/06/2015

the least expensive and long lasting sanitizing method i have ever used. i also love how you can tell that the water is sterilized when it turns to a light blue. there are other sanitiziers that do not change color at all.

Nee h. Posted on 06/05/2015

I got these on a whim just because they're cheap and thought 'hey, if they work, they'll be a great (cheap) alternative to what we have now'. Well let me tell you: they work! The test strip showed just the concentration it should. These also dye the water a light blue so you know the water has sanitizer in it - a nice touch. They do take a bit to dissolve (~10 mins) but it's an easy thing to start in the morning: come in, start your buckets and by the time anything has heated up, they're done and you throw in your towels and get to work.

James D. from Zulu Co. Posted on 06/04/2015

The cheapest way to sanitize! Nice light blue color, so you know it's not just plain water. You can split the tablets and make a half-gallon for a spray bottle, too.

Heidi S. from The Mission Church Posted on 05/30/2015

Excellent sanitizer tablets for a fraction of the cost of what I have been paying from my other distributor. The Board of Health in our area loves that we use these and you can get the test strips from Webstaurant store as well.

Joanne C. Posted on 05/20/2015

Ha! Gotta have these! I wasn't sure where to buy these in my new town, so i just threw them into my cart here at webstaurant. I love this place!

Paulette S. Posted on 05/18/2015

If you have wasteful employees use these to be your third sink sanitizer in the kitchen. We still purchase gallon sanitizer for our bar's third sink because we don't go through it as much as the kitchen. You get 6 bottles of 150 and it lasts. We use six tablets every time we fill the sink. So its about 150 uses for little cost. It's not wasted because all they have to do is throw 6 tablets in and so far they haven't messed up. Saving money and chemicals. Kitchen Manager, Elsa

Elsa A. Posted on 04/22/2015

These Steramine Sanitizer tablets are great. come in a convenient bottle of 150 each, and each one pill can sanitize 1 gallon highly recommended and most importantly a great deal

Fares T. Posted on 04/21/2015

Excellent product. The tablets have slightly less strength then the ones we get from our distributor. This allows to wary the strength of the water and allows us to save money.

Mohit M. from Cold Stone Creamery Posted on 04/20/2015

Love these sanitizer tablets. They are super convenient and get the job done in no time! I highly recommend these to anyone who uses sanitizer!

Sarah B. from Sarah's Sweets Posted on 04/13/2015

this is one of the only sanitizer that we were able to find that does not contain bleach, we've been using them for years and are very happy with it. The tablets are also easy to dose.

Sarah F. from Brandenburg Posted on 04/10/2015

Wow! Talk about easy. No measuring out liquid or powder any longer. Just drop a pill in the sanitizer bucket and add water. Simple and cost effective.

James O. from Cafe Xpresso Posted on 04/01/2015

I thought I would use these for a more non toxic option for sanitizing (we were using bleach prior), but was not happy with them. They were nicer on hands and didn't run the risk of staining clothes but it takes about 6 tablets to get a small compartment sink full of water up to the right dilution. They also hardly ever dissolve all the way.

Colin W. from Allison Posted on 03/04/2015

These are a must and are only half the usual price of many other distributors here. They usually set me back a bit per bottle but here its less.

Timothy R. from Tika - 1231 coffee Posted on 02/24/2015

These tablets have worked exactly as described in my kitchen. They dissolve in hot water, and the container comes filled to the brim with tablets.

Dina C. Posted on 02/19/2015

Definitely great value for the price. We use the sanitizer tablets in the 3 compartment sink as required by the health department. We use 2-3 tablet each time to reach the recommended sanitizing level.

Beshoy I. Posted on 02/17/2015

These tablets work great! They turn the water blue which is great because when it dries you can tell if your dishes or supplies were properly draining or not. If they properly drained it leaves no residue and no taste, unlike other sterilizers. But if they did not drain correctly you will see dried blue residue. I would definitely recommend this product. Easy to use and foolproof, fill sink to exact marked level and put in exact amount of tablets.

Michael H. from Perk Up Posted on 02/16/2015

Best thing since slice bread. Directions easy to follow. Passes with the health department. Not to mention great price. Would recommend to someone who doesn't want to pay for a service.

Murray S. Posted on 02/05/2015

These sanitizer tablets are very easy to use. They will last an entire day's use without needing to be emptied and filled again. We hand wash every glass and these tablets do a great job.

Caleb T. from Homegrown Brewhouse Posted on 01/22/2015

Found these on this site and they offer more tablets per bottle and they were way cheaper than our vendor! Glad I found these on this site.

Sherri L. from Sportsbar & Steakhouse Posted on 01/20/2015

I absolutely love this product. We use it mainly in our sanitizing bin. But we also use it to sanitize surfaces and doorknobs during the day. Our health inspector did not know if we could use this in NY State, she came back after her research and gave us full clearance.

Marc D. from RameNesque Posted on 01/14/2015

These things sanitize! I use six in my third compartment of my sink and get a good reading from a test strip every time. Buy them!

Chelsea T. from The Grilled Cheese Incident Posted on 12/28/2014

A must have for any mobile food service enterprise. Quick, easy to use, and effective, all at a price that can't be beat. We use them primarily for on-site catering events where the environment really needs simple solution products like these.

Adam J. from Working in Minne Posted on 12/26/2014

first time, I applied this tablet to my manual glass washer, brush tank. It cannot wipe out lipsticks, fingerprint... some oil thing not removed. so I added some soap. It was very effective. I can sanitize glass with wash! with this purpose, need rinse soap away. After rinse with water, It looks glass reflecting water. very quickly dry. and really shine. I love this product! sure I will buy more. :)

Myeong-ji K. from Bar Cold Dawn Posted on 12/19/2014

These sanitizer tablets work great, dissolve quickly in hot water and don't irritate your skin. The bottle doesn't take up much room and they don't give off any chemical type odor. Great product.

Bob W. from Stoneybrook Farm Market Posted on 11/06/2014

Im not sure what a gallon of sanitizer goes for in your neck of the woods, but here in NYC... we pay more for a single gallon than what these Sanitabs cost for 150... which BTW makes 150 gallons of Sanitizing Solution. Around here a gallon is $6.99 or so... thats almost $1000 if I were to buy 150 gallons... the same amount one bottle of the Sanitabs would make. Cha Ching!!! Saving money on Webstaurant is making money!

Tim R. from Beanie's Dog House - Best Hot Dogs In NYC Posted on 10/23/2014

The best sanitizer I've found so far. Tablets are quick to dissolve and, unlike others in tablet form, do not leave grit in the bottom of your container or have a heavy, harsh chemical smell.

Jaimie W. Posted on 10/22/2014

this sanitizer tablet is a must have around the kitchen. you know its safe to use after wash. great price for a great product. also shipped super fast.

elizabeth H. Posted on 10/15/2014

Very easy to store above the sink and use as needed. No hassle and sanitizes perfectly. Even used it for a street fair in the sanitize bucket.

Luciana C. Posted on 10/13/2014

Great product! Easy to store and convenient to use, I'm not sure we'll ever use anything else. Especially nice for our food truck, where chemical storage isn't always the easiest to accommodate. Thank for a great prodcut!

Clayton P. Posted on 10/02/2014

Each tablet gives you a gallon of sanitizer. No residue, no odor. 150 gallons of sanitizer for such a low price; I have been spending way too much money on leading brands at department stores for far too long.

Sarah b. from Here, There and Everywhere Cafe Posted on 09/30/2014

This great value cleaning product should last a long time and work well to help us keep dishes, counters, and food service areas more sanitary.

Geraldine C. Posted on 09/30/2014

Perfect for consistency in measurements. Not as messy as having to deal with liquid sanitizing agents. My local health department recommends it as well, so it is a great buy for me!

Carolina D. Posted on 08/26/2014

this is a small bottle but indeed has 150 count of tablets and they works great for sanitizing some old bottles for use in next round of shampoos, body washes, and hand soaps. it doesn't take a lot of space to store the bottle and the price is not bad and shipping is also affordable - great buy.

Yvonne O. Posted on 08/22/2014

Great price and easy to use. just throw a couple into your hot water and...kaplow!! It's done. Thank you for giving us a great product.

Cheri L. from Break Time Billiards Posted on 08/08/2014

Exactly as website described, and cheaper than the supply store by me that is often out of them. Will be buying from them again !

Eric H. from gtg Posted on 08/06/2014

Great product, makes sanitizing easy and simple. Six pack also lowers price to make sanitizing inexpensive too. All you have to do is add to water in last sink compartment.

David G. Posted on 08/04/2014

These Steramine sanitizer tablets are my favorite! Very easy to use, simple instructions as well. This case is a great buy and when we run out I'll be purchasing these again

Peter H. Posted on 07/29/2014

I have used these for sanitizing in the past. I like the fact that the these quats are not as hard on people\\'s hands as chlorine. Works well as a spray sanitizer too.

Phillip M. from Lassen RV Resort Posted on 07/14/2014

This is a convenient sanitizer for small operations. It works very well and is always stocked up at the restaurant. Hot water is needed to use this.

Michael L. from china star Posted on 07/07/2014

This stuff is a good inexpensive way to keep things clean. The size is reasonable for a small operation as we only use a could tablets a day. They dissolve fairly quickly and you can use it in the spray bottles for sanitizer.

Gabriella C. from Elements Posted on 06/18/2014

Works as described. Need to be warm water to be able to dissolve the pills. Cold water don't work. No smell. Dries hand if you use the water often.

Yukari Y. Posted on 06/04/2014

Great product for sanitizing my pans, pots and any dinnerware used. So simple to use and doesn't leave any order or discoloring behind. Bought 3 to always have on hand.

Charlie C. from NASTC Conference Center & Catering Posted on 05/30/2014

One tablet per gallon means one bottle will go a long way. Once mixed with water the sanitizing liquid does not break down easily, so it will last well.

Stefan F. from Chef Stef Posted on 05/28/2014

Great for washing glasses and leaves no streaks, glasses are very clean and fresh, absorbs quickly in warm water. We always receive good comments on our super clean glasses.

Richard G. from Green Zone B & G Posted on 05/26/2014

These sanitizing tablets work great. No mess as with bleach. They dissolve quickly and the health departments like them. Just drop them into a bucket of water!

Cindy A. Posted on 05/22/2014

Best price from any where I have searched online and in town. The dishes and pans seem to dry faster using these tablets and tends to reduce spotting.

Debbie H. from Champagne Chocolates LLC Posted on 05/13/2014

GREAT value. These tabs dissolve very well, but sometimes when we are in a hurry, we will crush the tabs in the sink before running the water. Either way is good!

Lydia G. Posted on 04/18/2014

These tablets are perfect for that 3rd bay of your sink for that final rinse or in a bucket for towels. Our health inspector said they were exactly what we needed.

Steven G. from cuppa sunshine Posted on 04/03/2014

Absolute No Brainer. We save $30 per week using tablets versus the wall mount unit installed by a service provider. It comes with strips in every box so testing is always easy.

John K. from Tropical Smoothie Cafe Posted on 03/29/2014

We are happy with our purchase of these sanitizer tablets. They work very well. They are easy to use. They are packaged well. We would recommend them.

Eric H. from B.C. Bagels Posted on 03/27/2014

Steramine Sanitizer Tablets are an excellent product, highly recommend. Used them in my small café and it is great for sanitizing. Inspectors love to see these.

Jacqueline A. from Havana Nights Café & Bakery Inc. Posted on 03/21/2014

very good sanitizing tablets. We loved using these. This has to be the best website that I have found. So much to choose from and at such great prices.

Eric F. from Beans and Strings LLC Posted on 03/07/2014

We have used these tablets for 4 years and they work very well, and are very easy to use. Just mark a line inside your sink or bucket and show how many tablets are required, then anyone can add water to that line and throw in the correct number of tablets.

Rhonda D. from Windmill Chill, LLC Posted on 03/06/2014

Tablets are much easier to use than having to measure liquid sanitizer. Just fill the sink to the appropriate level and add the correct number of tablets.

First B. Posted on 02/24/2014

Best price for this product that every food service place needs. We could not find this anywhere for less. Plus we always get great service.

Tony M. from Jammin' Java Posted on 02/11/2014

We have been using the powered type sanitizer with good results, but these should be cheaper and I like the blue color these tabs make so you know the product is in the sink by just looking.

John H. from Harts Repair Service. LLC Posted on 01/22/2014

These tablets are the best option for sanitizing dishes. All you have to do is drop the tablet in he sink. We even use this to sanitize tables.

Tyler W. from yogurtree Posted on 12/16/2013

Was Skeptical at first when we purchased this item. Turns out it works out great. We fill our sanitize sink drop two tablets in the hot water wait for them to dissolve (pretty quick), and we are ready for the whole wash, rinse, sanitize. Will be ordering more.

Tina P. from The Candy Nook LLC Posted on 12/06/2013

These tabs have made it eaiser for our staff to measure the correct amount of sanitizer for the sinks and cleaning bottles. Before we had the bucket of liquid and went thru much more than needed. Now our staff can all just throw in x amount of tabs instead of trying to measure out ounces of liquid. The only drawback is we are so used to the pink colored sanitizer.

Jeanne H. from Abundant Grounds Cafe Posted on 12/02/2013

We previously used bleach for our santizing needs. Started using Steramine tablets several weeks ago and am a convert. Easy to measure and no need to repeat rinsing.

Stephanie S. Posted on 11/30/2013

i relaly love these tabs so much. make sanitizing and cleaning so much easier. our health inspectors love them too, at least in my area.

Vilma r. Posted on 11/24/2013

I was expecting a huge bulky box, but the 900 bills fit in a shoe size box and they are what we needed to make sure the restaurant is clean ALL THE TIME, THANKS!!!

Gregory B. from MORE THAN JUST ICE CREAM Posted on 11/19/2013

this is the best sanitizer ive used so far, last all day and isnt as bad on alluminum pots and pans as bleach ,doesnt smell as bad also

Joseph B. from jeanne's bakeshop Posted on 11/02/2013

These are easy to use, you dont have to measure out the right amount. The only down side is they tend to turn our white bar towels blue permanently.

James M. from Daily Grinders Posted on 10/29/2013

I used to buy the nu-foam tablets before I accidentely bought the steramine tablets,they work the same and have 50 more tablets per bottle,thats a deal I could not pass on.

Kosmas V. Posted on 10/17/2013

The 6 bottle count box of Steramine Sanitzer Tablets is not only a must have and is also a great value. Much less expensive that everyone else selling it.

Thomas B. Posted on 10/12/2013

I got these Tablets on sale at a price that couldn't be beat! The storage space that these take up pails in comparison to gallon sized sanitizers.

Daniel T. Posted on 09/24/2013

We started using these Stermine tablets as an extra level of safety in the dish washing process. The application is super easy just fill the third sink, drop in a couple of tablets and proceed as usual.

Rick C. Posted on 09/23/2013

Does what it is supposed too with out any odor either. Leaves no sticky film on our flat wear or cups. Does not leave any film in the sink either.

Kathleen R. Posted on 09/19/2013

We use these at home in our kitchen to keep everything clean and sanitized. We use these mostly when somebody is sick, they're really great for a germ free environment.

Daniel S. Posted on 08/10/2013

this sanitizer is a quick money saver!!! this is something we have to purchase for safety reasons and though it does not produce revenue, it certainly helps me keep my tables clean and sanitized!

Carlos S. from El Cafe Posted on 08/01/2013

Good sanitizer tablets for the price. Cheaper than ordering them through other distributors. Doesn't leave a film on the glass, and have a nice clean feeling once they've been washed.

Brent R. from Stoneyard Grill & Tavern Posted on 07/25/2013

These tabs work just as they should. I was quit pleased to find them on this site not only for their convenience, but because even with the shipping they are significantly less expensive than purchasing a similar product at GFS.

Sarah C. from GreenTree Co-op Posted on 07/18/2013

Sanitizing stapler for INSPECTION time. We have used these in our restaurants since we opened and its a quick toss in the bucket and a nice swirl to dilute it.

Bo K. from Yorganic Posted on 06/25/2013

I am trying to get more of my clients to use this marvelous product. From what I understand, they kill micro-organisms such as E. Coli, Staph, and HIV-1, if the glassware, etc. is exposed to this product as a final rinse for at least 1 minute. How fabulous this is!

Sherrie Z. from ZIMMER DISTRIBUTING Posted on 06/07/2013

We have to use these per the health department and they are super easy to use. Drop a tablet and fill and you're done. No smell, light blue color.

Silver S. Posted on 06/05/2013

what can I say, these tablets do the job and are super inexpensive compared to my primary supplier. Getting a good product and a great price is paramount

Tom K. from TKNY Capital, LLC Posted on 05/30/2013

great product saved us alot of money using the tabs instead of the liquid. The case of our liquid is the about the same price as the tabs but each bottle of tabs is equal to 4 of our bottle.

Jacob W. from ]= Posted on 05/12/2013

We had ordered these quat tablets from my food supplier and found them on Webstaurant for half the price! Great value at a great price.

Angie A. from Sergeant Major's Subs Posted on 04/18/2013

This is the best stuff for sanitizing. No smell or irritaion for hands, etc. Doesn't stain or leave a taste. They are so nice to drop in as many as you need.

Jeanette H. from Taste & See Coffee House Posted on 04/03/2013

We have only a few dishes to wash daily but these tabs help take the guess work out of the sanitizing. We've found right amount of water/tabs for the sink and now its as simple as dropping the tabs in. Love it.

Susan C. Posted on 03/31/2013

Really convenient product to have! Takes all the guess work out of measuring sanitizer strength for dishes, buckets, etc. You definitely want to keep test strips on hand still, but this makes easy work of day to day sanitizer needs. One case will last a pretty reasonable amount of time. Really great for off-site use. Just grab a bottle or as many tablets as needed, and go. Highly recommended product.

Michael H. Posted on 02/24/2013

what a great product. just one pill per one gallon of water that is easy. no over using that helps. it will make your job easer.

Virginia T. from virginias place Posted on 02/13/2013

These tablets are great as a substitute for the typical sanitizing liquid! They dissolve easily and are easy to get the proper strength needed!! Will last a long time!!

Eric K. Posted on 12/08/2012

Great price for a great product. I use these every day in our store and they are very good. They are a better deal here than in other places I have considered.

Bernie R. Posted on 11/15/2012

Typical sanitizer tabs. They get job done, and they don't smell as bad as some we've used in past. They are a good deal at this price. We'll order more!

Mohamed H. from Italian Grill Posted on 11/10/2012

probably the best tablets out there. i just don't feel the amount of clean when i use other products. easily the best out there today

Dan W. Posted on 11/10/2012

low cost effective sanitizing tablets.. they take a bit to disolve but meet the requirements for local health codes. dont forget test strips if needed. Small size is great space saver. larger resteraunts may have more effective solutions, but for outr small cafe it is perfect.

Michael F. Posted on 08/20/2012

These sanitizing tablets are very easy to use. Just add one tablet per gallon of water. It can't get much easier than that; and the item is a must have.

David D. Posted on 08/02/2012

These are probably the easiest method. Very easy to use and works great if you purchase the test strips made for these to be sure you have the right amount.

Gale D. from GDB Enterprises, LLC Posted on 07/27/2012

I cant beleive the price on the sanitizer tablets. They are less then half of what we would pay for liquid sanitizer in our 3rd sink. Even though they turn the water blue they have no taste even if you were to serve a water out of a glass still wet with this product. Highly Recommend.

Adam S. from Gallaghers Pizza Posted on 07/09/2012

Works really well in our large three bowl sink. The employess like that it is easy to use. Just count out the correct number of tablets and drop them in.

Warren L. from Mail Cente Posted on 05/07/2012

I have look else where for these tablets and was blown away buy the price. Always a good choice here best sanitizing tablet out there for a great price.

Gerard S. from O'Towne Tavern Posted on 04/26/2012

We've been using this sanitizer almost a year in our deli, and it's so easy and nice to know it's thoroughly doing the job right!

RL B. from Cornerstone Country Market Posted on 04/19/2012

This is a great product. I bought after watching the video on the Webstaurant webpage and learned how easy it is to use. Saves time and effort!

Bill L. Posted on 03/24/2012

These tabs are wonderful because once you learn how many tabs are need to make the correct sanitation formula in your sink there is no more measuring! Although slightly more expensive than bleach, it is not as abrasive and does not have the overwhelming smell that bleach has.

Chelsea S. from Queen City Cupcakes Posted on 03/15/2012

We build and sell concession trailers and trucks, these are the tabs we include in our "turn key" business package with each sale. Health inspectors LOVE LOVE LOVE to see these. They work great for spraying down work areas thru out the day, but work even better for the sanitize portion of the sink as the solution. They take the guess work out. Great product, and great price from Websturant!

Franks a. Posted on 03/09/2012

What can I say.The price on these is hard too beat and in fact no other supplier could come close the the websturant price.And this is a much better alternative to the stuff already mixed and bottled kind for countertop sanitizing.

Fred M. from Boots Convenience Store. Posted on 03/07/2012

The price is right and it is something that you have to have in the restaurant business. The health department checks for this on each visit. Nice to have plenty in stock.

Kimberly D. from Midway OH Boy Posted on 03/04/2012

These tablets are super easy to use for dishwasing as well as disinfecting counters and tables. Use with the testing tablets and they make the perfect disinfecting pair.

Michelle N. from Almost Home L.L.C, Posted on 02/20/2012

These tablets work great in our triple sink. I love the way they fizz away so I dont have to worry about them dissolving. I also have gotten used to the blue tint. I can tell just by the color if our solution is on target.

Michelle D. from Sugarbelles Posted on 11/20/2011

These tablets are great. Very easy to use, just drop in, no measuring involved. We found the exact same thing from a local supplier for way more, this is definitely a great buy.

Shelah M. Posted on 11/19/2011

We all know how we need to use steramine to meet codes, it does work well but the price through webstaurant is just great, place these in an order and they ship for next to nothing.

David U. from JONABELLA CATERING Posted on 11/01/2011

I love the case price along with the easy of the tablet. No over use is happening with the bartenders because it's not a powder.

Jill M. from Shooters Posted on 09/27/2011

These are the same product that I was purchasing from a local supplier for almost 2 times the cost! Will continue to purchase these through the webstaurant store!

Debra B. Posted on 09/13/2011

This product is simple and easy to use. Just put the tablets in the sink and fill with water. They couldn't have made it any easier. I also like that the water turns blue. This way I know my employees have added the sanitizer.

Shane G. from A Gust of Sun Posted on 09/06/2011

Straws are clear and individually wrapped in white paper which helps to keep them clean. Fits great in the travel lid. Haven't had any broken in the middle or unable to be used.

Samantha W. from Prosperity Weight & Nutrition Posted on 08/17/2011

Great value for the money - easy to use, easy to store. Exactly what we needed for our mobile catering business. Will definitely be reordering these in the future.

Mary M. from MacDaddy's Rollin' Smoke BBQ Posted on 07/14/2011

The only way to buy this product. I have priced it at supply stores by the single bottle, and by buying the 6 bottles in the case I am saving a lot of money.

Michael W. from Johnnys Bar and Grill Posted on 07/04/2011

A cost saving with these. We were purchasing them from a local supplier and at a higher cost. Purchasing the case from Webstaurant was a real cost.

Kathy S. from Shull Enterprises LLC Posted on 03/26/2011

Excellent price,extremely fast shipping!! Why waste time and gas going to supply store. Webstaurant store has everything I need at a great price and dependable delivery !!

Carole M. from Pattie Wagon Posted on 02/27/2011

Love the individual bottles - my employee accidentally dropped the whole container in there (ouch), but the lid was closed so we didn't lose any tablets! Our department of ag inspector approves of these for sanitation, and the ph strips make them easy to use properly. Love the small bottles, makes it easy to store! Would definitely recommend.

Anna S. Posted on 11/05/2010

These are great, I have alot of the girls that does not like using bleach, so these are perfect to sanitize the dishes with, highly recommend.

Charlotte S. from rosies restaurant Posted on 10/16/2010

These are a basic requirement in my bakery, and this was the cheapest deal I could find for my sanitizing strips. I often use these in my mopping water.

Tabitha L. Posted on 10/13/2010

The sanitizer tablets are great to have at the store. People really appreciate being able to use these and it promotes good hygeine. We like how disposable they are and they are handy and easy to access.

Deanna N. from Scratch Posted on 09/28/2010

I've used this product 2 ways - first as a sanitizing solution where kitchen utensils were soaked for the appropriate amount of time; and second as a spray-bottle refill to sanitize counters and tables. It works great and is very economical!

Tom B. Posted on 09/07/2010

Very convenient and easy to use sanitizer. Employees or customers sensitive to bleach odor? Give these a try for your final rinse. Tablet form easy to repeat your concentration, day in and day out.

Wesley O. from morton pub Posted on 07/15/2010

I cannot say enough about the Steramine sanitizer tablets. This makes mixing sanitizer for you third bay sink a breeze and simplifies the process. Dries with no water spots but get the test strips to double check the mix ratio.

Jeff B. Posted on 06/04/2010

These sanitizer tabls are so easy to use. Only one to two tabs per gallon of water. Easy to store bottles in limited space area.

Shirley L. from Emma Lee's Posted on 05/17/2010

These tablets are great for creating a consistent sanitizer every time. They eliminate the need for measuring and make it easy to train people on how to use. they take time to dissolve, so plan ahead.

Charles W. from Manufacturing Solutions Int'l Posted on 04/06/2010

These tablets are great for food service sanitization use. Not only are they easy to measure out, you can tell once they have been added to the water. There is also no residue left in the sink or on the dishes from this sanitizing method.

Elizabeth L. Posted on 01/15/2010

A great item to have in the food service industry. The tablets are easy to use and provide adequate amounts of solution for my busy store.

Caleb K. Posted on 11/14/2009

This is a great buy on Steramine Sanitizing Tablets. Often, you don't want to invest in a case, so Webstaurant Store offers them by the bottle. Perfect for smaller operations who keep low inventory.

Kay J. Posted on 11/04/2009

A great alternative to using smelly bleach water, highly recommended by the health department. Tablets are pre-measured, and turn the water blue, so you don't mistake it for anything else. Make sure to get test strips to use with this during dish washing.

Doreen K. Posted on 09/17/2009

We have hard water here and had a problem with spotting, not any more. Steramine works great and we will never use anything else again.

Jeff L. Posted on 08/14/2009

Product is excellent and the price is very competitive. Am impressed with the professionalism of the Webstaurant Store and their shipping dept. Keep up the good work and I will continue to purchase the product here.

Greg W. Posted on 07/24/2009
Get paid to review this product!
If you've used this product, simply log in and share your text, video, and photo reviews of it. The customers on the left did it, and you can too! Earn up to $16.00 per product.
Write a text review
Earn $2.00
Post a product photo
Earn $4.00
Post a product video
Earn $10.00
Login or Register