Choice WEBstaurantStore Logo 18" x 24" Flexible Cutting Board - 2 / Pack
Companion Items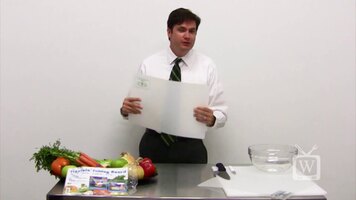 Hi I'm Steve Ziegler, product expert at the WEBstaurant Store, and I'm excited to tell you about one of my favorite kitchen tools: the flexible cutting board! In most cases these sturdy but flexible sheets of plastic will prove more useful, more cost-effective, and more sanitary than your regular cutting board. Let me take a minute to show you why I love these things. By far the best reason to use a flexible cutting board is the actual flexibility. If you're using a regular cutting board, transporting vegetables to your bowl can be somewhat of a pain, as you can see. But not with the flexible cutting board! Look how easy this is. If you have a small hole, like on a food processor, you can just fold it up a little bit more and guide some rough chopped vegetables right in there. Now let's say you're doing some on-site cooking. At your sauté station you need to get ingredients into the pan, and you can see how easy it is with a flexible cutting board. What's more is if you have to move your cutting boards around to a location or just around your kitchen, these flexible cutting boards are just so much easier to use. Being a former bartender, I know the importance of doing things quickly on a busy night, and running out of lemons or limes during the middle of a rush can be a real drag. Here is where the small size of flexible cutting mat can come in handy. You can see right there that it's the perfect bartender's mat. And when you're done with these, and you need to clean them, they go right in a dishwasher rack. Easy to clean. Now that you've seen the versatility of our flexible cutting boards, there are a few more points I'd like to make. First off, you may have noticed this black piece of material underneath my cutting mats all day. This is our Board Buddy material that is great for underneath any type of cutting board to keep them from slipping. It is so much more sanitary and much more flat than a wet towel. The other thing is that with these flexible cutting boards, if you buy one of these and it's not quite the right size, one of the beauties of these things is that they're completely customizable with just your standard kitchen shears. In fact, you can even take your one larger cutting board and you can turn it into two cutting boards. So it is very versatile. Here you see a regular cutting board and a flexible cutting board. The thing I want you to think about is this: What part of this half inch cutting board are you actually using? It's just the surface. Now unless your primary cutting tool is something like this, you're really not going to get much use out of the rest of the half inch thick of plastic here. What's worse is that when this gets old and warn you're going to need to replace it at three times the cost of one of these flexible cutting boards. The other thing I want you to think about is transport. Six of these flexible cutting boards weigh less than a single one of these. Could you imagine having to transport six of these cutting boards around? The last thing I wanted to mention is that in addition to our standard flexible cutting boards, we also stock Table Crafts' set of colored cutting boards. This is great if cross-contamination is an issue at your work place. They come in a pack of six colors; one for every food group. Well thank you for watching this video, and if you have any questions please feel free to use our live chat button.
Flexible cutting boards are a versatile, cost effective addition to any kitchen! They make transferring food from prep area to pan a breeze, not to mention they are easy to transport themselves. They come in colors and are are easily customized, too.
Details
This flexible, translucent cutting board features the "WEBstaurantStore" logo. It can be shaped, bent or made into a funnel and has antibacterial properties built-in to the plastic resin to inhibit the growth of bacteria. Slice, dice or chop on it, then pour food directly into a pan, bowl or skillet. This cutting mat measures 18" x 24". It has an approximate 20 gauge thickness. Sold 2 per pack.
Related Items
Frequently Purchased Together
Customer Reviews
Overall User Rating:
Choice WEBstaurantStore Logo 18" x 24" Flexible Cutting Board - 2 / Pack

(

5.0

stars from

13

reviews )
This is a good price a set of two cutting boards. They might not be as sturdy or perhaps durable (that is yet to be determined) as other, thicker boards, but these things are huge. It's awesome to have so much cutting space, and, just in general, space where you can put food, so that it doesn't touch the counters. To me, this is especially useful when cutting things like raw meat, because I can now arrange the cut and non-cut pieces across the counter without having to worry about them touching the wood or coming into contact with other things. Even for other foods, it's quite useful to have a big board and not have the need to transfer everything into pans/pots right away.

Andrej D. Posted on 08/20/2014

Great cutting board. It arrived in good condition and in a timely fashion. Will use it for cutting vegetables and preparing soups. Thanks for the item.

Bobak R. Posted on 08/12/2014

I didn't realized until I started using these cutting boards that they would be a game-changing addition to my kitchen. They are thick enough to protect my countertop, but flexible enough to bend in any way I need it to. Great product!

Renee C. from Applied Prosperity LC Posted on 08/09/2014

Wanted these for the kitchen but my wife immediately claimed them for a cutting surface in her craft room. Now she isn't having to use the self seal(expensive) mats so much and these cutting boards work great due to their size. Maybe she'll buy me some for the kitchen? Good product, very useful and a great price.

Charles C. from self Posted on 08/01/2014

I love the fact that these comes with two in a pack. They are also good size to cut up all our vegetables. They sure do come in handy.

Kaywana S. from cone zone Posted on 07/14/2014

These are great. I got them in a promotion, and we use them much more than I thought we would. They hold up great and wash easy

Amanda P. from Goodness Bake Shoppe Posted on 12/25/2013

These cutting boards are huge. Was able to put a roast turkey on one for carving and had plenty of extra board left on all sides. You get two in a pack. I only needed one large cutting board, so I cut the other one in half and still got two big cutting boards from that.

Eric M. Posted on 12/17/2013

I got this as a freebie and I am glad I did! I didn't have cutting boards large enough for the doughs that I cut for cinnamon rolls and breads. Would have never thought to order these!

Katy M. from Katy Posted on 10/13/2013

The flexible cutting board is great for any cut to size project. Great quality at a reasonable price. They store very easily so that storage space is never an issue. Fantastic.

Pamela J. from Iaomai Natural Cosmetics Posted on 10/08/2013

This board is big. a little bigger than i thought, but it covers my table well and helps with splatter when cutting meat. Because they are flexible, it does help in cleaning and storage. A great deal for the money.

Heath C. from Coop De Grill Posted on 09/09/2013

These flexible cutting boards are fantastic. They are easy to clean and very durable and are virtually indestrucatable; for the price, you can't go wrong!

David A. from Good Bread Co. LLC Posted on 01/24/2012

Nice large size cutting board! Great price for a cheap and inexpensive cutting board! Great for home use! Good for on the fly prep and easy to take almost anywhere!!! Easy to quickly add ingredients to a soup or sauce!!

Eric K. Posted on 06/27/2011

This is an excellent product! I not only use this mat in my kitchen; I use it in my eCraft cutter as a backing mat. It works great! I cut the 18"x24" into two equal pieces (12x18) which fit perfectly in my craft cutter. Mats for craft cutters are VERY expensive, so this mat saved me a bundle! What a great product at a very affordable price!

Linda C. Posted on 06/23/2011
Have you used this product?
Log in to write your own review and earn up to $16.00 with video, photo, and text reviews!
Write a text review
Earn $2.00
Post a product photo
Earn $4.00
Post a product video
Earn $10.00
Login or Register