Choice WEBstaurantStore Logo 12" x 18" Flexible Translucent Cutting Board - 2 / Pack
Companion Items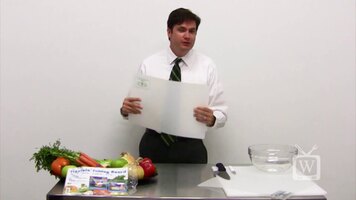 Hi I'm Steve Ziegler, product expert at the WEBstaurant Store, and I'm excited to tell you about one of my favorite kitchen tools: the flexible cutting board! In most cases these sturdy but flexible sheets of plastic will prove more useful, more cost-effective, and more sanitary than your regular cutting board. Let me take a minute to show you why I love these things. By far the best reason to use a flexible cutting board is the actual flexibility. If you're using a regular cutting board, transporting vegetables to your bowl can be somewhat of a pain, as you can see. But not with the flexible cutting board! Look how easy this is. If you have a small hole, like on a food processor, you can just fold it up a little bit more and guide some rough chopped vegetables right in there. Now let's say you're doing some on-site cooking. At your sauté station you need to get ingredients into the pan, and you can see how easy it is with a flexible cutting board. What's more is if you have to move your cutting boards around to a location or just around your kitchen, these flexible cutting boards are just so much easier to use. Being a former bartender, I know the importance of doing things quickly on a busy night, and running out of lemons or limes during the middle of a rush can be a real drag. Here is where the small size of flexible cutting mat can come in handy. You can see right there that it's the perfect bartender's mat. And when you're done with these, and you need to clean them, they go right in a dishwasher rack. Easy to clean. Now that you've seen the versatility of our flexible cutting boards, there are a few more points I'd like to make. First off, you may have noticed this black piece of material underneath my cutting mats all day. This is our Board Buddy material that is great for underneath any type of cutting board to keep them from slipping. It is so much more sanitary and much more flat than a wet towel. The other thing is that with these flexible cutting boards, if you buy one of these and it's not quite the right size, one of the beauties of these things is that they're completely customizable with just your standard kitchen shears. In fact, you can even take your one larger cutting board and you can turn it into two cutting boards. So it is very versatile. Here you see a regular cutting board and a flexible cutting board. The thing I want you to think about is this: What part of this half inch cutting board are you actually using? It's just the surface. Now unless your primary cutting tool is something like this, you're really not going to get much use out of the rest of the half inch thick of plastic here. What's worse is that when this gets old and warn you're going to need to replace it at three times the cost of one of these flexible cutting boards. The other thing I want you to think about is transport. Six of these flexible cutting boards weigh less than a single one of these. Could you imagine having to transport six of these cutting boards around? The last thing I wanted to mention is that in addition to our standard flexible cutting boards, we also stock Table Crafts' set of colored cutting boards. This is great if cross-contamination is an issue at your work place. They come in a pack of six colors; one for every food group. Well thank you for watching this video, and if you have any questions please feel free to use our live chat button.
Flexible cutting boards are a versatile, cost effective addition to any kitchen! They make transferring food from prep area to pan a breeze, not to mention they are easy to transport themselves. They come in colors and are are easily customized, too.
Details
This flexible, translucent cutting board features the "WEBstaurantStore" logo. It can be shaped, bent or made into a funnel and has antibacterial properties built-in to the plastic resin to inhibit the growth of bacteria. Slice, dice or chop on it, then pour food directly into a pan, bowl or skillet. This cutting mat measures 12" x 18". It has an approximate 20 gauge thickness. Sold 2 per pack.
Related Items
Frequently Purchased Together
Customer Reviews
Overall User Rating:
Choice WEBstaurantStore Logo 12" x 18" Flexible Translucent Cutting Board - 2 / Pack

(

4.9

stars from

12

reviews )
Anyone preparing food, particularly if this involves uncooked proteins, should have several of these, and switch these (and the knife) as they shift between uncooked to cooked. FBI [food born illness] is a major health problem resulting in many deaths, significant hospitalization, and lost work time. Much of this can be easily and cheaply avoided by common sense measures such as not using the same [unsanitized] knife and cutting board for cooked and uncooked foods. The cutting mats have two other very helpful features: (1) these protect your knife edges from abuse such as cutting on metal or stone/tile counter tops; and (2) these are light and flexible enough to allow easy transfer of product to pot or pan without any loss. Inexpensive enough so several sets can be purchased, and several sizes available. The 12 X 18 appears ideal for most home use, and many light commercial applications. Highly recommended by a satisfied Webstaurant customer. At the price buy at least two sets (4).

George M. Posted on 08/18/2014

Great cutting board. Great size, and will do the job for preparing foods for our company picnics. Arrived in good shape and in a timely fashion.

Bobak R. Posted on 08/12/2014

Although you can chop and slice on these flexible mats, I love and prefer using them for placing under my mandolin slicer and cheese grater to catch falling cucumber slices and shredded cheddar. It is then easy to roll and transfer into another container. Cleanup is super quick and they essentially take up no storage space when placing alongside your other cutting boards.

Justin M. Posted on 07/28/2014

These are the perfect flexible cutting boards for just about anything. They clean up easily and are a great value. They hold up for many months.

Phil R. from Oak Hill Bulk Foods, Inc. Posted on 02/19/2014

Cutting boards are a necessary tool for any catering company, to find these flexible translucent ones were a heaven sent!! They are flexible so adding ingredient and poring into a pot was effortless. A must have

Cyrus M. from Atlanta Linen Rentals LLC Posted on 11/17/2013

I bought these cutting boards for a bread buffet for a dinner I am planning. I do have to keep re-ordering them due to my kids using them to cut up fish they caught. Even my husbands lets them cut the fish on our table without fear of them marking it up. Easily cleaned and resuable...just not trout to bread in my opinion.

tammy M. from thetammster Posted on 08/21/2013

I use them over my deli counters to keep them from cutting up the cooler mounted boards and they work. easy to clean and cheap enough to toss when they are over used,.

Jerry R. Posted on 04/04/2013

These flexible cutting boards have a large surface area and come in handy for chopping veggies. Appreciate that they flex, makes dumping into a pan easier. The corners do warp in the dishwasher somewhat but this doesn't affect use.

Toni L. Posted on 07/30/2012

Excellent cutting boards! Though flexible, these are thick enough to have a solid feel, and their size is perfect allowing for very easy clean-up. Highly recommended and at a great price!

Gladys Y. Posted on 05/08/2012

I could not believe it when I saw the price on these awesome cutting boards. I ordered three packs and I am extremely pleased with their quality.

Michele P. Posted on 11/04/2011

I am so happy i purchased this flexiable cutting board! This made chopping and cutting fruits and vegetables so easy. Wonderful and very easy to clean afterwards.

Lateisha P. Posted on 07/18/2011

Nice size cutting board! Great price for a cheap and inexpensive cutting board! Great for home use! Good for on the fly prep and easy to take almost anywhere!!!

Eric K. Posted on 06/27/2011
Have you used this product?
Log in to write your own review and earn up to $16.00 with video, photo, and text reviews!
Write a text review
Earn $2.00
Post a product photo
Earn $4.00
Post a product video
Earn $10.00
Login or Register