A Festive, Seasonal Dish: Walnut Sweet Potato Bake Recipe


By Elizabeth Hertzler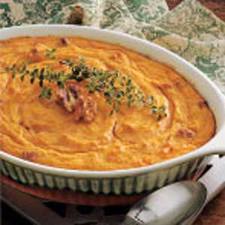 Did you know that around 30 million Americans are relying on restaurants to do their cooking on Turkey Day this year? According to an estimate by the National Restaurant Association, 14 million Americans will dine at a restaurant for a Thanksgiving meal, and around 16 million will order a takeout meal to spend more time laughing and conversing with family, and less cleaning up after a marathon cooking session. Your restaurant may be looking at quite a hefty crowd, hoping for a special dinner from your foodservice operation.
Now is the time to add some festive yet traditional ingredients to your menu that will reel in these hungry patrons. Probably one of the most traditional foods found at every holiday dinner is a seasonal treat: the sweet potato. Whether mashed, cubed, covered in walnuts, or julienned into French fries, sweet potatoes are sure to please, and easy to make!
To keep your restaurant bustling this holiday season, and infused with a sweet aroma, check out this recipe for a Walnut Sweet Potato Bake!
Yield: 8 servings
Ingredients
1 (8 ounce) package cream cheese, softened
1/2 cup butter or margarine, softened
1/4 cup packed brown sugar
2 eggs
4 cups mashed cooked sweet potatoes
2 tablespoons chicken broth
1/2 teaspoon salt
1/2 teaspoon ground nutmeg
3/4 cup chopped walnuts
Directions
Heat oven to 350 degrees F. Grease a shallow 1.5 qt. baking dish with cooking spray.
In a large mixing bowl, beat the cream cheese, butter and brown sugar until smooth. Add eggs, one at a time, beating well after each addition. Add the sweet potatoes, broth, salt and nutmeg; mix well. Stir in nuts.
Transfer to your baking dish and bake, uncovered for 40-45 minutes or until a thermometer reads 160 degrees F.
Happy Thanksgiving!
Comments
* There are currently no comments for this post. Be the first to comment below! This feature is reserved for WEBstaurant Store customers only.
Click here to create an account
.
Add a Comment
A WEBstaurant Store account is required to comment.