WebstaurantStore / Food Service Resources / Blog
Catering Trays for Every Event
No matter what type of event you are catering, one thing will always be certain – you're going to need catering trays. For fast, easy cleanup, why not ditch your existing metal trays for equally-classy disposable catering trays at your next event?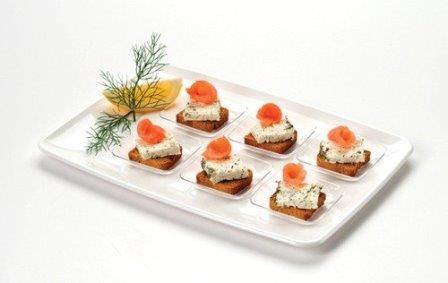 Plastic Disposable Catering Trays
Don't think you can get away with disposables? Think again! Our collection of disposable plastic appetizer trays radiates an upscale, polished appearance that no one will know isn't real. Choose between black, ivory, or white faux finishes that will trick your guests every time. Fineline even carries tinted clear plastic appetizer plates that look like real glass!
Foil Catering Trays
While our plastic disposable catering trays are great for cocktail hour service, transporting them with pre-arranged fruits, veggies, meats, and cheese can be quite tricky if not impossible. But don't fret! With our foil catering trays, you can still add the sparkle and excitement that your event requires, without having to worry about preparing the trays on site.
These fancy trays allow you to prepare your party platters and deli trays in advance, transport them to their final destination, and still retain the eye-catching shimmering style your pretty platters deserve.
Plastic Catering Trays
Sometimes an event just doesn't demand the over-the-top pizzazz that our plastic disposable catering display trays and foil catering trays deliver . Yes, while it may be difficult to imagine, not everyone wants glitter and gold dotting their events from top to bottom. When this occurs, plastic deli trays and plastic catering trays may be your best bet.
These traditional deli trays are designed to hold fruit, vegetables, meats, and cheeses, as well as cupcakes, rolls, pastries, bagels and much more! You can even put your flavorful dips and spreads in the center of some styles to keep everything all in one place for your hungry guests to enjoy.
So go ahead, check out our selection of plastic disposable catering display trays, foil catering trays, and plastic deli trays and catering trays for fast, efficient service at your next catering event.