Farewell Fair Season
There are few things in this life that I enjoy more than street fairs. When else can one walk down the center of the street in a busy downtown district for the purpose of indulging in oil-laden fried foods, precariously-dangerous carnival rides, the opportunity to throw sharp objects at balloons, and the fresh scent of livestock in a makeshift "zoo." Sounds amazing, doesn't it?
Fair Foods
My absolute FAVORITE aspect of these said street fairs is the fantastic food – go figure. From funnel cakes and onion rings to pulled pork barbeque and French fries, nothing, and I mean NOTHING, can top fair foods. You can easily have a full meal in one evening, covering ALL of the basic food groups.
The Coolest Invention Ever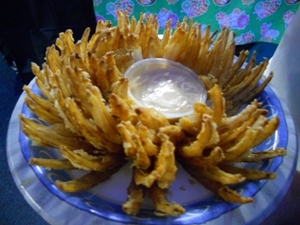 Earlier this week, I attended a local street fair in the Lancaster area. Here, I saw THE COOLEST invention EVER. As I was walking down the street frustratingly balancing my blooming onion in one hand and steaming-hot cheesesteak in the other, I noticed a restaurant on wheels. That's right, a RESTAURANT ON WHEELS! To be blunt, it looked like a doctored-up semi-truck with the side cut off. This ingenious invention included everything a restaurant sitting on a solid foundation would have – only on wheels! It had tables and chairs, place settings and waitresses, and even a full kitchen. Amazing.
And this is the exact reason why I LOVE street fairs.