WebstaurantStore / Food Service Resources / Blog
Foods to Put a Spring in Your Step
With the first day of spring a little over a week away, it's finally time to take the gingerbread lattes, peppermint mochas, and pumpkin spice everything off the menu! You can probably even take a break from serving up hearty soups, stews, and other wintery favorites, because warmer weather is just around the corner! This spring season, be sure to serve up energizing, refreshing, and feel good meals in your café, lunch venue, or restaurant that are sure to put a spring in your customers' steps! Check out some of our food and meal ideas below.
Serve An Energizing Breakfast
As the old saying goes, breakfast really is the most important meal of the day, so if you're operating a diner, café, or kiosk, be sure to offer energizing breakfast options. Breakfast should be well-balanced and nutritious, since it's fueling you for the vigorous work hours ahead! Try mixing healthy carbohydrates, like raw oats, with antioxidant-rich fruits, such as berries. And, for a little added fat, you can mix in unsalted nuts or seeds. You can even substitute the oatmeal with organic yogurt, or another protein packed food of your choice. Customers can enjoy this sitting down with a cup of coffee, or on the go in these paper hot cups and bowls as they walk to work.
Make Vegetables the Base of the Meal
Salads are a great lunch option, and are often a go-to for those trying to lead a healthy lifestyle. But after all the fattening dressing, bacon bits, processed cheese, and croutons are added on top, how energizing and refreshing is that salad now? By using raw, whole foods as the base, and then adding lean protein, a light vinaigrette, and healthy mix-ins, you'll be serving your guests a salad that is filling and nutritious, giving them the energy they need to finish out their work day. Try using a diverse mix of romaine lettuce, baby spinach, and kale, and top it off with grilled chicken or portabella mushroom. For a little crunch, you can use sunflower seeds or walnuts, and finally, you can add a simple oil and vinegar dressing, or whip up a homemade one using fresh lemon juice as the base.
Mix Fresh Fruit in As Often as Possible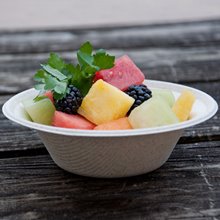 Fruit is a delicious and refreshing option for any meal of the day. From breakfast, lunch, and dinner to all the snacks in between, the naturally sweet and juicy characteristics of fruit make it a satisfying snack or side. Whether you're making fresh smoothies, lunch and dinner entrées, or just offering a to-go snack, there's always a way to add fruit to the mix. Top salads with antioxidant-rich pomegranate seeds. Add fresh apple slices to chicken salad. Or, concoct a creamy and decadent kiwi smoothie. Fruits are versatile ingredients, full of flavor and nutrients, and are great metabolism boosters, making them the perfect option for serving meals that will put a spring in someone's step!
Offer Nutritious Dessert Alternatives
People love their sweets, and with so many cupcake shops, tantalizing bakeries, and other treats surrounding their every move, it can be hard to resist. For some, eating one cookie and being satisfied is a possibility, but for others, just the smell of warm brownies leads way to a self-induced sugar coma!
To keep your customers on track and energized while satisfying their sweet tooth, try offering tasty dessert alternatives. Instead of ice cream, serve Greek style frozen yogurt, and offer all natural fruit syrups and whole fruit as toppings in place of hot fudge and candy pieces. Make peanut butter protein cookies with sweet dried cranberries and figs for a powerhouse snack! You can even swap out milkshakes with light and refreshing smoothies. For a rich taste, try mixing almond milk, banana, natural peanut butter, and cocoa powder. Your customers will be amazed by how satisfying and flavorful these healthy desserts are, and they'll feel rejuvenated and energized rather than bloated and lethargic after consuming.
Now that winter's curse has hopefully been lifted for the next eight months, it's time to pack the snow boots away and put that spring back in our steps! By fueling your customers with heart healthy, energizing foods that taste great, they'll be out and about enjoying the beautiful weather and socializing at your café or restaurant!