WebstaurantStore / Food Service Resources / Blog
Vintage Recipe Series: Caramel Bread Pudding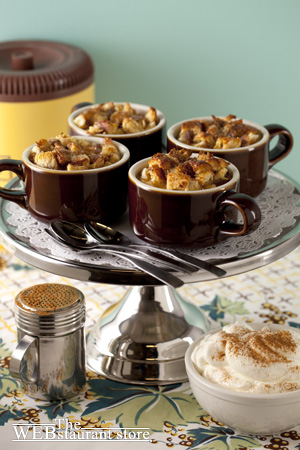 Fall: the season that evokes thoughts of hot cider, dense soups, gooey pies, sliced turkey and glazed hams. Bundled up in coats with scarves wrapped about their necks and gloves keeping the frost from their fingers, most people want something that reminds them of home on a windy fall day. Something that fills them up, reminds them of the times when the kitchen smelled like warm cinnamon sugar, not because a candle was burning, but because something delicious was in the oven. The second installment of our vintage recipe series is a caramel bread pudding recipe from a faded, hand-written recipe card that is perfect for chilly fall or even winter weather.
This particularly vintage caramel bread pudding recipe, baked and served warm on a crisp, cold day, will give your guests that home-sweet-home feeling, even if they're hundreds of miles away from home. You'll need a double boiler for this one, as it's done on the stovetop. Serve this delicious pudding on your fall or winter dessert menu for a taste of home, no matter where you are.
Caramel Bread Pudding (on top stove)
Ingredients:
1 cup brown sugar
4 slices buttered bread (sliced into cubes)
2 eggs
2 cups milk
1/2 teaspoon salt
1/2 teaspoon vanilla
1/2 teaspoon burnt sugar flavoring (available at specialty stores)
Instructions:
Place brown sugar in top of double boiler
Add bread cubes
In a separate mixing bowl, beat the eggs lightly with a fork then add the milk
Stir salt, vanilla and burnt sugar flavoring into the milk and egg mixture
Pour custard mixture over the bread in the double boiler. DO NOT STIR
Cover and place over hot water in bottom of double boiler
Cook one hour or until custard is firm (the brown sugar will form a caramel sauce over the top of the pudding)
Turn over onto a serving platter or cake stand and slice to serve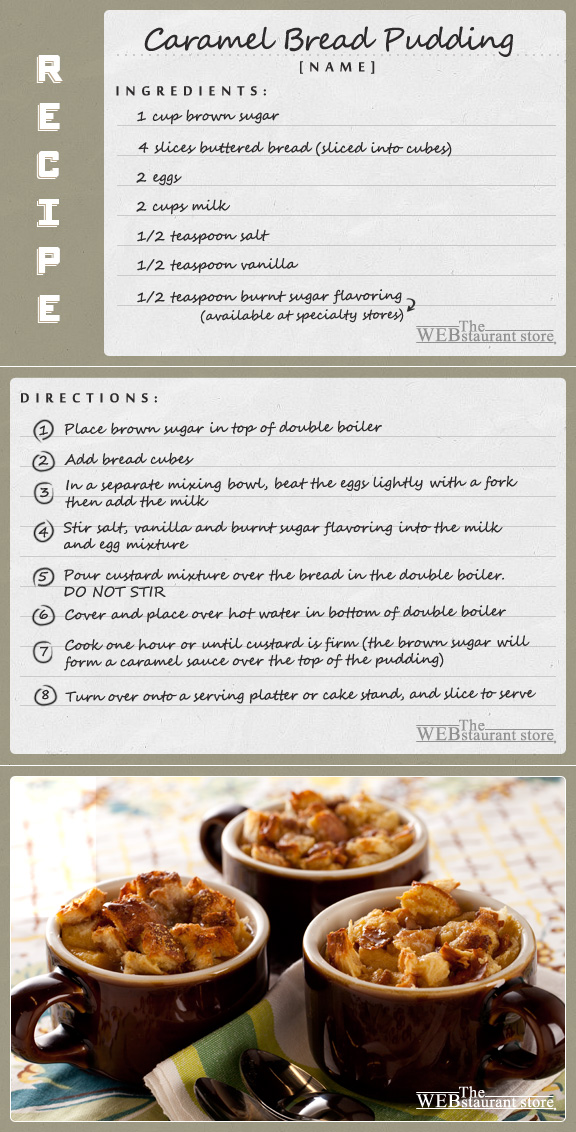 Variations:
Instead of preparing a large, multi-serving bread pudding, create smaller, single-serve bread puddings using china mugs and a stainless steel food pan! Simply fill the standard-size, stainless steel food pan with one inch of hot water to make a water bath. Then, fill your mugs with the ingredients. Set the filled mugs into the hot water bath and bake them for 30 to 45 minutes at 350 degrees.
Get creative with toppings for this delicious dessert! Drizzle some caramel sauce over freshly baked bread pudding, serve with a scoop of ice cream or a dollop of freshly whipped cream, or shake some cinnamon over slices of bread pudding.