October 2012 WEBstaurantStore.com Coupon Code!


By Steven Ziegler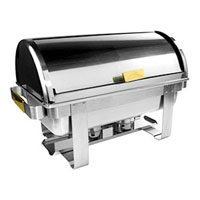 Fall weddings can be so beautiful and for that reason many caterers find this to be a very busy season. Couple that with the fact that banquet season is about to be in full swing, and you'll see why we sell so many chafers this time of year. Our October Coupon Code is for one of our most popular chafers, our 8qt Deluxe roll top chafer. This roll top chafer looks great and makes for an inexpensive upgrade to any buffet table where service is single-sided. While normally $69.99, this month you can get 10% off with our coupon code!
In October, get 10% off of our regular Deluxe Roll Top Chafer with the coupon code:ROLL10.
Comments
Add a Comment
A WEBstaurant Store account is required to comment.