WebstaurantStore / Food Service Resources / Blog
Classic Cocktail Recipes: The Manhattan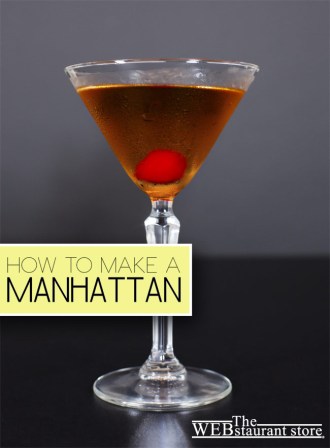 The Thanksgiving leftovers are packed away, and you've returned from Black Friday shopping tired and worn out, but alive. The flurry of preparation and excitement that accompanies one holiday is over and another one now begins, as Christmas Trees and candy canes replace turkeys and mashed potatoes. What better way to kick off the holiday season than by trying out a vintage cocktail recipe? The Manhattan answers the call, combining whiskey, bitters, and sweet vermouth in a simple but satisfying drink that's sure to be popular among holiday shoppers looking for a break!
The origins of this cocktail are shrouded in mystery; probably the most popular story is that it came from The Manhattan Club in the 1874 (hence the name). The story goes that Jennie Jerome (mother of Winston Churchill) hosted a banquet there to honor presidential candidate Samuel J. Tilden. The drink was first served there and became a hit, growing to popularity nationwide. However, several very similar concoctions are listed in books published before the party…and Jennie Jerome was not even in New York at the time of the banquet, meaning that this is probably an urban legend.
Ingredients
2 1/2 oz. rye or bourbon whiskey (rye whiskey is more traditional, but bourbon whiskey may also be used)
Instructions
In a mixing glass, combine the whiskey, sweet vermouth, and bitters. Stir, and strain into a chilled martini glass. Add the maraschino cherry as a garnish.
Check out this video to see how to make a Manhattan
Be sure to check out our bar supplies section for everything from glassware to garnishes, ingredients, and bar juices! We also carry the Libbey Speakeasy Martini Glass, which we used to serve this drink.
Stay tuned for more vintage drink recipes!