100 Years of Julia Child and One Delicious Recipe
This past Wednesday was Julia Child's 100th birthday. As a master French chef, media personality, and American icon, Child rose to fame by writing cookbooks, such as Mastering the Art of French Cooking, and hosting her own television show The French Chef, which originally ran from 1963 to 1973 (1). But even with her status as a celebrity, many of her most memorable accomplishments are her recipes. In honor of Child's centennial, which could probably border on a holiday for chefs and food enthusiasts (2), this is one of her most popular recipes. In fact, it's been featured in most of her cookbooks because it's fairly easy to make, doesn't require much time, and yields a surprisingly large amount of servings. Also, it tastes phenomenal (3).
---
1. Reruns still air on Cooking Channel, in case you missed them the first time.
2. Just kidding - it is a holiday.
3. Obviously.
Coq au Vin (Chicken Casserole in Red Wine)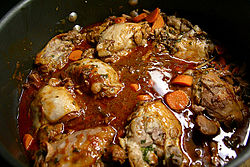 Coq au Vin (4) is a braise of chicken with a legendary history that, some sources contend, traces back to Julius Caesar. But even though the history may be debated, there's no debating the delectable results of this recipe. It requires 45 minutes of prep time, 30 minutes of cook time, and it will yield four to six servings. And like with most popular dishes, there are a wide variety of slightly different recipes.
Ingredients
1 TBSP. butter
1/4 tsp. thyme
1 c. chicken stock
1/3 c. brandy (optional)
2 to 3 c. red wine (Zinfandel, Macon, Chianti, Burgundy, or Pinot Noir)
1/2 c. blanched slab bacon or salt pork
2 1/2 lb. frying chicken parts
1 bay leaf
1 to 2 pureed large cloves of garlic
1 chopped large unpeeled tomato
12 to 16 small brown-braised white onions
3 cups trimmed, quartered, and sauteed fresh mushrooms
Fresh parsley sprigs
Beurre manie, for the sauce
---
4. Translated literally as "rooster in wine", which just sounds amazing.
Preparation and Serving
Sautee the blanched bacon or pork and place in its own dish. Leave the fat in the pan, and brown the chicken in the fat (5) with a little olive oil, if desired. Flambe the chicken with brandy, and season it lightly with salt and pepper. Add the onions, garlic, bay leaf, thyme, and tomato, and add enough wine and stock (depending on your preference) to just cover the ingredients. Bring to a simmer, cover, and simmer for 20 minutes or until chicken is tender.
Remove the chicken and place it in another dish and remove the surface fat from the cooking juices. Pour the juices and onions into their own pan and taste for strength. Boil down to strengthen and add seasoning as needed. Without using heat, whisk the buerre manie to make the sauce. Simmer briefly. The sauce should be just thick enough to lightly coat a spoon. Remove the sauce, wash out the casserole dish, place the chicken back in it, and baste with sauce and onions.
Serve with steamed potatoes, parsley, rice, noodles, or green vegetable for a delicious and appealing presentation. Complement with a young red wine - the same you've used in the dish itself, if possible.
There you have it - you've made one of Julia Child's most popular dishes! And you hardly even broke a sweat. Don't forget to have a taste for yourself - you won't regret it (6).
---
5. Because why enjoy just one tasty animal at a time?
6. Although if you do, you'll be the first.