How to Host a Speed Dating Night at your Restaurant
Valentine's Day may be over (thank goodness), but who says that the love has to stop after February 14? Attract more customers, get a little publicity, and become the hottest spot in town by hosting a night of speed dating! Whether you own a personable cafe or an upscale dining establishment, offering this event is sure to cause a little stir in your service, and open up your restaurant to new clientele.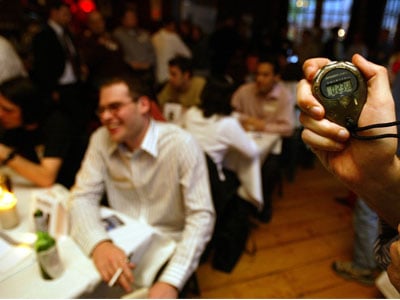 What is Speed Dating?
Speed dating is a formalized matchmaking system that has become popular since the early 2000's. It allows lots of people to meet each other and go on dozens of little "dates" in one evening. Aimed at singles, this practice brings people together who want to date or just to meet new people.
To facilitate one of these events, you need to attract an equal number of males and females. At the beginning of the evening, instruct one male and one female to sit down at each table. For three to eight minutes, allow each couple time to chat and get to know each other. After that time is up, ring a buzzer to indicate that it's time for one gender to rotate to another table. Repeat this process, allowing the same amount of time for each set of couples, until every man has had time with every woman.
By the end of the night, Cupid's arrows should could flying throughout the room, and the way you finish the evening is up to you! Some restaurants then invite the participants to mingle in groups for the remainder of the evening, or you could encourage each participant to write down the name of someone he or she has connected with. If the names match up, encourage them to exchange information!
How can it help my establishment?
Since the purpose of speed dating is for people to meet each other, the participants are also "meeting" your restaurant. You're likely to attract singles relatively new to the area, some who may not have been in your restaurant before. And, if you happen to match up a couple, or make a good impression, they're likely to come back!
You can also make a money from just one evening. Asking for a small cover charge and opening up the bar for nervous attendees who want to "loosen up" is a simple way make a little profit. However, the real gain will come from those who return for another night, or a second date.
How do I prepare?
Speed dating is a relatively easy night to pull off; all you need is a little space and enough willing participants. Advertise at least a month ahead of time so people have a chance to see the ad in the newspaper, online, or in your shop window and convince their friends to come. Make the advertisement a little playful, don't be afraid of a little cheesiness.
On the night of the event, set aside a room or area that's quiet, and arrange tables for two that are a bit spaced out. Add a candle to each table to set the mood, and have water at each table for those who have "first date jitters". Also, offer cards with "getting to know you" questions printed on each; some might be a little shy at first so you want there to be lots of conversation!
Elect an MC of sorts to oversee the event, make sure every couple knows when to switch by having a timer on hand, and start the evening off with some personality. Having a confident host inspires confident daters!
There should be absolutely no pressure at these events; make sure everyone feels at ease so they can put their best foot forward! You never know, someone may meet a significant other at your restaurant's event, which means your establishment will get the credit and lots of business in response!