Fast Food, Faster Booze
Next time you're in line for a quick meal or a cup of coffee, don't be surprised if you hear, "I'll have a Whopper Junior, a small fry... and a Bud Light, please." Or, "My wife will have a venti caramel macchiato, and I'll have a glass of Pinot Noir." An increasing number of fast food restaurants and big-name coffee houses are incorporating alcoholic beverages into their menus, with mixed responses from customers. Two major fast-food restaurants have added alcohol to their menus; the first being Burger King.
Burger and a Beer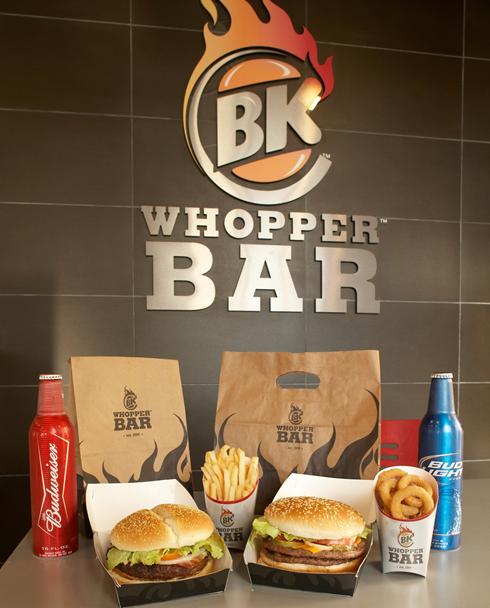 "Whopper Bars" have sprung up in major cities like New York, Kansas City, and South Beach. These "gourmet" Burger Kings serve fancier burgers custom-made to the customer's preference, but the major attraction is their sit-down bar, which serves beer and wine for around $4.25-$7 a glass. Employees are called "baristas," burgers are $3- $4 more expensive than their traditional burgers, and customers sit on tall barstools to watch their burgers cook and their beer foam.
Drive-through giant Sonic has also embraced the booze trend by adding 3 draft beers, 24 bottled beers, and 10 wines to their menu in South Florida branches. Alcohol will not be available to drive-through customers, obviously; just those sitting on the patio. A spokesman says this move will increase evening traffic and coax the beer-after-work crowd into trying something new.
Perhaps the most obvious dilemma faced by fast food restaurants incorporating alcohol into their menu is that the very premise of fast food is to get customers in and out in as little time as possible, so adding alcohol to menus means that the people who gulp down a quick meal could also be guzzling a beer or downing a glass of wine before quickly racing off to their next destination. Kids provide a whole other level of concern. Sonic and Burger King now must be aware of how much alcohol parents consume before driving their children home, and in places with minimal staff and customer contact such as these it would be harder to keep track of how much a parent has consumed.
Coffee and a Wine Cooler
Also seeking to update their image is the coffeeshop powerhouse: Starbucks. This popular chain has embarked on an adventurous new spin-off of their classic coffehouse, simply called "15th Avenue E Coffee and Tea" with "Inspired by Starbucks" written in tiny letters underneath. Vaguely recognizable as Starbucks affiliated, these new restaurants have a sit-down bar with a bartender/barista who serves patrons beer and wine, along with a wider array of light foods. Clearly, Starbucks is targeting the evening and nighttime crowds, and with good reason; 70% of their sales are made before 2 pm. Business lags in the evening when people are trying to unwind, not get hyped up on coffee. Thus, alcohol has appeared alongside espresso machines in a handful of new Seattle stores.
Unlike Burger King and Sonic, these Starbucks venues attempt to distance themselves from classic Starbucks by having a more toned-down, part-of-the-neighborhood look. Serving moderately priced beer and wine, these venues try to coax younger adult customers away from traditional bars and pubs, and draw older customers out from their homes into a quieter, yet casual environment. Most of the traditional Starbucks drinks will also be available to ensure that underage customers can still stop by to get a drink and hang out.
Potential Problems
Whether dealing with fast food restaurants or coffee shops, one potential issue is underage drinking. Sit-down restaurants that offer alcohol have servers who check ID and can ensure that alcohol is not given to anyone at the table too young to have it. But at a fast food restaurant or coffee shop, how would underage drinking be prevented? Would anyone notice if someone of legal age gets a drink and passes it on an underage customer?
Let me remind you: these menu changes are not happening everywhere. Each new place acquiring alcohol is under close scrutiny from its management and is considered a "test" to see if customers take a liking to the changes and its impact on revenue. Personally, I am interested to see if and/or how this spreads to not only other branches of the same chain, but other casual dining places as well. You never know- McDonalds could start serving up Pina Coladas instead of smoothies, and Dunkin Donuts may give you a splash of Kahlúa or Irish Creme in your next coffee!