Lowest Prices Period!
Here at The WebstaurantStore, our motto is "The lowest prices, period" and we mean it! 80% of our items are lower than our competitors and we are always working to make that number 100%.
As one of the top ten largest food service companies in the world, we have substantial buying power that brings us great discounts and allows us to pass these tremendous savings onto you.
Katom free shipping is a coupon for their customers but, when you combine free shipping with our always-low prices, that's really something special. You can, for example, order this awesome True T-49 2 Door Bottom Mounted Reach-In Refrigerator and pay absolutely nothing for shipping!
Best Content
Did you know that we are the only online restaurant supplier that writes descriptions for each and every product from scratch? Many suppliers don't offer product descriptions at all or describe their products with what they can pull directly from manufacturers' marketing materials and spec sheets. WebstaurantStore gives you quick access to the information you need in a clear, concise fashion! This original copy is supplemented by the clearest product images on the web--thousands with multiple images--and many with 360 degree viewing angles so you can see every inch of a given item.
We take the same measures to ensure quality content in all other areas of our site, too. Our informative buying guides help educate customers on everything from popcorn machines and register rolls, to fire extinguishers and how to stock a successful bar. We also have a versatile blog with informative posts on what's happening in the food service industry, new website features, recipes, and even the occasional light-hearted musing!
Thousands of Reviews
Hundreds of Product Videos
360° View of products
Multiple Photos of Products
WebstaurantStore also takes tremendous pride in its many video productions featured on WebstaurantStore TV and WebstaurantStore Youtube channel. While Katom restaurant supplies has a couple videos of their own, our Youtube channel has the most views of any online restaurant supplier, and with good reason! Most of our videos are designed to provide customers with a more thorough understanding of products we offer, but every now and then we have something special in store for all our viewers! Consider when Jonathan Groff, star of Fox's Glee, stopped by to make restaurant supplies romantic, or when Steve Ziegler went viral with a little fried gnocchi experiment.
Greatest Knowledge
Anyone can put words on a webpage, but how do you know the information you're getting is reliable? With a foodservice background dating back more than thirty years, we have the insight needed to get you what you want! Among our many knowledgeable staff members, there are 21 CFSP certified foodservice professionals that help really give WebstaurantStore the renown that may be lacking from other online suppliers. Even our social media expert is a Level 1 CFSP!
This knowledge is shared with everyone including our top-rated customer solution specialists, who are a major reason why we have the highest seller rating for foodservice wholesalers on the web.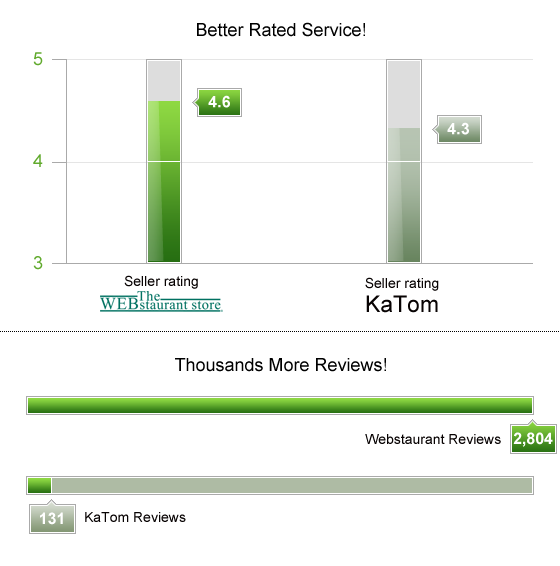 Best Customer Involvement
We like to keep our customers engaged in our services, and so we involve them more than any other online restaurant supplier! From a social media perspective, we have the biggest fan following of any restaurant supplier and, through our Facebook andTwitter, pages, we easily have the most involved audience.
Katom coupons provide their customers with special deals on products and, while we too offer coupons readily available to any customer, followers of our social networks are privy to exclusive coupon codes as a thank you for staying in touch! These pages are also a great place to find contests, timely industry news, and all around fun stuff.
Easiest Organization!
WebstaurantStore gives customers the opportunity to browse by product type and business type--a useful feature not available at Katom Supply!
Also equipped with an intuitive search engine, our website gives users just the right amount of options to be easily navigable without becoming overly complex. Our IT department ensures the site's servers are always running at peak performance so you don't have to wait through any excruciating load times to find what you need.
Perhaps most notable is our resistance against complacency--our neverending drive to improve what our website brings to customers. Where is the Katom mobile site? They don't have one, but we do! WebstaurantStore Mobile, the internet's first restaurant equipment and supply mobile site, is the perfect tool for price checking when you are in another supplier's showroom.
Who We Are
Many of our competitors equally target professional and residential markets. WebstaurantStore, however, is for foodservice professionals, by foodservice professionals. We gladly service residential customers who wish to do business with us but we are, ultimately, a business-to-business company. That in itself can only mean great things for busy commercial customers looking for a smooth experience that culminates in a solid investment.