Design Your Own Menu to Sell More Food
Ok, so you took Kristina's advice about offering smaller portions of some of your customers' favorite entrees. But could your menu itself stand to lose some of that winter weight? Are there items on your menu right now that get ordered once a week, once a month? Do your customers (and your waitstaff) get lost in the descriptions? Are you struggling to establish or reinforce your identity or "brand"?
Think about the benefits of blowing the cobwebs off of your menu and cutting some poor performers: simplified inventory and ordering, more time and room to highlight seasonal specials or specialty dishes, more space to try something new and trendy...the list can go on and on. Do a tally. How many items on your menu take one or more special, unique ingredients that you don't use in any other dish? If your answer is "A lot," unless you're a 5-star establishment you're probably making a lot more work for yourself and your staff!
When it comes to actually writing (or rewriting) the menu, sometimes less is more. Now I'm not saying axe all the descriptions. But does every menu item really need a paragraph? Let your dishes speak for themselves! Perhaps a single line or phrase highlighting a dish's unique attributes is all you really need. Or if something has an unusual preparation technique or ingredient, that could pique a customers' interest. You could always give your waitstaff the additional details of a unique dish, and let them help sell it--I'm always impressed when my server is knowledgeable about the menu (but not reciting a script) and can provide insight and advice if I'm having trouble deciding!
If you've taken some steps to pare down your menu, now's the perfect opportunity to experiment with some new dishes. Why not offer some sustainable options or locally-sourced organic fare if you don't already?
Two final points to make. Consider how the design and layout of your current menu helps or hinders your customers. Is it cluttered and confusing? Does it present your dishes in the best possible light? Generally, if your menu makes the decision process easier, the diners' overall experience will be more positive and you'll see that in your sales.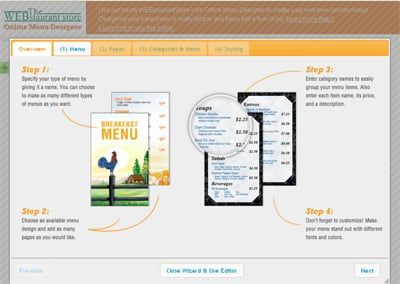 Keep in mind that the selection, wording, and design of your menu must work together well to achieve the best possible effect. So don't be too hasty with your decisions. It really pays to spend some time planning and researching.
And while you're reviewing the content of your menu, have your menu covers themselves seen better days? We have a great selection of styles and colors to match your specific needs. From basic one pocket menu covers to four pocket menu covers and even premium menu covers and wine list covers, we have what you need at great prices.
And we've even recently added a fantastic selection of themed menu paper that you can print the menu on yourself. And better yet, our custom menu design software allows you to create your entire menu from start to finish. Click the image above to check it out!