How to Choose the Perfect Table Cover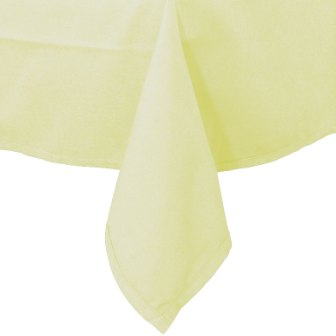 With Spring wedding season weeks, yes I said weeks, away, now's the time to upgrade your traditional table linen service with fresh, colorful table linens from WebstaurantStore.com. Not sure where to begin? Follow me!
First, let's find out what size table linens you need. Using our handy "Table Linen Buying Guide", you'll be able to instantly calculate the proper size for your table linens. It's as easy as 1-2-3!
One
To use the "Table Linen Buying Guide", start by entering in your table shape. Select from one of our four choices - square, round, rectangular, or oval.
Two
Next, enter in your table dimensions. If you have square tables, enter the length/width. If your tables are round, enter the diameter. If they're rectangular or oval, enter in both the width and the length.
Three
Finally, enter the "drop" that you would like for your table linens. This is the amount of table cover that you would like to drop from each side of the table. Keep in mind that most formal affairs will require a drop between 15" and 30" (somewhere between mid-floor to floor-length).
Once everything is entered, the calculator will automatically calculate your table linen size!
Now What?
Now that you know approximately what size to purchase, it's time to start shopping!
Most formal receptions will call for a more traditional cloth table cover. For a wrinkle-resistant, lint-free option, check out our high quality, 100% polyspun cloth table covers. Available in a rainbow of colors, these table linens are perfect for complementing any color scheme. And, for increased longevity, these cloth table covers are designed to stand up to the rigors of everyday use, resisting fading, shrinking, and pilling.
Looking for something with a little less. . . commitment?
When your "banquet" service involves barbeques, birthday parties, and bridal showers, disposable table linens may be more your style. Some brides, including myself, are even turning to disposable table covers for fast, easy cleanup.
If, and only if, disposable table covers are appropriate for the occasion you're catering, you're certainly going to need to read up on the various kinds that we carry! Heading back to the "Table Linen Buying Guide" would be a great start to learn the advantages of each type. Whether you are looking for a cellutex cover, a linen-like cover or a glitzy metallic cover, we have it all!
So go ahead, check out our selection of cloth and disposable table covers for an instant upgrade into the Spring wedding season.