A New Approach to Tofu: How To Serve a Part Time Vegetarian
While "Flexitarianism" may sound like just another trendy fad by hipsters and food snobs alike, it has become a way of life for many of your health-conscious, environmentally-conscious, and animal-conscious patrons. If you didn't know, a flexitarian, or part time vegetarian, is one who rarely eats meat, usually considering themselves closer to a vegetarian than not. It is one of the many semi-vegetarian lifestyles such as a pectotarian (only chicken) or a pescetarian (only fish).
Regardless of what this occasionally-carnivorous-animal-lover's motivation is, it has become clear that a smart restaurant owner should attempt to cater to their needs. This seems simple enough, right? If they don't want to eat meat that day, fry up a slice of eggplant and cover it with bread and cheese, right? Well, not exactly…
A flexitarian will look at a restaurant menu differently than a vegetarian. Vegetarians have learned to become less picky in restaurants; they know when they go out to eat with friends, there will be one menu option for them, and that's what they're going to get. A flexitarian may have a different school of thought on the subject.
Is it healthy?


Can I have less meat in the dish?


Is it organic? Where did this food come from?
These are all questions you may be asked. Are you ready to answer them?
Here's a good start: Organic foods. They are another ongoing trend in the food world. Consumers like to know where their food is coming from, and they don't want beef from a hormone-bred, corn-fed steer that was crammed in a cage from the day it was born. Consider buying from a local farmer or market; not only will you have peace of mind knowing where your food comes from, but "locally grown food" is also an excellent selling point. Organic lovers also look to free range chickens for their eggs, too.
Another option is simply putting less meat in your dish. You can subsidize the missing meat with another high protein food such as tofu or lentils. A skilled tofu chef can make a dish of mock-beef taste just like the real thing.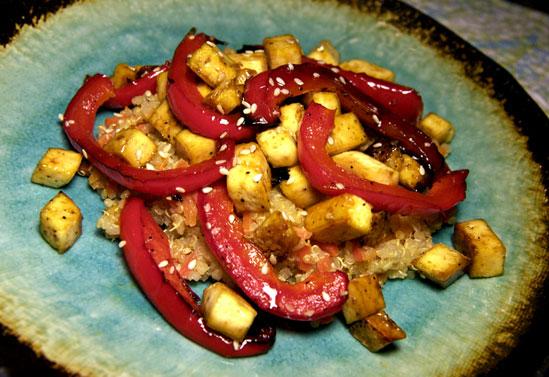 A health driven flexitarian might also be put off by a high fat and high sodium serving of eggplant parmesan that would usually satisfy a vegetarian. If they're looking for a healthy meat alternative, why not offer a bean burger? Or a grilled portabella mushroom burger? Grilled vegetables offer a tasty side with very few calories.
However you approach this trend, keep in mind that any restaurant that can serve a great tasting, animal-conscious and health friendly meal will be a hit. Even if your restaurant is a steak house or a burger joint, it is always smart business to be able to serve as many patrons as possible.