Don't Let the Bedbugs Bite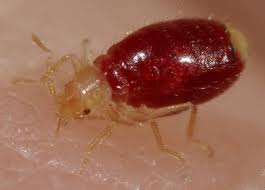 Bed bugs haven't been featured this prominently in the news since they were nearly annihilated by DDT 30 years ago. New York City retail stores have had to close their doors due to the outbreaks, and the problem has become so bad that stores in Manhattan are seeking government assistance to properly handle the infestation.
What really "bites" is that these little guys are world-travelers. A woman reported that she was bitten by a bedbug in one of the main venues for the Toronto International Film Festival. But, after much investigation, specialists confirmed that the venues are bedbug free.
Unlike the Torontonians, Americans are still in a panic. Some are taking extreme actions to fight off bedbugs, including misusing toxic "outdoor only" chemicals, which has caused fires in some places around the country.
But have no fear America! The WEBstaurant Store can provide you peace of mind with our assortment of insect control products, including sprays specifically geared toward bedbug outbreaks. Whether you run a hotel, motel, or any other form of lodging, be sure to check out our oil based bed bug spray, water based bed bug spray, & bedbug powder.
Good night, sleep tight, and don't let the bedbugs bite!