Chef's Companion Powdered Country Gravy Mix – You Get What You Put Into It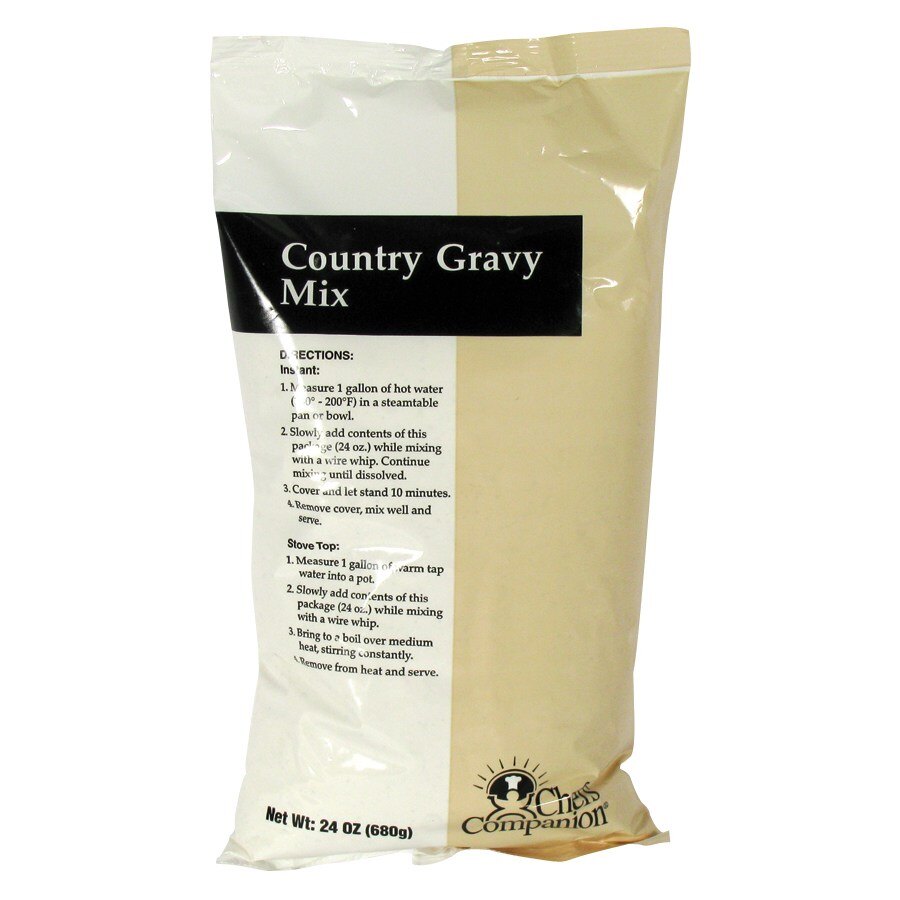 WARNING!
Never, ever, EVER, doubt the powers of instant gravy from WebstaurantStore. Yes, you heard me…NEVER. EVER.
Now that that disclaimer is out in the open, let me explain why this natural law of WebstaurantStore-ology exists.
As promised, a few weeks ago, I decided to test out a few (seemingly outrageous) claims here at WebstaurantStore. If you've read my prior post titled, "True Recipe Mashed Potatoes – Fraudulent or Fabulous?," you will see that my doubts regarding the number of servings in a can of True Recipe instant mashed potatoes were pretty well mashed by the time I was done with my experiment.
Nevertheless, I decided that I was also going to test out our Chef's Companion Powdered Country Gravy Mix to see if one tiny 24 oz. bag of dry gravy mix really could make an entire gallon of creamy, delicious gravy. So what happened you ask? Let me tell you.
The Situation
Since I was making this gravy for the same benefit dinner as my mashed potatoes, I knew that I had to feed around 300 hungry mouths. Each packet of gravy supposedly provided (64) – 1/4 cup servings of gravy, so to be on the safe side, I knew I should make at least five packets of the gravy mix (this would give me five gallons of gravy, or enough for 320 servings). Since I tend to be pessimistic when testing out potentially false information, I decided that it wouldn't hurt anything to make all eight packets of gravy that came in my case (this should translate into a whopping eight gallons), or enough for 512 servings. Some people like more gravy – - right?
At least I hoped that they did when I made this gravy…
The Realization
I'm a Writer…Not a Chef. Looking back, I don't know why I even doubted this claim. You see, to make the gravy you simply take 1 packet of gravy and slowly mix it into 1 gallon of hot water with a wire whip. Basic math tells you that what you put in, you will get out. Elementary school stuff here people. What was I thinking?
For this undertaking, I essentially took 8 gallons of hot water, mixed in 8 packets of gravy, and guess what happened? I GOT 8 GALLONS OF PIPING HOT GRAVY! Really now…What was I thinking?
The Result
But that's not all. You see, this gravy was not runny, or lumpy, or greasy, or, well, typical instant gravy. This Chef's Companion Country Gravy actually turned out to be a delicious, creamy white gravy, with dark black specks of flavorful pepper flakes. And let me tell you, we had MORE than enough; GALLONS more than we needed. Go figure. Good thing we had an abundance of mashed potatoes left over to go with the gravy!
Bloggers, have you ever had a total kitchen mishap like this? Where you just weren't thinking when you prepared something and it turned out to be a disaster? Comment and let me know what happened in your situation!