WebstaurantStore / Food Service Resources / Blog
Revisions to NYC Restaurant Inspection Rules to Reduce Fines by 25 Percent
Restaurateurs in New York City, one of the world's busiest and most competitive food markets, can look forward to a reduction in NYC Health Department fines and a relaxation of restaurant inspection rules effective this year. According to a New York City Council press release from March 21, 2014, "Under the new rules, which include fixed penalties, restaurants will see a further reduction of 25 percent in fines, returning to pre-grading levels despite more frequent inspections."
The controversial letter grading and restaurant inspection system, initiated under the previous Bloomberg administration, drew fire from the majority of NYC restaurant owners for its vague standards and hefty fines for relatively small offenses.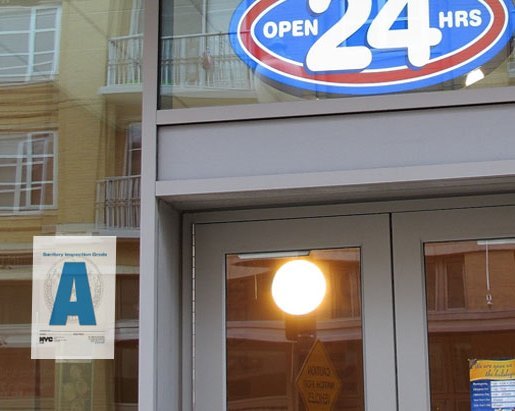 Although the letter grading system has led to improved food safety practices, with a decrease in Salmonella cases of 14 percent between 2010 and 2013, as well as a decrease in critical violations by 20 percent in the past two years, the strict inspection penalties and appeals process often times left restaurant owners in the dark and out-of-pocket.
As outlined by the New York City Council, "In addition to the reduced fines and penalty-free inspections, the collaboration between the City Council and the Health Department will make the entire inspection process more transparent and inclusive of small business owners."
That transparency and inclusiveness will involve the ability for restaurant owners to schedule a "consultative, ungraded and penalty-free inspection" for advice on how to meet and maintain food safety at their business before the next inspection. New changes also feature an updated appeals process that would give owners the chance to avoid financial penalties for scoring below an "A" if certain violations are thrown out during the appeal, whereas before, owners had to pay around $400 for violations, even if some were later overturned.
There is no denying that the letter grading inspection system has worked to bring greater food safety practice to NYC restaurants. Of the 24,000 estimated restaurants inspected in 2013, 88 percent of those received an "A" grade with the number of "B" and "C" grades in steady decline since the program's introduction. According to a Baruch College survey, 88 percent of New Yorkers use the grading system to determine where they'll eat, with 76 percent of those people feeling more confident eating in "A" graded establishments. This new effort by the New York City Council and Health Department should help uphold those safety standards while providing some financial relief to restaurant owners.
For more information on how to keep your restaurant clean and in compliance with food safety regulations, check out these articles on Food Safety Temperatures, Food Allergies, Food Allergies in Restaurants, and Food Allergy Safety Products.