Holiday Markets Around the World
Joyeux Noel, Fröhliche Weihnachten, and Feliz Navidad….
No matter how you say it, "Merry Christmas" is synonymous for festivities, and of course, food! You'll find just that at holiday markets scattered across the globe. These quaint Christmas villages are a centuries-old European tradition, generally running from the week of Thanksgiving until Christmas Eve. You'll find them right here in the United States as well! Turns out that the WEBstaurant Store's writing team is quite the globe-trotting bunch. Check out the images of Christmas markets we've personally traveled to. Seasons Greetings (and eatings) from the WEBstaurant Store!
---
Hyde Park in London, England
Every Christmas season, Hyde Park transforms into a Winter Wonderland with rides, games, ice skating rinks, and more. Even the outdoor furniture is festive, made evident by the tree-shaped tables at Santa's Pub shown below. This 350 acre park is home to numerous landmarks.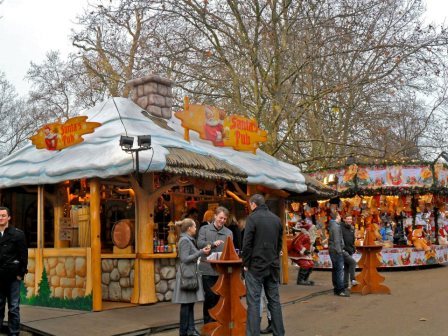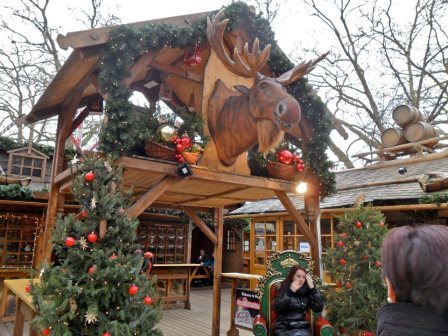 ---
Old Town Square in Prague, Czech Republic
This Czech Christmas market is marked by wooden huts selling homemade food (corn on the cob and sausages are their specialties) and warm drinks, especially Medovina, a warm sweet honeyed wine. The stand pictured below is selling a popular Czech dessert called "trdelink," a sugar-crusted cake. The dough is rolled in cinnamon sugar and chopped almonds or walnuts, spread over a trdlo (wooden tube), then slowly turned on an open fire until it browns.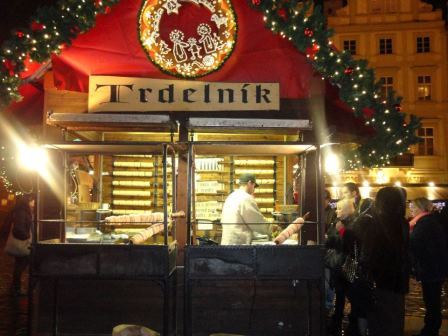 ---
Strasbourg, France
Lined with hand-crafted goods and timber-style stands selling roasted chestnuts, the Strasbourg market "was like something out of a movie or song," noted our writer Brittanie C. This market is known for selling craft goods such as wood carvings and very popular miniature porcelain houses that hold candles. Spiced wine and hot spiced-orange juice are the seasonal beverages of choice!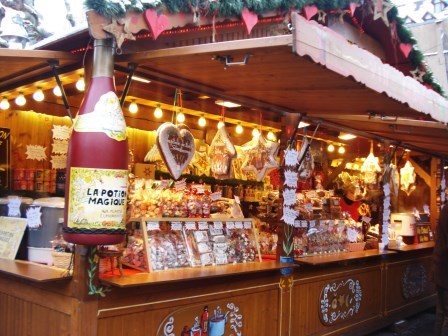 ---
Obernai, France
Located on the slope of the Vosges mountains, Obernai is relished for both its surrounding scenery and beautiful display lined with medieval, half-timbered houses. It's common for the crowds to wear costumes from elves and Christmas trees to medieval knights and princesses. Similar to Strousburg, hot spiced wine and orange juice are the seasonal sips of choice.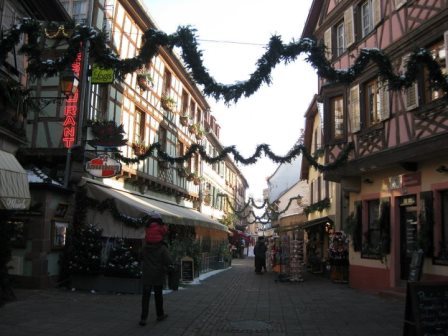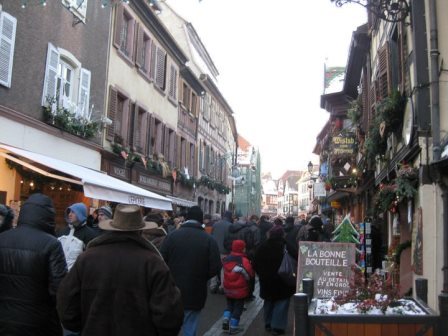 ---
Christchindli-Märit in Interlaken, Switzerland
With the Swiss Alps looming in the background, it's hard not to be taken aback by the views that surround Interlaken's Christmas market. Lined with wooden houses and market stands, this market features craft goods, candle making, and youth choruses. Crocks of "Glühwein" (a spiced wine seasoned with oranges, cinnamon, and berries) are in abundance, as are artisan cheese and Swiss chocolate samples.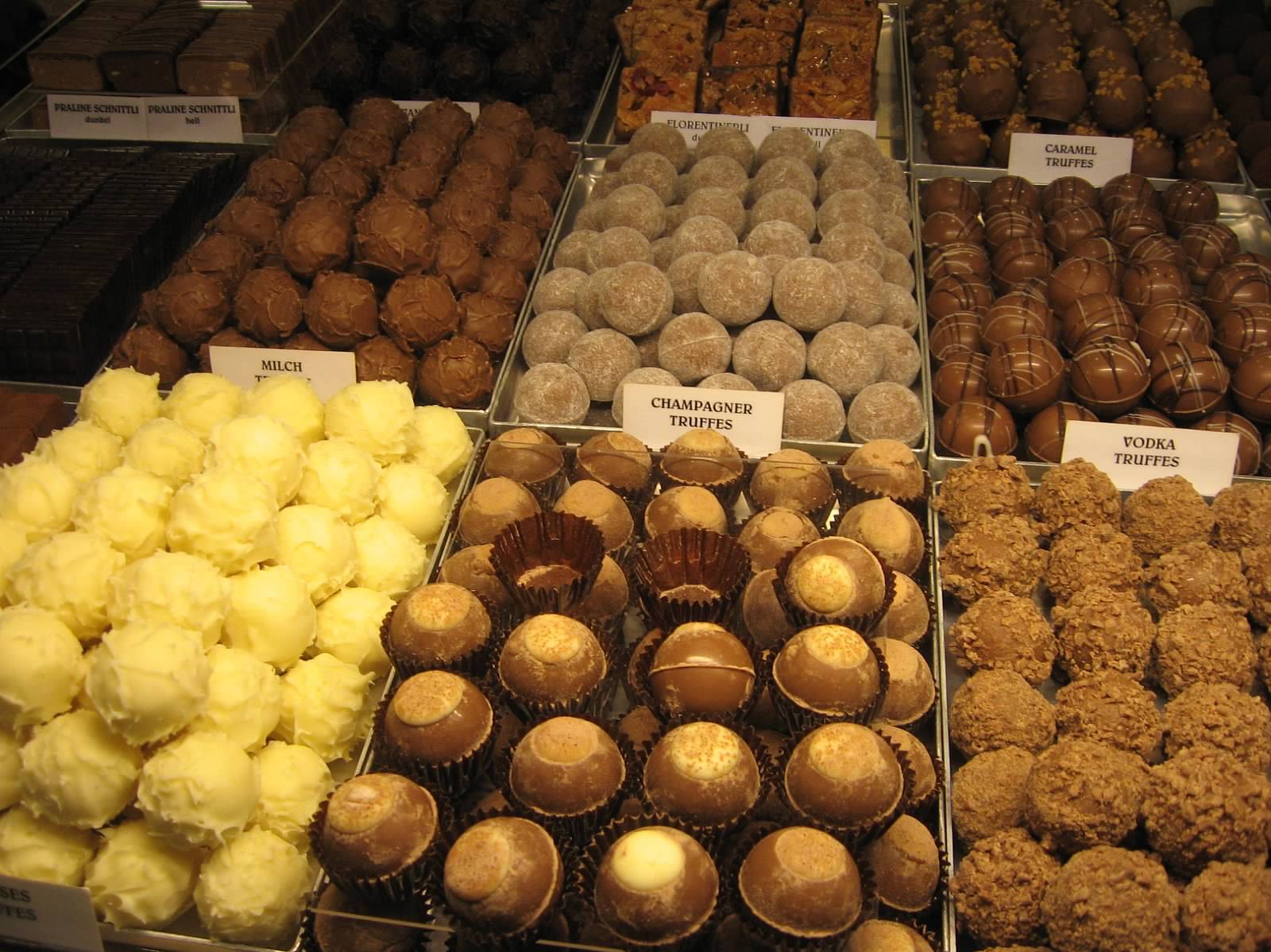 ---
Wiener Chriskindlmarkt in Vienna, Austria
Held directly in front of Schonbrunn Castle, a trip to this Austrian market is like stepping into a quaint Christmas village. The Castle is transformed into a live Advent Calendar, counting down the days until Christmas on its illuminated windows. It's hard to resist leaving without purchasing a hand painted glass ornament, generous helpings of pretzels and gingerbread, or a souvenir mug full of hot Glühwein.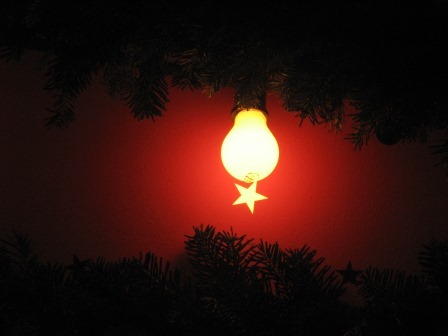 ---
Columbus Circle Holiday Market in New York, New York
Located near the southwest entrance of Central Park, this market is is a melting pot of gifts and food embodying the spirit of New York! The enticing scents of Turkish kebabs, Mexican hot chocolate, and other ethnic cuisine are worth the trip alone. You'll find this market packed with last minute shoppers in search of unique gifts - such as the imported spices and glass mosaic lanterns shown below - in the days leading up to Christmas.