Showcase Your New Restaurant with A Soft Opening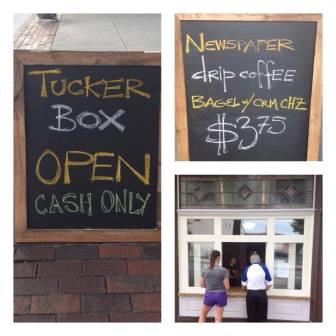 Practice Makes Perfect
You've heard the old adage "Practice makes perfect." The same goes for restaurant openings! Hosting a soft opening for a limited number of people allows you to work out the kinks in your restaurant service before opening your doors to the public. This test launch strategy allows you to hone in on specific meal times to see where your staff could be more efficient.
Burgeoning Lancaster, PA restaurant Aussie and the Fox has mastered the soft launch concept, hosting a series of breakfast, lunch, and bar menu previews in the weeks leading up to their official opening. Prior to opening, we spoke to proprietors Frank Fox and Julia Garber about their marketing plans for the restaurant. Aware of the competition surrounding their King Street location - a block smattered with craft beers, specialty shops, and trendy cafes - they knew they had to "come in big," noted Fox.
"If you're coming into an established area, come in with something uniquely different," Fox added. Aussie and the Fox did just that at a soft launch held for the Friday happy hour crowd, featuring items from their late night bar menu. Serving typical pub fare with a twist, they featured flavorful pieces like falafel lettuce and spiced mixed nuts. Cocktails like the "Sydney Sunrise" made the restaurant's Australian themed menu exclusively their own.
The following Sunday, the restaurant hosted a soft opening "brekkie," a chance for the public to come in and test out their Australian take on brunch. Additionally, they opened The Tucker Box, a cash only take out counter open for customers to grab coffee, bagels, and other on-the-go fare. With roughly 1,500 Facebook followers to boot, it's clear that word is getting out thanks to these sneak previews of their full menu.
Aussie and the Fox relied heavily on Facebook to appeal to the public, but there are multiple soft launch strategies you can try. From private parties for friends and family to sneak peeks open to the public, there are several soft launch strategies:
Offer a "beta" menu that offers half of what is on your complete menu. It reduces stress on new staff, and encourages customers to come back to see the full menu reveal.
Don't operate all day. Consider offering just breakfast and lunch for four days, then dinner on the fifth.
Host a "sneak peek" happy hour with select menu items and drinks.
Hold a friends and family only opening with complementary dishes, with the intent of inviting them to help train your staff.
Hold a soft opening for neighboring homes and businesses, held exclusively for them. If they like what they see, they will return - and suggest your restaurant to visiting friends and colleagues.