WebstaurantStore / Food Service Resources / Blog
Spruce up Summer Salads with Creamy Cilantro Lime Dressing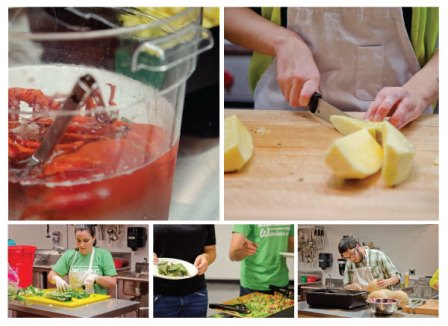 Summertime, and the Cookin' is Easy
In the spirit of sunny skies and summer birthdays, WebstaurantStore employees prepared and enjoyed a seafood n' salad style lunch! What better way to kick off the summer season with homemade mac n' cheese, salad tossed in house-made dressing, and Chincoteague bisque and chowder infused with freshly boiled lobster?
Above, check out employees with June birthdays hard at work in the kitchen. And be sure to view Chef Matt Schuler's recipe for Creamy Cilantro Lime Dressing! We drizzled it over Mexican Chopped Salad, a colorful mix of chopped romaine with black beans, corn, green peppers, onions, and crispy corn chips.
A proponent of house-made dressing, Matt noted the benefits of creating-your-own-condiments: "I can control what goes in it and adapt the flavors to what I like," he said. "Sometimes I like more acidity and sometimes I like it sweeter. Also, there are no added fillers or preservatives."
With just 7 ingredients and 1 easy step (blend and go!), this colorful dressing is sure to impart a kick of flavor at your next outdoor picnic or porch party!
---
Creamy Cilantro Lime Dressing
Makes approx. 3/4 cup of dressing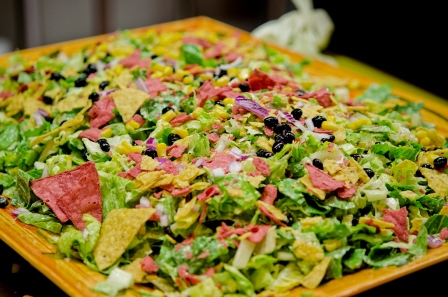 Ingredients:
1/2 cup plain Greek yogurt
1 cup cilantro (roughly chopped with stems removed)
2 Tbsp. fresh lime juice (about 1/2 lime)
1-2 garlic cloves
1/4 cup olive oil
1 1/2 tsp. white vinegar
1/8 tsp. salt
Directions
Combine all ingredients in blender or food processor and mix until smooth.
Taste and adjust ingredients as needed.
Avocad-elicious: Consider using avocado in place of Greek yogurt!