WebstaurantStore / Food Service Resources / Blog
St. Nicholas' Day Speculaas
The eve before St. Nicholas' feast day, celebrated on December 6, children leave their shoes outside of the door for St. Nicholas, hoping that they'll wake up in the morning to find them full of goodies left there by the traveling saint. The tradition originated from the figure of St. Nicholas, a real figure in history not to be confused with his fabricated, Americanized counterpart, Santa Claus (sorry kids). St. Nicholas, the Bishop of Myra, a city located in what is modern day Turkey, was very generous to those less fortunate and in need of assistance.
The tradition of placing goodies in stockings and shoes comes from one story of St. Nicholas which tells how he threw a bag of gold into the household of a father and his three daughters. The father couldn't afford the dowry for his daughters' marriages, and they would therefore have to be sold into slavery or prostitution. When St. Nicholas threw the bag of gold into the house, it landed in a shoe. Hence, the tradition.
While St. Nicholas' feast day is widely celebrated across Europe, it has its American practitioners as well, especially those of Germanic heritage. While your cafe or restaurant can't really serve your patrons' desserts and treats in their shoes, this traditional recipe is still a great way to spread the spirit of good old St. Nick! Speculaas, a type of spiced cookie or biscuit, are a cultural tradition which is baked in the Netherlands and Belgium in celebration of St. Nicholas. This recipe yields approximately two dozen speculaas cookies, depending on thickness.
Recipe adapted from dutchfood.about.com.
Ingredients:

1 3/4 C. self-rising flour
1/2 C. pure cane sugar
7 t. butter
2-3 t. milk
3 t. speculaaskruiden (speculaas spice – see second recipe)
1/2 t. baking soda
1/2 orange worth of finely grated orange zest
Extra flour for work surface
1 beaten egg white
Flaked almonds



Directions:

1. Preheat oven to 350 degrees Fahrenheit.

2. Mix all ingredients together in a large mixing bowl.

3. Knead ingredients together, and shape dough into a ball.

4. Cover dough with plastic wrap. Let sit for an hour.

5. Flour a work surface, and flatten dough to an even layer.

6. Using your favorite, Christmas cookie cutters, cut out shapes from the dough and place them on a greased baking sheet

7. Brush the cookie shapes with a coating of the beaten egg white.

8. Top the cookies with a sprinkling of the brown sugar and the flaked almonds.

9. Bake cookies for 10-25 minutes, depending on how thick you make them, or until you see the cookies turning a dark brown and the almonds caramelizing.

10. Allow the cookies to cool.

11. Serve and enjoy!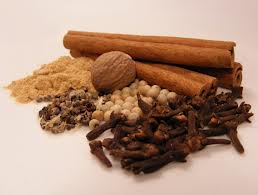 Recipe adapted from community.kingarthurflour.com.
Speculaaskruiden Ingredients:

4 t. cinnamon
1 t. cloves
1 t. nutmeg
1/4 t. white pepper
1/2 t. ginger
1/4 t. cardamom
1/4 t. mace
1 t. anise seeds
1 t. coriander



Directions:

Mix spices together.

Not all ingredients are absolutely necessary to make speculaaskruiden, so if you don't have, or can't use, every ingredient, don't worry! The main ingredients you need to achieve the best taste are cinnamon, cloves, mace, and ginger.