Restaurant and Foodservice Trends: Mason Jars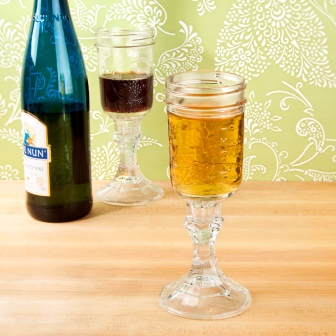 Invented and patented in 1858 by John Landis Mason, a Philadelphia tinsmith, Mason jars were once used solely in canning to preserve food. However, Mason jar drinking glasses have become one of the trendiest ways to serve food and drink in restaurants. Ideal for serving beverages like lemonade, iced tea, water, beer and more – have you seen the "redneck wine glasses" that are given as wedding favors? – the foodservice industry has recently taken Mason jars to new levels, as restaurants find more and more ways to use these versatile jars.
Some restaurants are proving that Mason jars are perfect for serving anything from cold beverages to salads – we even highlighted the rustic appeal of these reusable jars in our Eco-Friendly Wedding Ideas post. But, these vintage vessels are popular with restaurants for more than just their beverage-serving appeal:
1. Portion Control: Food served in Mason jars must be made to fit the jar. Portions, and food waste, can be controlled by using only the necessary amount of ingredients allowed for each jar. While an 'individual serving' of pasta salad on a plate or in a bowl might actually serve two people, in a Mason jar, the space for additional pasta, veggies and dressing is limited.
2. Re-usability: Mason jars are dishwasher safe, so they can be washed and reused again, and again, and again…
3. Versatility: Desserts like root beer floats, hot fudge sundaes and even pudding parfaits can be served in Mason jars with long iced tea spoons. Not only will these desserts look scrumptious from the outside, due to the crystal clarity of these glasses, but they'll taste delicious, too.

Try serving individual strawberry shortcakes, brownie sundaes, pudding parfaits, layered ice cream sundaes, yogurt parfaits for breakfast or other creations that your guests will love!
4. Decoration: Mason jars are for more than just preserving and presenting food; you can turn them into the perfect decor to match your restaurant's theme!
These old-fashioned jars are taking on a modern twist in foodservice, and becoming the focal point for weddings, parties, catered events and more! Have a favorite use for mason jars? Let us know by leaving a comment!