The Aftermath of Hurricane Sandy
Here at WEBstaurantStore.com, Hurricane Sandy blew through and closed us down for a day. No, not even a day. Half a day. Some employees still managed to make it in on the day Sandy greeted Central PA, while others worked from home. The very next day, The WEBstaurant Store was once more fully-operational.
We're so blessed to have been so little affected by this storm. While flooding and destruction still hit some Pennsylvania residents hard, it's pretty safe to say that we definitely didn't get the brunt of Sandy's wrath. Some areas of New York and New Jersey are still without power, even weeks after Sandy left with chaos and debris in her wake. For us, life can go on as normal. But for others, their everyday lives have drastically changed.
While restaurant proprietors were heavily affected by Sandy, their employees were hard hit as well. Some chefs, waiters, and waitresses are out of a job, while others still have not been able to return to work. Those that rely on their tips and hourly wages are finding it hard to make ends meet. Restaurant Opportunities Centers United (ROC United) has resources listed for employees affected by the hurricane, calling for people to share their stories and urging others to apply for Federal Disaster Unemployment Assistance. Those desiring to learn more about the assistance available from the Department of Labor can call 1-877-358-5306 or visit rocunited.org.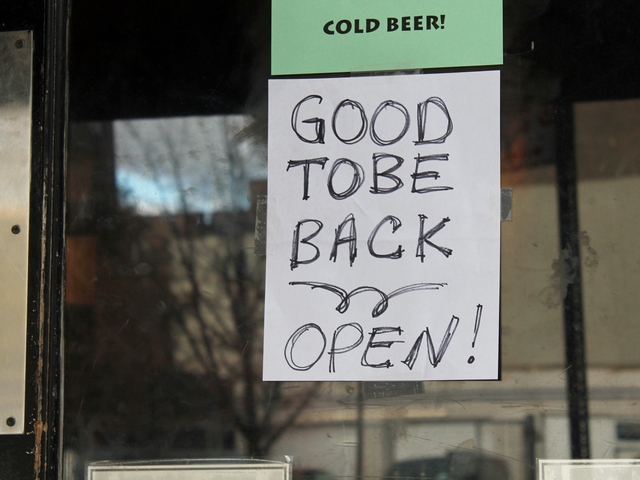 Relief is also available for restaurants. Because President Obama declared New York and New Jersey as being in a state of disaster, loans for up to $2 million with interest rates not exceeding four percent are available for establishments upon application and approval. However, even with this assistance available, many restaurants are facing a dilemma. Those that already have loans for expensive equipment and utilities are hesitant to even consider taking on yet another loan. With no revenue coming in and insurance premiums rising, most aren't able to afford the help that they need.
So what is there for us to do? What can those not heavily and drastically affected by Sandy do to help those in need? Donations are definitely an option. Ways to donate include going to www.redcross.org, www.salvationarmyusa.org, www.feedingamerica.org, www.americares.org, and www.worldvision.org, among others.
Pete Wells usually writes restaurant reviews for the New York Times. However, in lieu of a critique, his recent article instead praised all of the diverse restaurants of New York, calling all able to go out to eat and support those eating establishments affected as an act of "public service."
In an article written for CNN, TV host and personality Anthony Bourdain similarly stated, "While there is no doubt that there are still people with direct, immediate, emergency needs, it would be a great help if those who can afford to do it would eat in the most seriously afflicted areas as early and as often as they can, patronizing local businesses in areas that were clearly hit hardest. Tip heavily. And maybe send a $20 back to the dishwasher. That's not charity. It's just neighborly."
All here at The WEBstaurant Store are likewise thinking about those affected by Hurricane Sandy. Hopefully this article will help to bring attention and aid to those less fortunate than us. You are all in our prayers.