WebstaurantStore / Food Service Resources / Blog
Classic Cocktail Recipes: How to Make a French 75!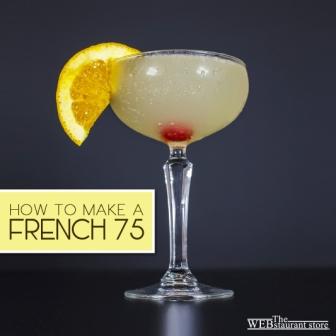 If you're looking for a new way to shake up your bar menu, it turns out that a few of your grandfather's old drink recipes might be just the thing to do it. That's because the hottest drinks at bars and restaurants nationwide aren't new, cutting edge concoctions, they're "classic" cocktails; staples of the Fabulous 50's, Prohibition, and before! Some attribute this resurgence to the popularity of television shows like Mad Men while others claim that patrons just want something beyond the usual schnapps / vodka / flavored syrup mixes that make up most menus. Whatever the reasons, old is back in style, and if you want to really start your next happy hour off with a bang, try out a French 75!
First made around 1915, this drink is named for a powerful French 75mm artillery piece used during the time period because, like its namesake…it has quite a kick…
Ingredients
Instructions
Combine the gin, sugar, and lemon juice in a shaker filled halfway with ice. Shake and strain into a glass. Top with champagne, adding the orange slice and cherry as garnishes.
Check out this video to see how to make a French 75
And for those who want to create the most authentic drink experience possible, we served this recipe in a coupe glass from Libbey's brand new Speakeasy Line, which is based on vintage, 1930's stemware.
Stay tuned for more vintage drink recipes and videos!