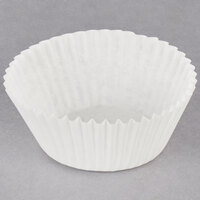 People Talk About:
baking
great
cupcake
cups
Liners
cupcakes
standard
muffin
price
quality
2

out

of 2 found this

review

helpful

These paper cupcake containers are great quality. They came in a long cardboard tube and are easy to separate and use in my muffin tins. I am not a commercial baker, so these should last me a long time. But we do bake a lot of muffins, corn bread and cupcakes, with a large family and the small amount that comes in grocery store packaging doesn't last anytime at all. I love these and will certainly purchase more, when these run out!

There is no better item for these cupcake liners. The price is the best and these are standard cupcake liners that are good for birthdays and weddings.

Bakery-quality baking cups at a great value! I keep them in a large mason jar to prevent them from being smooshed and getting dirty. Highly recommend!

These are great baking cups that fit your standard muffin tray. The cups are slightly larger than the ones found in grocery stores, but that's exactly what I wanted. Much cheaper too, they should last awhile.

These are great for the budget conscious at home baker like me! I get more for my money than what I can get at the grocery store, and buying in bulk also saves me time. There is some bleed through, but if you bake as gifts, potlucks, fundraisers, and for pure entertainment like I do, the presentation is not as important as in a commercial setting.

The big selling point here is the bulk price. These are standard baking cups that hold up well in the oven, though the batter color does tend to bleed through the wrapper as it becomes translucent while cooking - should not be a surprise, based on the photos. If you want something more solid and decorative, look elsewhere - other wise these are solid workhorses for your baking needs.

These white fluted baking cups are great! They peel completely off of the cupcake, unlike some products that bring the cake with the liner. i will definitely reorder these cupcake liners again.

I love love love love ordering these cupcake liners here! You get so many for a fraction of the cost at your local craft store!! They are grease proof and don't bend at the top like Wiltons.

These cupcake liners are very good. They are definitely a great buy because You would not usually get that quantity for such a low price.

For the price you'd pay for maybe 50 of these in the grocery store you can have a huge stack of them. I've baked a handful of batches of cupcakes already and still have plenty on hand. I don't like picking liners out of the foil ones that they normally come in so these are perfect. The paper is pretty standard but the white is perfect - they don't take attention away from my frosted creations :)

The Hoffmaster White Fluted Baking Cups definitely exceeded my expectations. The quality is great. The price is reasonable. I would highly recommend. 5 Stars! I will definitely purchase again. Purchased for cupcakes at home. Also great for serving snacks to my little ones.

These cupcake liners are just as good as the ones I used to buy from local grocery stores but cost only half as much or even less. Such a great deal! Will definitely reorder it when used up.

Great basic white cupcake liners for standard size cupcakes. Unlike some liners, these separate easily from each other when putting into pans and cupcakes release cleanly from the liners after baking.

I use paper baking cups for everything! It ensures you are able to remove your product from the muffin pan every time, and has a built in packaging for your finished product.

After searching high and low, finally we figured out that these are standard cupcake liners. They are perfect for use with the Wilton 24 cavity cupcake pan

Best white baking cup I've used! It is so easy to separate the cups that even my 3-year old can do it. Great price, easy to use.

These are a great deal for cupcake papers. I use them for multiple uses - particularly my petite sized bundt cakes. They have a nice wide base.

Your standard cupcake fluted baking cup, keeps batter from sticking to the pan and is great for muffins as well. With 500 in a pack, these will last for a very long time in a home kitchen

You can never have enough fluted baking cups when making muffins or cupcakes. They help with make clean up easier and make your items more portable,

I was reluctant to buy a large quantity without seeing it first, but I'll save you the work! These fit perfectly a standard cupcake pan. Not only that, they are not flimsy like the cheap ones I used to buy at stores. They are less expensive because we're buying bulk, but the quality is superior. One thing that annoys me with the cheap ones I used to buy was that just from pulling off the pile to put in the pan, I'd often lose some of the creases from the cup. These don't have that problem. Go for it.

Great baking cup for muffins or cupcakes. I also use these to hold my coconut macaroons when I package them up. The price is great for the quantity.

They work just perfect the way I need them too. Sturdy, no fallouts, no problems. You cant go wrong with white cup cake liners unless requested otherwise

These baking cups are standard size they fit perfectly in my muffin pans the quality is nice and it was an added bonus for me that they did not stick together they were very easy to come apart and that matters when you have a lot of cupcakes to bake i like them and will certainly be buying the regularly.

This Hoffmaster 2" x 1/4" white fluted baking cups are wonderful for every day cupcakes. They are rather strong paper cups and hold up well even to heavy batters.

These baking cups are perfect. They are not too flimsy and they hold their shape. They are quite inexpensive and much more economical than buying these at a kitchen or craft store...Will definitely reorder.

these are great for regular sized cupcakes and muffins! I use them for my baking business and get tons of compliments on them . Great price!

These are great for all cupcakes. They provide a uniform look, are the perfect size, and best of all, they separate EASILY!! I don't use anything else now!

Fantastic liners that we use for our muffins, cupcakes, and also as cookie holders and separators when boxed. Oh and we use them for our chocolate dipped strawberries too. Many uses and doesn't fall apart or soak through.

These muffin liners are nice - they remind of the size I generally can buy at the supermarket. I prefer the 2 x 1 1/2 muffin liners so that my cupcakes and muffins bake up just a little taller. Both liners fit fine in standard muffin cup pans.

These baking cups are good not only for baking but for good presentations of smaller food items. Great price and multi use. A Good buy !

Awesome Buy! GREAT product! Baking Cups fit perfectly in standard muffin pan. Quality is wonderful, baking cups did not get greasy like other brands. Will be purchasing more ASAP!

Love how my baked goods look in the crisp white wrapper. We use these for our cupcakes, muffins, etc at the bakery. they are even good for samples

The Hoffmaster White Fluted Baking cup is a quality pure white baking cup which fits the standard muffin or cupcake tin. I would suggest it to others

The best! Great quality and they come apart easily so I don't end up with 4 papers in one cupcake tin. My favorite basic baking cup

These cupcake papers are perfect for general bulk cupcake and muffin baking. Being able to buy these baking cups in bulk has been a life saver!!

These were exactly what I was looking for! These white cups bake up perfectly and peel away from the cakes and muffins beautifully. I will continue to order these.

You can't beat the price for these plain white cupcake liners. I use these for the majority of the cupcakes I make. I am a home baker and find these fit very well in the pans you can readily find at discount stores.

I am VERY VERY pleased. They fit in my standard muffin pan perfectly, without any wrinkling and are sturdier than the supermarket-type. They hold their shape very nicely when you are plopping in the batter. I feel good knowing there are 500 of them. Finally no sticking when I am making muffins. I don\'t have to worry about washing the muffin pan with stuck crust on the bottom. Would buy them again and refer them to friends and family.

These are great muffin/cupcake liners. I have used Hoffmaster kraft liners and love those. I purchased these white ones for times when I wanted the finished product to look dressier.

I was looking every where to find regular cupcake papers and someone told me at this web site. I have not been disappointed and the order was filled quickly.

Great basic standard baking cup. I not only use them for baking cupcakes in them, but I also use them to display other desserts that I am portioning out so it is easier to grab. It will then also serve as their crumb catcher will eating.

These are good quality baking cups at a good price. I bought them in two sizes to have the versatility of baking any size muffin or cupcake on a whim. Love them.

I absolutely love these liners! Not only are they great, they are much cheaper than other suppliers! Don't waste your money elsewhere! You'll love these!

These liners are great! They are normal-sized (i.e., what you would get from a grocery store), but at this price, they absolutely cannot be beat! And I have had no trouble with them folding in on themselves when being filled.

After much searching, I've finally found a mini size cupcake liner that's a bit bigger than the standard ones available in retail outlets, but that still fits in standard mini cupcake pans. These are great quality!

Love these. I was so tired of running out of cupcake papers and having to worry about the quality of the ones I purchased in the grocery store. Now I have what I need and know how they will hold up

This is an excellent paper liner for my large cupcake pans. They are very consistant and easy to separate. I will continue to use these exact cups.

These are heavy duty paper muffin cups. They are an exceptional value and top quality. Other brands cost more than double at other stores. You get top quality without the inflated price

Simple cupcake and muffin liners are a little thin, but perfect if using a decorative outer liner. Liners separate easily from each other for hassle-free use.

These are PERFECT for standard sized cupcakes! They do not get greasy and hold their shape very well. Mine came in a box that fits tight around the wrappers, guaranteeing that they hold their shape! Great purchase!

These work perfectly and are so much cheaper than buying them at the store. I was a little worried about buying so many at a time but I've been using a ton of them lately! So glad I made this purchase!

Love these baking cups! They are big enough for my pans and they are a nice price. No frills, and they get the job done.

The baking cups are nice for the price. My only complaint is that they are not made from a higher thickness of paper. But you get what you pay for.

Very nice baking cup for a larger sized muffin or cupcake. Fills the muffin pan nicely. Less expensive than cheap grocery store baking cups. What more could you ask.

These cups fit well within a standard cupcake baking pan. The white cups turn transparent when baking so the cake color shows through when you take them out of the pan. They're also easy to separate to avoid double-lining a tray.

I purchased these baking cups to go along with the 24-cup muffin/cupcake pan I ordered. Although I was concerned about their size from the photo, they fit perfectly and perform well. For their price, they are a seriously great value.

I can't get 100 liners for the price I paid for these !!! They are top quality too. I have told everyone about your site !

Terrific cupcake/muffin holders. Very good quality and a great value for money. I use these for all of my cupcake and muffin baking and everything bakes up just wonderfully in them. Highly recommend!

seems to be what I want. Thanks for the order -will use for a benefit tea on Oct 18, 2009. will use these not so much for baking but for serving baked goods.
Get paid to review this product!
If you've used this product, simply log in and share your text, video, and photo reviews of it. The customers on the left did it, and you can too! Earn up to $16.00 per product.
Write a text review
Earn $2.00
Post a product photo
Earn $4.00
Post a product video
Earn $10.00
Login or Register