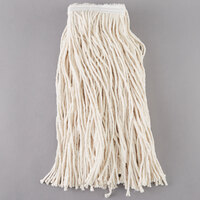 People Talk About:
Mop
head
great
price
heads
Easy
floor
mops
cotton
quality
They do the trick, and are very easy to attach to the mop handle. We always buy them by the case for a better deal.

I am giving only 3 stars not because there's something wrong with this mop head. It's in perfect condition and it works well, only that for reference if you think on buying a mop head, look for a bigger one.

This is a fine mop head but for our whole store it wasn't enough. It wore out fast. For lighter use it may work just fine, but I recommend something more substantial for business use.

These are durable, easy to use, and can be thrown into the washing machine. We own a gym and a coffee shop, and have lots of tile. This cleans things up nicely.

This mop head does the job for a kitchen with minimal dirt and spills. I might recommend a more heavy duty mop head if you have more to clean up.

The mop head looks very full, and very easy to squeeze the water out. The size of the head is fine for a medium size kitchen.

These mop heads are some of the best to use for cleaning floors they last many times I was using these mop heads in our liquor store Every night

Mop heads can get expensive when mopping up greasey kitchens so save your self some money and get this great quality mop heads for an affordable price!! Very obsorbet an soaks up anything

Hate it. in the kitchen it seems to work fine because you can't tell... But up front on the main cafe floor area, we have white tiles and this mop leaves so much hair and dust behind. It also frays and leaves strands of the mop everywhere. Terrible

Thank you for your feedback! We're sorry you did not prefer this product. For recommendations, please contact our Customer Solutions team.

Another great mophead, simple, cotton, as long as it is cleaned well, it will not smell, and even if so these mopheads are so cheap it is not a big deal to replace them so often!

These mop heads do a good job of cleaning our restaurant floor. After several uses you can either wash them or throw them out and purchase new ones

Well built, not cheaply made, and sturdy. Easy to clean and fits on standard mops. Good price for quality and availability. Better than products from other suppliers.

I wanted a mop that wasn't too heavy and was easy for me to ring out. I also wanted one that I could wash (versus the sponge mops that have to be replaced, which is also more money in the long run ). I also purchased the handle (Item #: 690PHSH60SL) and bucket (Item #: 407UPP10) from Webstaurant to use with it.

best price on the market. very good quality. easy to instal on the stick. easy to wash it, is sucking the water very good. definitely recommend

Great money saving mop head they are the same as all the other mop heads but not the same price these will save a lot of money and hold up well.

I like this mop head. It's not that heavy, but gets the job done. Lasts a lot longer than I thought it would. Great for the money.

These mop heads are a good value. They hold up pretty well, but do start to shed fibers after a few days of use. They are inexpensive enough that we just change them at that point.

This mop clamps right on our mop handle and does the job we want it to do. The price was great and delivery was fast.

This mop head gets the job done very well. The bristles are thick and picks up large pools of water. Stands up to any amount of work.

The mop looks very durable. It fit into the mop stick we bought from this website very easily. I highly recommend this for commercial and residential cleaning.

These mop heads are great for our small restaurant. Easy to put on. I haven't noticed any loose strands all over the floor as I did with the previous brand we used.

I like this mop and use it in both my commercial spaces and at home. It's a great way to get the floors clean for cheap.

This is nice quality mop head for our small cafe. You buy once and use long time over and over, what more do you need?

This is a really decent number 24 narrowband or black cotton and wet mop pad it's got a nice price point very economical works OK

This is a great mop head! It lasts a long time and the price is really good so I can replace them as needed without worrying about the cost!

Anyone in the cleaning business can rest assure that these mop heads are great for wiping floors. You just have to know how to apply every stroke.

Nice quality mop head for most restaurant applications. These mops are cotton and last a long time if you take care of them and let them dry after each use.

Purchased a bundle of these awhile ago for the business and I still haven't reordered. They are durable and works very well for commercial use.

These are a nice quality mop head for the price. I really only get one use out of these but I am sure you could wash and re use. Nice quality

The Narrowband Cotton Cut-end Wet Mop Head is a good buy, and held up as expected for an overall once-over cleaning. Be sure to buy the accompany pole.

#24 Narrowband 4-Ply Cotton Cut-End Wet Mop Head painted concrete floors don't need all the support tiles do so I like these unbanded mops for that application

Ive used many mop heads before, and this is one of the ones i would recommend because it actually does clean the door unlike some that doesn't even pick up dirt or water.

Buy these in bulk! They work great and clean the floor. What more do you need from a mop head? Use it a couple times and toss it.

Essential to our everyday operation is a clean floor. I get about a month out of them in a seasonal catering facility. For the price they are the best mop head to use on a kitchen floor.

We have a small area to mop so the #24 4 ply works great for us. We also like how you do not have to buy a whole case like most places

Not bad, but now we just end up getting our mops through a professional linen service! These worked good when we had it... but now I keep the laundry to the professionals!

Super amazing price and they hold up wash after wash. our cleaning staff love these mops so much,we are very glad that we got it

This wet mop was easy to install in the metal quick change mop handle and, along with the mop bucket and wringer combo, it worked really well cleaning our vinyl floor construction site. It was easy to use and easy to clean after all the dirt!! I would highly recommend this product.

Good enough for a 2 dollar mop head. What else can beat it. Functionable and worth every penny. Will stock more. Thank you. ll k

This is a quality cotton mop head. The strands are thick and absorb a lot of water. These do not seem to leave fibers behind, as some cotton mops will. We bought a couple, to have one as a spare.

Pretty much your standard run of the mill mophead, great packaging to take up very little storage room tho. And the price is much lower than most other places!

We use this mop almost every day. Its great! Helps us get the job done as quick as possible and keeps our restaurant sparkling clean.

A good mop for everyday common type usage, we purchased a couple of these and so far they are holding up great. The price here online is very reasonable too.

The mop heads work wonderfully. The price is great compared to hardware stores locally. They are easy to attach to the our exisiting handles. I would recommend this product.

Any of the mops are Great but i really like this one. Very absorbent and gets the job done. Good price. very well made.

This mop is great for end of the night mopping. very absorbent.well made and no strings coming out on the floor. another great item from webstaurant!

Cotton mopheads don't have the durability of mixed fiber, but they have very good absorption, so you don't have to repeatedly swab the floor to dry it off.

This is a nice cotton mop head. Very absorbant material is sure to hold a lot of water! Rinse out at the end of the night with a hose to make it last longer!!

Mop head is very durable lasts a long time should have bought more and saved some money in shipping . Doses not leave strings all over floor

this is just as good as any other quality mop , without the high price. it has lasted for about three months and still ok.

This mop holds up well to dining room use and to kitchen floor use. It keeps its form and fits several different mop heads. Economical yet a quality product.

As good a mop head as any! Maybe even better, one of my (well intentioned) employees took this mop head out to the parking lot to wipe up some oil that had leaked from his car...I have to say, the oil cleaned up and the mop head wasn't shredded, even after working on pavement! (Even though we obviously had to switch it out after that...)

Good quality of mop head. Goes well with the mop handle I purchased and I plan on buying a few more for future. Nice size and coverage for small or large floors.

These mop heads hold up better than most out there, so for restaurants, great purchase (and you save money too over other choices) if you want to keep your floors clean.
Get paid to review this product!
If you've used this product, simply log in and share your text, video, and photo reviews of it. The customers on the left did it, and you can too! Earn up to $16.00 per product.
Write a text review
Earn $2.00
Post a product photo
Earn $4.00
Post a product video
Earn $10.00
Login or Register