Noble Products Nitrile 4 Mil Thick Low Dermatitis Textured Gloves - Medium
4 mil nitrile has superior tensile strength; low dermatitis potential
Ideal for exam, medical, or janitorial use; perforated box for easy glove dispensing
Powder-free with no accelerator chemicals, no latex proteins, and no added sulfur
Offers the best in tactile sensitivity and chemical resistance
Textured exterior grip provides added control in dry or wet conditions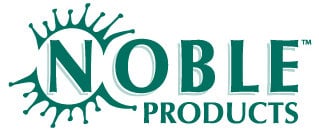 View all Noble Products Disposable Gloves
Noble Products
Cover all your bases with these multi-purpose Noble Products low dermatitis potential medium nitrile gloves!
Noble Products low dermatitis potential 4 mil thick nitrile gloves provide exceptional puncture, tear, and chemical resistance. Thanks to a textured exterior, they also provide a firm grip in both wet and dry situations. They're ideal for food service operations, janitorial tasks, medical exams, dentist offices, nursing homes, veterinary clinics, and schools.
"These are good if you have a skin issue. One of our employees who always gets hand rashes on the latex gloves had no issues with these."
Read More Reviews
Low Dermatitis Potential
These non-sterile nitrile 4 mil gloves are made with no accelerator chemicals, no latex proteins, and no added sulfur, which reduces the potential for Type IV allergic reactions to develop. This low dermatitis potential design is great for ensuring a comfortable, safe working environment for your employees without sacrificing the exceptional performance you expect from a nitrile glove.
Excellent Dexterity
These versatile gloves form comfortably to your hands to offer the tactile sensitivity of comparable latex gloves. Plus, they also help reduce hand fatigue. Providing superior dexterity, they're great for food prep, machine maintenance, cleaning jobs, and a variety of other precision tasks.
Color Coded
These gloves feature a bold blue-purple color, allowing you to designate them for specific tasks.
Easy Dispensing
The perforated box allows for easy and sanitary one-at-a-time glove dispensing.
How to Take Off Gloves
Training your staff on proper glove removal is critical in minimizing the risk of cross-contamination. Watch this video for step-by-step instructions to better maintain a safe and sanitary operation!
Properly removing gloves is critical to minimizing the risk of cross-contamination, so follow these simple steps to maintain the most sanitary operation possible. Grab the outside of one of the gloves near your wrist, being careful not to touch your skin. Peel it away from your body, turning the glove inside-out to trap potential contaminants. Hold this glove in the opposite hand and slide the ungloved fingers under the wrist of the glove you're still wearing. Peel the glove away from your body so the first glove is inside of the second. Discard the gloves and wash your hands thoroughly. Train your staff with this method and be assured that you're minimizing the risk of cross-contamination!
Resources and Downloads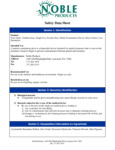 SDS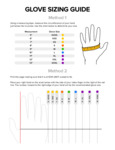 Glove Sizing Chart
A PDF viewer is required to view this product's information. Download Adobe Acrobat software
Customer Reviews
People Talk About:

gloves

hands

great

latex

glove

love

cleaning

food

nice

price

Accurate fit and good price. I really like these gloves. They are great for food service! Especially when working with oil. Some gloves become very slippery and cause us to drop things but not these so much. I have ordered them several times and will continue.

These gloves work very well and are very true to size. We use them everyday and they are good enough quality that when you put them on, they don't rip.

If you have people in your shop that are prone to allergies or who have had a problem with latex in the past, these are the gloves to use. I have a latex allergy and I am sensitive to all sorts of things and these have not cause me a problem.

These gloves are very good quality and the fit is better than most. They have plenty of stretch and are easy to put on and remove. They are a little more expensive than some gloves, but these are a good choice for extended wear.

These gloves are nice because they are thick. These gloves are nice when we are cleaning our kitchen downstairs. They also do not break easily.

We like this product Noble Products Nitrile 4 Mil Thick Low Dermatitis Textured Gloves - Medium, for us is very important to buy a resistants gloves for that reason we bought it.

I bought these gloves due to the eczema I have on my hands. They do not irritate my hands. Will be ordering more sometime soon.

Durable quality. We use for food preparation and can hold on the food very well due to the texture on the gloves. Time to restock.

We purchased this glove for the preparation of our wedding (we made our finger food ourselves). The gloves were easy to put on and handy. Very happy with the quality and price.

These four milimeter low dermatitis hypoallergenic gloves are super useful in the kitchen! I keep a box of them under the counter, especially for covering cuts and scrapes on my hands.

Good quality gloves. They are Just the right thickness. They do not tear easily. Compared to other retailers, webstaurant offers them at a great price.

As a medical professional iron Wing aviators I have to do a lot of surgeries and I trust no gloves more than these ones they put my hands perfectly and I highly recommend this product

These are a nice quality nitrile glove for cleaning, food service or medical use. Chemical resistant nitrile makes them nice when working with cleaning chemicals.

These gloves are ideal for cleaning and or medical use. Each glove is made of nitrile which is nice if you have allergies to latex.

These gloves are great for working in the kitchen with things like hot peppers or garlic! I even wear them for weeding in the garden or flower beds. They fit the hand very nicely.

Great gloves! They get the job done! They feel substantial and could even be used more than once, if that is appropriate for the task. I love that they come in different sizes so I don't have to wear ill-fitting gloves. The sizing guide was precise and very effective.

So thick and durable won't break even if it's against something fairly sharp like when scrubbing or washing dishes. It is great for very dirty work or for working with raw meats to ensure keeping your hands clean!

These are the best gloves when working with sticky dough. It fits perfectly and does not rip easily. They keep hands dry without the powdery feel and they're very affordable!

These are great for millimeter thick allergy free gloves I like them a lot these are great to have in your restaurant everyone should have them

Using these gloves for either cooking or cleaning has been a pleasure. They have just the right amount of comfort, durability, and value at WebstaurantStore.

These gloves are great for daily use! They are made of quality material so they do not puncture or rip easily and easy on your skin. The bold purple color of the gloves is fun!

I love these gloves! They're great for using them on ready to eat foods and fondant are gumpaste. They are flexible and stick to your hands really well. They're a good price as well. I highly recommend them

I love these gloves and I hate wearing gloves, so it says a lot about the product. They are thick enough not to break easily but also thin enough that work like your second skin. Your hands don't get hot in them, which is great.

Everybody loves these gloves. They are cheap and easy to use. Putting them in they don't tear and hold up to abuse very well. We recommend

We have tried many other types and brands of gloves for our food service until we found this one. Poly are too flimsy, vinyl and latex are strong but unbreathable and get the hands sweaty very fast and so cannot be worn for an extended time. These however are well made, light weight and very breathable. They are also chemical free! We love them!

Noble Products Nitrile 4 Mil gloves are great to have for those dirty jobs around the house where you don't want to risk any tears or clumsiness, like cleaning the cat box or emtying the vacuum. Better than latex, and you don't have to worry about allergies or irritation.

Perfect fit, comfortable to wear. Love the bright color, easy to identify in prepared products--in case your gloves should break, glove fragments are easy to retrieve in finished product

These are good if you have a skin issue. One of our employees who always gets hand rashes on the latex gloves had no issues with these.

Good price and a good glove they work well for what I need in a glove. i also dont have to worry about latex problems.

We had an employee with very sensitive skin and the latex gloves bothered her. We switched to these and now her hands don't bother her anymore. The medium fit a little more snug than the latex medium, but not tight. Everyone really likes the way these feel and its a great price

I like these gloves because they are purple and textured. They are great for handling seafood or any other slippery item. I use them on my left and right hands.

This Gloves Low Dermatitis Textured are very usefull and very heavy. The price is very low but the quality is very high, in the pic look like are long but are just a regular gloves

My co-workers and I love these gloves! The mediums fit my slightly smaller than average man hands snugly enough to stay in place during use, but not so tight that they restrict movement. The gloves are sturdy; i've only had one or two tear when I attempted to put them on while my hands were still wet, and otherwise I have had no issues with them ripping. I like the feel of them, and many of my co-workers love the fun color.

Best glove ever! It held up well while wearing it for long time and working on very hot grill. The best part was, unlike other gloves I tried before, it didn't collect too much sweat inside the glove. My dermatitis did not worsen.

These gloves are great! Not only are they latex free and safe to work around our food production, but they are at an unbeatable price!

These are really nice and comfortable gloves for us to wear when times call for gloves. I can feel my food pretty well through them. They fit great. We also love the color; makes wearing gloves fun!

These are hands down the best nitrile gloves you can buy! Great for all sorts of uses! Nice for making pastries and cleaning tasks! True to the size!!!
Leave a review of this product!
If you've used this product, log in and leave a review to tell us and other customers what you thought about it.
Login or Register