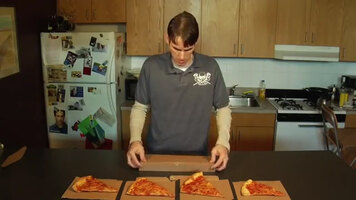 Ecovention Green Box
The Green Box's numerous perforations make it easy to convert this ordinary looking pizza box into four serving plates and a convenient storage container for leftovers. The Green Box is made from 100% recycled and recyclable corrugated cardboard.
Use Eco-Friendly Restaurant Supplies to Lower Your Carbon Footprint without Sacrificing Style
If you run an environmentally-conscious establishment, these eco-friendly restaurant supplies are perfect for you! You'll find everything you need to maintain a successful restaurant, bakery, cafe, hotel, or catering service. Choose from disposable or reusable green restaurant supplies, all of which are made from sustainable materials.
We carry disposable eco-friendly restaurant supplies, including take-out containers, plates, trays, bowls, and utensils. You'll also find deli paper, pan liners, and bags. These products are biodegradable and compostable, which means they'll naturally degrade without leaving any toxic or visible residue. You can use these disposables in your quick-serve restaurant, cafe, cafeteria, or catered event.
In addition to our all-natural disposables, we also offer CFL light bulbs and low-flow spray valves that will help reduce your establishment's energy costs. You can even outfit your establishment with recycling bins to encourage customers to recycle their plastic and paper materials. When it comes time to clean up, we have you covered with green cleaning products, as well!
You can also find green restaurant supplies that will set up an eye-catching display. Use food risers made from bamboo on your buffet table, and check out our green chafing fuel to keep food pans heated at your hotel's continental breakfast. You can also use serving trays made from recycled glass to serve appetizers, mini desserts, and dinner rolls.