Noble Products 3 Mil Thick Blue Hybrid Powder-Free Gloves - Large
100% latex-free, 3 mil thick design creates a consistently safe and flexible fit
Ambidextrous style provides versatility
Food handling and food prep safe
Pairs the flexibility of vinyl with the durability of nitrile gloves
Perforated box allows for easy glove dispensing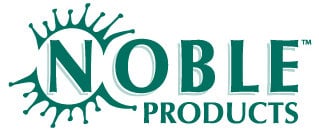 View all Noble Products Disposable Gloves
Noble Products
Designed for a consistent fit, flexibility, and resilience, choose Noble Products 3 mil thick blue hybrid powder-free gloves for your establishment.
These gloves are ideal for a variety of uses in the food service industry as there's no need to worry about powder coating coming into contact with food. As a perfect general-purpose solution, these non-sterile, disposable gloves have a smooth finish and are also ambidextrous for added versatility. They are also large in size to fit bigger hands.
Ambidextrous

This versatile glove is ambidextrous to fit your left or right hand.
Ambidextrous

This versatile glove is ambidextrous to fit your left or right hand.
Ambidextrous

This versatile glove is ambidextrous to fit your left or right hand.
Durable Material
These gloves are made of durable, 3 mil thick latex- and powder-free material, helping reduce the potential for some allergic reactions to develop. They feature the flexibility of vinyl while also offering the durability of nitrile gloves, combining the best of both materials and creating a new level of protection, performance, and comfortability for wearers as they go about performing their tasks.
Multi-Purpose Use
From food handling and preparation to janitorial and housekeeping tasks, these gloves are up to any task and get the job done! The unique combination of superior protection and exceptional flexibility embodied in these dynamic gloves makes them the perfect option for a wide variety of applications in restaurants, hotels, and schools in situations where glove-wearing is warranted.
Easy Dispensing
The perforated box helps with organization by doubling as a dispenser, allowing for easy glove dispensing while also keeping stored gloves sanitary and secure until usage. Because of its shape, the box is also stackable on all sides, enabling you to keep different sized gloves together for convenient storage. Wall mounted racks (sold separately) are also available for this purpose.
Customer Q&A Ask a Question
What does "hybrid" mean?
These gloves are a hybrid blend of the primary compounds used to produce vinyl and nitrile gloves. This unique blend produces a glove that offers a flexible, durable, and smooth alternative to traditional vinyl, latex, or nitrile gloves.
How do these hybrid gloves compare to other disposable gloves?
Compared to vinyl gloves, these gloves have a similar feeling but are stronger and more durable. They are also smoother and more flexible than vinyl for easy donning.

Compared to nitrile gloves, hybrid gloves offer similar durability but are a more cost-effective choice. Our hybrid gloves are not as opaque as traditional nitrile gloves, but that does not stop them from being a good alternative. Because of their powder- and latex-free compounds, our hybrid gloves are also an excellent alternative to latex gloves.
How to Take Off Gloves
Training your staff on proper glove removal is critical in minimizing the risk of cross-contamination. Watch this video for step-by-step instructions to better maintain a safe and sanitary operation!
Properly removing gloves is critical to minimizing the risk of cross-contamination, so follow these simple steps to maintain the most sanitary operation possible. Grab the outside of one of the gloves near your wrist, being careful not to touch your skin. Peel it away from your body, turning the glove inside-out to trap potential contaminants. Hold this glove in the opposite hand and slide the ungloved fingers under the wrist of the glove you're still wearing. Peel the glove away from your body so the first glove is inside of the second. Discard the gloves and wash your hands thoroughly. Train your staff with this method and be assured that you're minimizing the risk of cross-contamination!