WebstaurantStore / Food Service Resources / Blog
National S'mores Day 2010!
Within a little over a week-and-a-half since my "National Cheesecake Day 2010" blog post, I have tested out various cheesecake recipes to satisfy my sweet tooth. I explored pumpkin cheesecake, chocolate chip cheesecake, Philadelphia vanilla mousse cheesecake and even sinfully rich, double chocolate cheesecake. None of these, however, even came close to my last and final cheesecake attempt - S'MORES CHEESECAKE!
This recipe requires three parts: a crust, a filling, and a topping.
Ingredients:
Crust:
1/2 cup butter (or margarine), melted
2 1/4 cups chocolate graham cracker crumbs
1/3 cup granulated sugar
Filling:
2 (8-oz.) packages cream cheese, softened
1 small can sweetened condensed milk
2 teaspoons vanilla extract
3 eggs
1 cup mini chocolate chips (I prefer dark chocolate)
1 cup miniature marshmallows
Topping:
1 cup miniature marshmallows
1/2 cup chocolate chips (Again, I used dark chocolate)
1 tablespoon butter (or margarine)
Start by making the crust. Simply combine the melted butter, graham cracker crumbs, and sugar in a small mixing bowl. When thoroughly mixed, press into the bottom of a 10" springform pan and set aside until your filling is prepared.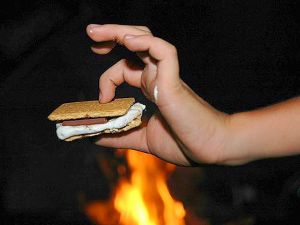 For the filling, you will need a large mixing bowl and an electric mixer. All you have to do is beat together the cream cheese, sweetened condensed milk, and the vanilla until nice and smooth. At that point, add in the eggs and beat until they are well combined. Using a wooden spoon or a spatula, stir in your chocolate chips and marshmallows. And just like that, you're done! Now, pour your filling over your crust.
Bake your cheesecake at 325 degrees Fahrenheit for about 45 minutes, or until the center is just about set.
Now we are ready for the topping! Take your cheesecake out of the oven and sprinkle the remaining marshmallows you have for the topping over the top of your cheesecake. Then return your cake to the oven and bake for another 5 minutes until the marshmallows are puffed and toasty.
While your marshmallows are puffing, melt the remaining chocolate chips and butter together either in a double boiler or in the microwave (I microwaved 'em). When your cheesecake is ready to come out, drizzle your chocolate chip/butter mixture over top the marshmallows and let cool to room temperature. When cool, refrigerate overnight before serving this fabulously rich, summertime fix!

Posted in:
Recipes
|
Seasonal
| By WebstaurantStore