WebstaurantStore / Food Service Resources / Blog
Bebidas Para el Cinco de Mayo: Almond Horchata
Put yourself in the perfect, relaxed Cinco de Mayo mood with the final installment in our Mexican drink series - almond horchata! This delicious, rice based drink is soothing and delicious, calling to mind relaxing summer afternoons spent under the shade of a cool tree. Different variations of horchata are enjoyed throughout Mexico, the United States, and other areas, but our version features sweet notes of almond and cinnamon for a refreshing, smooth experience.
Almond Horchata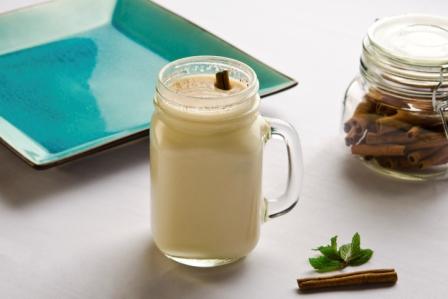 Prep time: 30 min
Total time: 8.5 hours
This recipe makes approximately 5 servings
Ingredients:
1 1/2 cups uncooked long grain rice
1/2 cup skinless white almonds, blanched
10 cups water
1/2 cup white sugar
1 cinnamon stick
1 cup evaporated milk
2 tsp. vanilla extract
Ground cinnamon
Ice
For Blanched Almonds:
Bring a saucepan of water to a rolling boil and add raw almonds. Leave the almonds in the boiling water for 30 seconds before immediately removing from heat.
Drain and rinse almonds in cool water. Almond skins should look wrinkled and puckered.
Gently peel off almond skins and discard. Set aside the skinless almonds.
Horchata Directions:
Place uncooked long grain rice and skinless almonds in a large container or bowl; stir gently to combine.
Add 1 cinnamon stick and gently pour in 10 cups of water,or more if needed, to completely cover the rice and almond mixture.
Cover the container and place in the refrigerator. Allow the mixture to steep for 8 hours or overnight.
When finished soaking, add the rice, water, almonds, and cinnamon into a food processor with 1 cup of sugar (adjust amount to taste).
Blend the mixture, pulsing until a fine puree forms. Allow to stand for 10 minutes.
Working in batches, pour the blended mixture through a fine mesh strainer or cheesecloth. Allow liquid to collect in a bowl; press down on the grounds to extract all water.
Discard the rice, cinnamon, and almond grounds.
Continue to strain the liquid until little to no rice residue is caught in the strainer or cheesecloth.
Add 1 cup of evaporated milk
Add 2 tsp. vanilla extract and stir
Chill before serving over ice with a dash of ground cinnamon. Garnish with additional cinnamon sticks, if desired!
Posted in:
Holidays
|
Recipes
| By Emily Gertenbach