WebstaurantStore / Food Service Resources / Blog
Grown Up Beer-Cheese Grilled Cheese
Did you know that April is National Grilled Cheese Month? Well, turns out it is. To help me to prepare for this month of deliciousness, I recently asked our Corporate Chef, Matt Schuler, to help me formulate the ULTIMATE grown up grilled cheese recipe.
I wanted the recipe to mimic the ooey, gooey consistency of gourmet cheese fondue, but I wanted to include the rich flavor of beer [what's better than cheese AND beer?]. Oh, and the bread had to be plentiful [and fresh baked], of course.
The sandwich that resulted from this epic trifecta is seriously mind-blowingly awesome – and it met all of my requirements - cheese, cheese, and more cheese, alcohol, and bread. Try it for yourself!

Click on the recipe cards below for full size cards.
Grilled Beer-Cheese Sandwich
Beer-Cheese Spread
Ingredients:
7 oz. bottled dark beer, flat
20 oz. extra-sharp cheddar cheese, grated
2 garlic cloves, grated [I used 6 for an intense garlic flavor]
1/8 t. salt
Mustard powder (optional)
Directions:
Start by opening the beer and bringing it to room temperature. It is desirable to get most of the gas out of the beer, but don't let it get stale.
While that is getting nice and warm, grate the cheese and the garlic in a food processor.
Once the beer is warm and your cheese and garlic are grated, switch to the mixing blade on your food processor and add the remaining ingredients, mixing until thoroughly blended.
Refrigerate this mixture overnight to help the flavors develop properly.
Beer Bread
Ingredients:
Directions:
Preheat your oven to 350 degrees Fahrenheit.
In a large mixing bowl, dissolve yeast in warm water; add honey and stir.
In a separate bowl, mix wheat flour, salt, and all purpose flour. Stir in oil and slowly add flat beer. Once mixed, add to yeast and honey mixture and mix some more.
Once all of the ingredients are combined, place the dough on a floured surface and knead for at least 10-15 minutes. The dough may need a little more flour added to it if while kneading it's sticking to your hands. The finished dough will feel smooth and spongy and will not stick to your hands.
Place the dough in a lightly oiled bowl and cover with plastic wrap until it doubles in size. Do not place dough in a draft or an over-heated area. The dough should be left to rise at room temperature.
When dough has doubled, punch in the middle and let rest for 5 minutes. Divide into four equal parts and place in lightly oiled loaf pans.
Score the dough twice on top of each loaf with a knife. Scores should be 2" apart and about 2 1/2" long.
Cover loosely with plastic wrap until the loaves have doubled in size.
Once the dough has risen, remove the plastic wrap and place the loaves into your preheated oven for about 30 minutes.
Grilled Beer-Cheese Sandwich
Ingredients:
Beer-cheese spread (from above)
Fresh baked bread (from above), sliced
Butter
Directions:
After a night of flavor development, your cheese spread should be ready to go. Take 2 slices of your fresh baked bread, and generously butter one side of each slice.
Place one slice of bread butter-side-down in a warm skillet, top with a generous helping of your beer-cheese spread, and finally add the other slice of bread (butter-side-up).
Grill until lightly browned and flip over.
Continue grilling until browned.
Enjoy!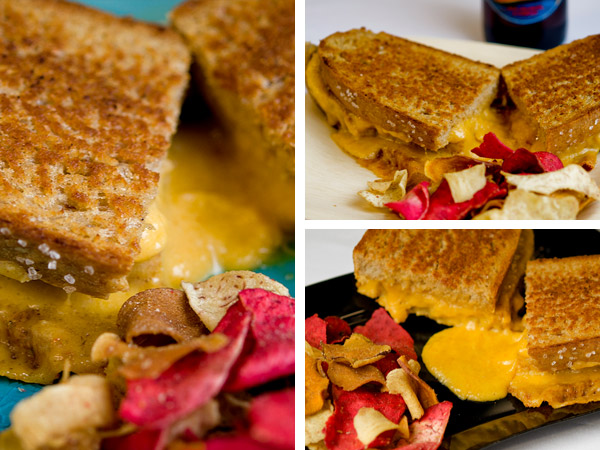 Posted in:
Recipes
| By Leidra Horton